A customer communication management software allows e-commerce businesses and companies to communicate with their customers smoothly along with developing a trustworthy relationship with them. Customers are the backbone for both B2B and B2C businesses and without gaining their trust it can be difficult to build a good reputation in the competitive marketplace. 
An effective customer communication management application like Intercom, Crisp, ThriveDesk, Drift, etc. will allow you to deliver consistent brand messaging  to all your customers across all your channels. It can also help you create personalized customer messages, new product/service descriptions, and transaction documents. 
The new customer communication softwares in the market also share characteristics with marketing account management software through checking data and content quality, automating the content delivery process, tracking and differentiating between inbound and outbound communication, and much more. Some more benefits of using customer management software are: 
Gather better and more detailed knowledge of customers 
Improve customer retention 
Increase sales and conversion rates 
Create a centralized database of information 
Improve customer segmentation 
Create sales and customer reports 
Streamline internal and external communication 
Do a more accurate sales forecast 
Have speedier communication with customers 
Security and data privacy 
Crisp and Intercom are great customer management softwares in the market and if you are confused about which one to choose, you are at the right place. Mentioned below is a detailed review of both the softwares which will allow you to make an informed choice. In this article, we will compare two customer support software solutions: Crisp vs Intercom. We will compare their features, pricing, integrations, and so on.
Crisp vs Intercom vs ThriveDesk At A Glance 
| At A Glance | Crisp | Intercom | ThriveDesk |
| --- | --- | --- | --- |
| Rating | 4.4/5 stars with 80 reviews | 4.4/5 stars with 2,297 reviews | 5/5 stars with 12 reviews |
| Market Segment | Small-Business | Small-Business | Small-Business |
| Entry Level Price | From $25 / Month | From $65 / Month | From $25 / Month |
| Free Trial | 14 Days | 14 Days | 7 Days |
Crisp vs Intercom vs ThriveDesk: A Quick Overview
Crisp is a cheaper, faster, and easier-to-use customer service platform that will integrate with all of your favorite tools. Intercom is a conversational customer communication software mainly known for its features: live chats, chatbots, and a help desk.
With 9% market share and working with more than 25,000 companies globally, including  Facebook, Microsoft, and Amazon, Intercom is the most popular communication platform right now. However, as a low-cost alternative to Intercom, Crisp offers a set of innovative tools, including shared browsing, a ticketing system, CRM, and call support. 
Crisp's pricing is also highly affordable, making it an appropriate choice for small and mid-sized businesses. The basic plan is free, whereas the unlimited plan starts from $95/month/inbox. When it comes to intercom pricing, it does not offer a free plan like Crisp. The starter plan for the intercom starts at $74/month. 
Here is the third option though – ThriveDesk – a simple, highly affordable customer service software especially built for Bootstrap-based SAAS startups and eCommerce businesses. ThriveDesk has all the support tools you could possibly need, with built-in features like shared inbox, live chat, reporting, knowledge base, community support, and many more integration.
A Look at the Comparison: Crisp vs Intercom
| Crisp | Intercom |
| --- | --- |
| ✅ Alerts / Escalation | ✅ Alerts / Escalation |
| ✅ Canned Responses | ✅ Canned Responses |
| ✅ Customizable Branding | ✅ Customizable Branding |
| ✅ Geotargeting | ✅ Geotargeting |
| ❌ Natural Language Processing | ✅ Natural Language Processing |
| ✅ Offline Form | ❌ Offline Form |
| ✅ Proactive Chat | ✅ Proactive Chat |
| ✅ Screen Sharing | ✅ Screen Sharing |
| ✅ Third Party Integrations | ✅ Third Party Integrations |
| ✅ Transfers/Routing | ✅ Transfers/Routing |
| ✅ Website Visitor Tracking | ✅ Website Visitor Tracking |
| ✅ Workflow Management | ✅ Workflow Management |
Key Features: Crisp vs Intercom
When it comes to features and functionalities, it might seem that Intercom is superior to Crisp because of its competitive pricing. Well, that is absolutely not the case. Both the customer management software have top-notch features with great customization possibilities. We advise you to go through the features of both the softwares mentioned below carefully and analyze them depending on the objectives and requirements of your business. 
Features of Crisp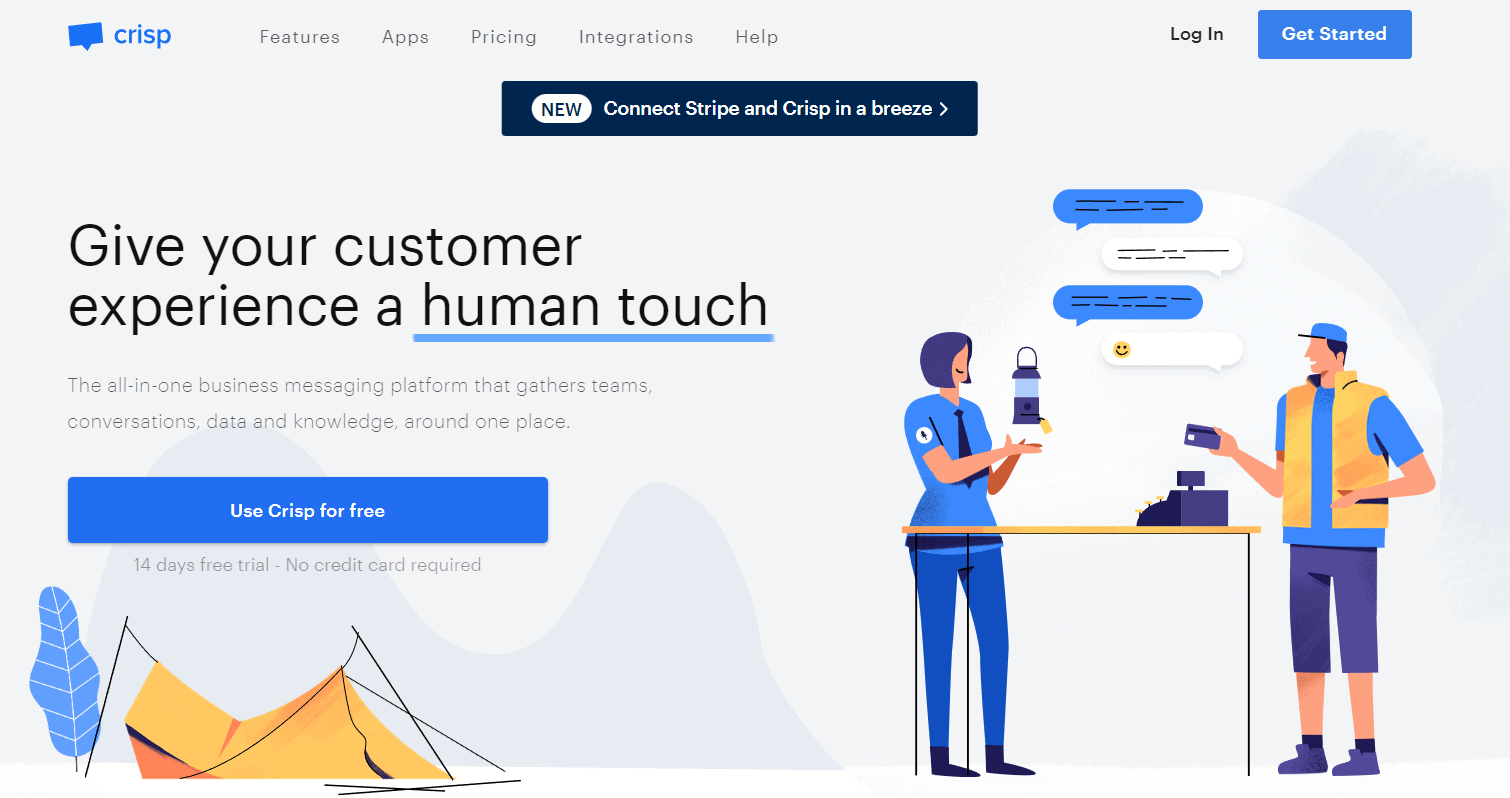 Real-Time Dashboard
The real-time customisable dashboard offered by Crisp allows users to manage all their activities from a single place.  The dashboard is excessively easy to use and also makes possible real-time activity tracking. 
Live Chat
When it comes to the live chat feature and chatbot, Crisp is not as strong as the Intercom but still it does a good job in keeping your customers informed. With the chat widget, you can easily provide information to your customers and send them relevant documents and files. In the offline mode also the costumes can access the chatbot and submit their queries. Unlike Intercom, the live chat feature in Crisp provides customers access to fun games to keep them entertained and engaged. 
Shared Inbox
This feature of Crisp allows users to keep all the messages from internal as well as external channels properly synced and centralized. All the team members can access the shared inbox making possible real-time communication. The messages in the inbox can be prioritized according to urgency or any other deciding factor. 
Co-browsing
The co-browsing feature allows website visitors to browse and share notes and comments with each other. Doing the same with Intercom is only possible through using an additional plugin. 
Drip Social Media Campaigns
Creating drip campaigns is possible with Crisp due to various tools like personalized messages, automated email marketing, trigger emails, and much more. 
Reporting & Analytics
Crisp offers various reporting and analytics features allowing you to carefully understand the performative aspect of your business. You can generate general reports, however, the drawback is that specific reports cannot be generated like other customer management tools. 
Features of Intercom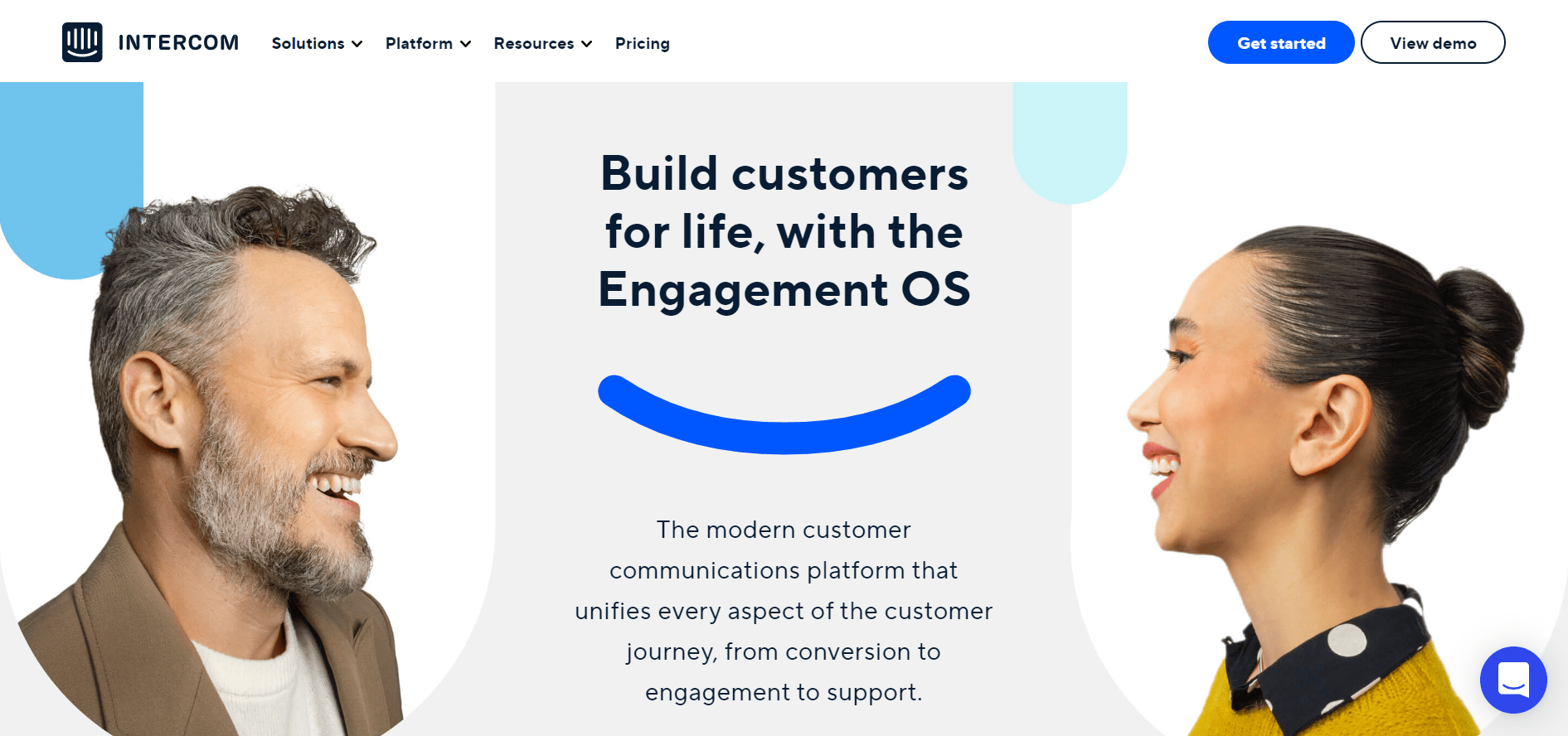 Chatbot
The chatbot feature of Intercom is highly advanced and allows customers to get almost 80% of their standard questions answered. Additionally, the chatbot is also exceptionally easy to use and set up. The customizing options allow users to modify the chatbot according to the needs of their business and customers. 
Analytical Reports
Intercom cannot only be called customer management software but also marketing software due to analytical and reporting features. The automated reports generated by the intercom are highly detailed allowing you to increase your customer satisfaction rate ten folds. 
Integrations
Similar to Crisp, Intercom also provides all the basic integration options like Google Meet, Aircall, Facebook, Instagram, Zendesk, Zapier, Google Analytics, Mailchimp, etc. 
Table of Pros And Cons 
Crisp
Intercom
Pros:
🔹 An extremely user-friendly interface
🔹 Highly intuitive and customizable
🔹 Free plan available
🔹 Cloud, SaaS, Web-bases, Mac, and Windows deployment available
🔹 24/7 customer support available
Pros:
🔹 Suitable for all kinds of business
🔹 A huge and detailed knowledge base available
🔹 Integrations are quick and smooth
🔹 Option to create custom chatbots
🔹 Robust and reliable API 
Cons:
🔸 Suitable only for small and mid-sized businesses
🔸 Chat widget is often slow to load
🔸 Filter for chats are not extensive 
Cons:
🔸 Little technical user interface
🔸 Only Cloud, SaaS, and Web-based deployment available
🔸 Free plan not available
Best Alternatives to Crisp and Intercom 
ThriveDesk
ThriveDesk is a very popular and reliable chat software for WordPress with reliable and user-friendly features. It is a one-stop solution for digital marketing, team collaboration, community building, customer management, and much more. If you are looking for software which is affordable and fast then ThriveDesk is an appropriate choice for you. 

ThriveDesk is also appreciated for its highly efficient and responsive customer support. If you run into any problem, ThriveDesk will try to solve it for you as soon as possible. However, some users have also reported it is difficult to do proper documenting with ThriveDesk. 

Top features of ThriveDesk: Auto Repy, Auto BCC Collision Detection, Email Forwarding, Email Signatures, Inbox Permissions, Knowledge Base, Multiple Inboxes, Outgoing SMTP, Revision History, Spam Filtering, Webhooks, WooCommerce Integration
Zoho Desk
ZohoDesk is a cloud-based help desk platform which aims to put reliable customer support at the heart of your business. All of its key features are highly customizable allowing you to adapt them according to the needs of your business. If you are a small business or a start-up looking for free customer service software then Zoho Desk is a good option for you. 

However, if you are looking for 24/7 support then Zoho Desk may not be the best choice for you. Only the advanced paid plans come with 24/7 support. Also, the collaboration tools are also only available for paid plans. 

Top features of Zoho Desk: Ticket Management Reporting and Analytics Third-party Integrations, Automation 
Drift
Drift is a live chat and chatbot solution which makes it easy for both B2B and B2C businesses to maintain healthy customer relations. The chatbot feature is very powerful and allows users to do multiple tasks like capturing email addresses, automatically creating tickets, scheduling meetings, routing conversations to live chat, and much more. 

The one major drawback of drift is that it does not allow users to create an omnichannel chat experience. The chatbot can only be added to the website and not other social media platforms like Facebook, Telegram, etc. 

Top features of Drift are: User dashboard, Reporting and analytics Duplicate chatbot flows, A/B testing, Documentation, Tutorials
LiveChat
LiveChat is a live chat application with a help desk, web analytics and reporting functionalities allowing online businesses to connect with their customers quickly and efficiently. It is a trusted chat application for more than 35,0000 businesses with some top brands like Ikea, PayPal, Mcdonald's, Mercedez-Benz, and many more. 

However, LiveChat does not offer a free plan. The starter plan starts at $16/month and the business plan can go up to $50/month. Each plan comes with 24/7 customer support and high-security features. 

Top features of LiveChat are: Chat Buttons, File Sharing, Chat Transfer, Chat History, Routing, Rules Reporting & Analytics, Access Restriction, Customer Reports 
Olark
Olark is a modern-day live chat solution allowing online businesses to cater to their customer's needs quickly. It is very popular amongst small business owners due to its affordable pricing and simplicity of use. The chat widget can be created and published on the website within a few minutes. 

Another interesting feature is that visitors on the online website appear as buddies on the Buddy list and their messages appear as IMs. This helps develop a personal relationship with all the customers. 

Top features of Olark are: Searchable transcripts, Custom forms, Team management, Accessible live chat, Power Ups Automation, Customization, Real-Time Engagement 
Jira
Jira is not only a customer management software but also a highly affordable and reliable project management tool. It is very popular because it simplified the problems and complexities of software development into manageable units of work. However, it is only appropriate for you if you are into information technology. It requires technical knowledge and is difficult to handle for a beginner. 

Jira uses a lot of jargon and technical words which can be difficult to understand. The pricing on the other hand is very affordable. It starts as cheap as $7/user/month. If you cross 100+ users, then you can be eligible for more pricing discounts. 

Top features of Jira are: Scrum Boards, Roadmaps, Reports and Insights, Project Flexibility, Customizable Workflows, Shared Inbox, App Integrations 
Desk.com
If you are a B2B business and what see your customer communication in one place then Desk.com is the perfect solution for you. It can unify communications across all channels like Facebook, phone, email, chats, and discussion boards.  The third-party integration options for Desk.com are also very reliable. Some of its top integrations are MailChimp, CampFire, TalkDesk, Salesforce, and many more. 

Top features of Desk.com are: Community, Discussions, Live Chat Window, Bulk Updating, Reward System, Preconfigured Reports, Case Tracking 
Final words
For your convenience, we have mentioned the top features of Crisp and Intercom along with a detailed pros and cons list. Both Crisp and Intercom offers some sophisticated features
 for their respective customer and are pretty popular as communications solutions.
Crisp targets businesses looking for customer-focused tools to create a consumer base from the beginning. Crisp also offers a flat price for every company, regardless of the number of agents, contacts, or company growth.
Compared to Crisp, Intercom emphasizes bigger, more established businesses with a wider variety of marketing-related features. Its cost is also higher.
Frequently Asked Questions(FAQs)
What is Crisp chat used for?
Crisp chat is used to engage with users using a live chat feature. It can be considered as a live chat support rather than a complete help desk solution. It offers features such as
– Support Live Chat
– Sales Live Chat
– Marketing Live Chat
– Automated Chatbot
What is Intercom chat used for?
Intercom chat is used for communicating between people. It works similarly to a live chat feature offered by other Customer Support platforms but has a few extra features such as a personalized home screen and powerful app integrations designed to get work done in the most efficient manner. 
Is Crisp free to use?
No, Crisp offers a free plan which includes access for 2 live chat agents but with limited functionality. To use all their features you need to transfer to the Pro or Unlimited plans.
Is Intercom free to use?
No, Intercom is not free to use. It has different plans for different sized businesses with their own metrics for calculating price. Currently, they are not offering any free plans. If you are a start up, they have a starter plan for $74/month with add on options available for other functionalities such as customer survey, whatsapp etc.
How much does Crisp cost?
Crisp offers 3 plans Basic, Pro, and Unlimited. The basic one is free and comes with 2 Seats included with limited functionality. The Pro one is $25/month/workspace and allows 4 Seats included with more functionality compared to the free plan. Finally, there is the Unlimited plan which offers 20 Seats with unlimited functionality and it costs $95/month/workspace.
How much does Intercom cost?
Intercom provides plans based on the solution you require. They have separate plans for engagement, support and conversion. They do however provide a starter plan for start ups for which they charge $74/month with further add on options available. 
Does Intercom have a ticketing system?
Yes, Intercom has a ticketing system. It offers team inbox and ticketing workflows which allow customer service reps to resolve an issue in the most efficient manner.
Is intercom a CRM tool?
Yes, Intercom is a CRM (Customer Relationship Management) tool. It helps you manage customer service, track purchase and trends all from one place.