When the products and services shifted to the internet, sustaining a personal connection with your customers in the pre-internet era became difficult. Companies use to reach out to their customers through personalized messages and emails to retain that relationship. This was a flawed approach.
Companies currently incorporate an online cloud-based customer support software that provides help desk support with all smart automations to get things done faster. Companies like Intercom, Zendesk, Freshdesk, ThirveDesk, etc., are leading the race in this SaaS sector.
Over the years, Zendesk and Freshdesk have come out on top to be two of the best players in this domain. But the question is, who outweighs who? We will be discussing this neck-to-neck race in the following sections.
At A Glance Freshdesk vs Zendesk vs ThriveDesk
| At A Glance | Freshdesk | Zendesk | ThriveDesk |
| --- | --- | --- | --- |
| Rating | 4.4/5 stars with 2654 reviews | 4.3/5 stars with 4551 reviews | 5/5 stars with 12 reviews |
| Market Segment | Small-Business | Small-Business | Small-Business |
| Entry Level Price | From $15 / Month | From $19 / Month | From $25 / Month |
| Free Trial | 21 Days | 30 Days | 7 Days |
Freshdesk vs Zendesk vs ThriveDesk: A Quick Overview
Freshdesk is a customer service management solution focused on optimizing cost. Zendesk is a robust, reliable, and one of the oldest in the customer support software market; slightly expensive but aims to deliver the best return on investment.
Both Freshdesk and Zendesk offer a suite of sophisticated features. Freshdesk is excellent for the basics, whereas Zendesk is designed to handle complex enterprise requirements. Many consider Zendesk the most comprehensive help desk tool, but Freshdesk matches those tools and features at all levels.
Freshdesk is cheaper and comes in as an alternative solution to Zendesk's rising prices. The entry-level pricing of Freshdesk starts from $15 per month per agent, whereas Zendesk charges almost triple, $49 per month per agent, with very unelectable features. 
Here is the third option though – ThriveDesk – a simple, inexpensive help desk software for Bootstrap-based SAAS startups and eCommerce businesses. With built-in functionalities like shared inbox, live chat, reporting, knowledge base, email signature generator, and a lot more integration, ThriveDesk includes all the support features you could possibly want.
A Look at the Comparison: Freshdesk vs Zendesk
| Freshdesk | Zendesk |
| --- | --- |
| ✅ Alerts / Escalation | ✅ Alerts / Escalation  |
| ✅ Appointment Management | ✅ Appointment Management |
| ❌ Batch Communication | ✅ Batch Communication |
| ✅ Call Center Management | ✅ Call Center Management |
| ✅ Document Storage | ✅ Document Storage |
| ✅ Email Management | ✅ Email Management |
| ✅ IT Asset Management | ❌ IT Asset Management |
| ✅ Knowledge Base Management | ✅ Knowledge Base Management |
| ✅ Live Chat | ✅ Live Chat |
| ✅ Queue Management | ✅ Queue Management |
| ✅ Self Service Portal | ✅ Self Service Portal |
| ✅ Social Media Integration | ✅ Social Media Integration |
| ✅ Survey & Feedback | ✅ Survey & Feedback |
| ✅ Virtual Assistant | ✅ Virtual Assistant |
| ✅ Workflow Management | ✅ Workflow Management |
Key Features: Zendesk vs Freshdesk
The functionalities offered to play a distinguishing factor between the two. Time to study these to reach a conclusion, hopefully. 
Feature of Zendesk: Customizable Customer Service Platform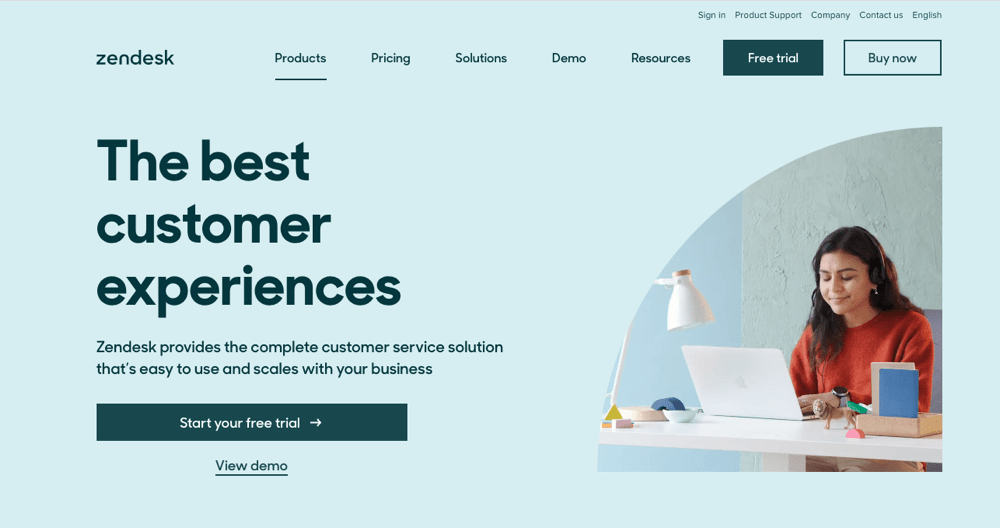 Often referred to as "the Godfather" of the helpdesk tools, Zendesk has proven to be the most comprehensive tool. Zendesk offers a diverse range of products: Zendesk Support, Zendesk Support Suite, Zendesk Chat, Zendesk Explore, Zendesk Guide, Zendesk Talk, Zendesk Sell, Zendesk Gather, and Zendesk Sales Suite. 
Each product runs at different pricing and brings additional ticket management features along with it.
Here are the key elements in the services offered by Zendesk:
Help Desk 
The ticketing system unpacks loads of features. It can quickly convert phone, chat, email, and social media requests into tickets that are easy to manage, resolve, and collaborate on. It can centralize tickets from separate channels in one place. Customers can view their ticket updates, activity log, and the name of the agent handling it on a personalized dashboard.
What makes Zendesk unique from its peers are its reports. They provide the most detailed reports on everything regarding your customer support, such as the frequency and the speed of resolving tickets and the development and the lifecycle of tickets.
Live Chat 
Zendesk bridges the gap with your customer by talking with them in real-time. This can be achieved by adding chat to your website. You can reach out to your customer via chat, help them navigate your site, and guide them to the checkout process. Zendesk automates simple tasks with chatbots, such as collecting contact information, etc.
Knowledge Base
Similar to other help desk software, Zendesk has the feature to build a self-service system like FAQs and community forums for your customer base. You can create and organize relevant articles with your customers in over 40 languages. The answer bot automatically shows the customers relevant articles, reducing the support agents' workload.
Feature of Freshdesk: Effortless Customer Service platform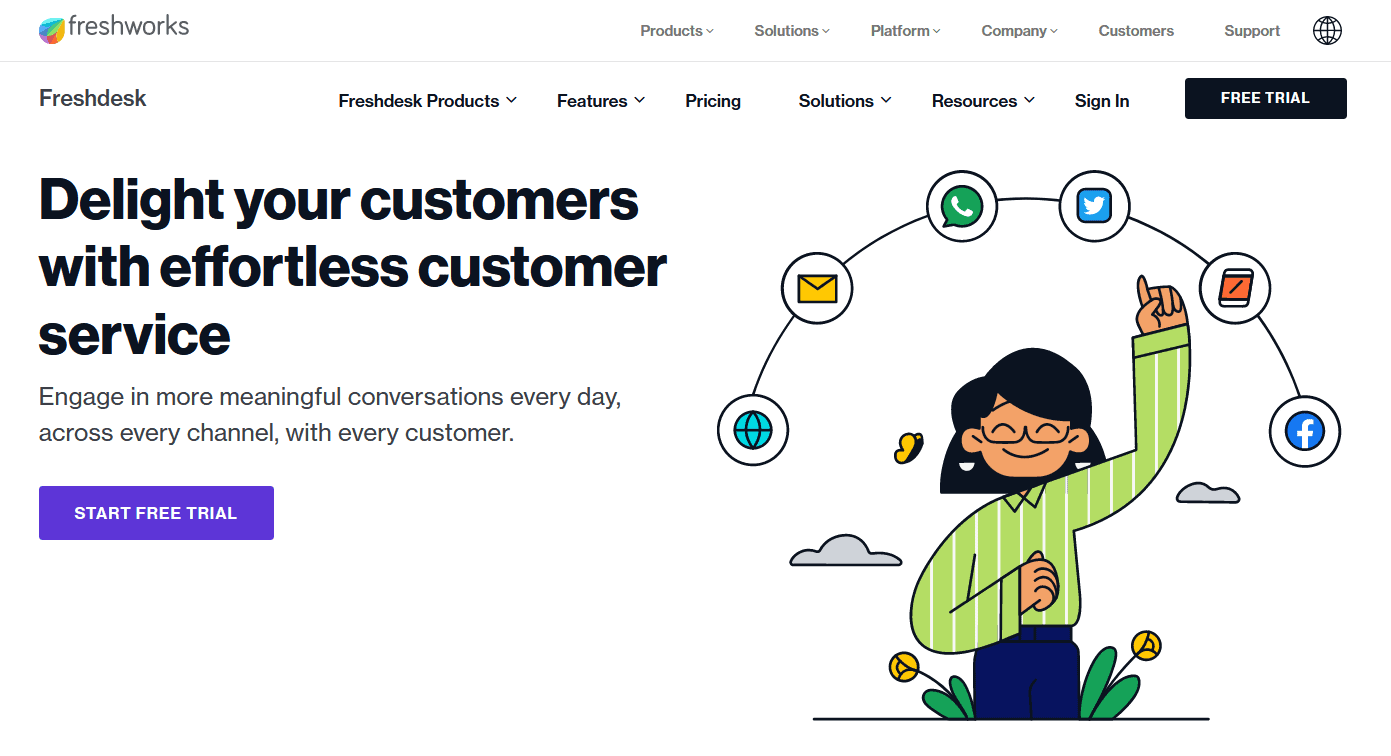 Freshdesk is an online cloud-based customer support software that supports valuable features for customer engagement: 
Omnichannel help desk
Team collaboration
Artificial intelligence (AI) and chatbot capabilities
Multi-channel communication management
Self-service support portal for support agents and customers
Freshdesk provides a wide range of features encapsulates in the section below:
Support Channels
Freshdesk offers diverse support channels. There is chat, email, and phone support along with various social media platforms, namely Twitter, Facebook, LinkedIn, etc. They also provide website support to place ticket forms as a pop-up widget or by embedding a link on your website. These supports enable customers to reach out with their queries which will then be converted into tickets for ease of working.
Productivity Hacks
Improving team management increases efficiency. Freshdesk considers this to provide production hacks such as tags to classify tickets and dispatch to create rules on incoming tickets. Creating reply templates for specific solutions and a customizable help desk to automate ticket assignments based on agents' skills and current workloads. They also have features to notify customers and agents regarding any changes.
Helpdesk Management
An organized helpdesk helps in resolving queries faster. To do that, Freshdesk offers public and private note features, ticket activities, and team inboxes to view the detailed history of tickets and collaborate with team members using a shared inbox. It also provides a dashboard to prioritize works and put tickets in chronological order.
Self-Service 
Freshdesk creates a self-service portal to share FAQs and knowledge pages. A well-written knowledge base is the cornerstone of any support team's strategy. It enables customers to access FAQs, do troubleshooting themselves, etc.
Reporting 
Freshdesk facilitates reporting by providing a default dashboard where the customers can view ticket trends, recent activities, community forums, customer satisfaction, and other metrics. It also put forth the analytics regarding agent performances, group performances, ticket volume trends, and ticket lifecycle.
Other Freshdesk Features
Some miscellaneous features such as Support Service Level Agreements (SLAs), creating scenario automation to solve tickets faster, and providing SSL certificates and DKIM configuration are also incorporated in the tools provided by Freshdesk. It integrates Freshdesk with Freshsale to enable customer service CRM and project management functionalities. 
Table of Pros And Cons 
Freshdesk
Zendesk
Pros: 
🔹 Customer tickets show previous tickets, which is helpful, and it's not hard to tag certain contacts as VIP users so that they can get expedited support.
🔹 It automates 90 % of our volume of tickets saves not only time but reduces the error rate drastically.
🔹 All chats and tickets from all booking channels in one central system saved us a lot of time.
🔹 Their customer support resolves all of the needs and all issues or concerns quickly.
🔹 The centralized automation and reporting features make it quicker to access. It can also be customized according to the requirements.
🔹 The software is pretty easy to implement, a bit intuitive with clean UI, and a provision to keep track of internal team priorities and tasks.
🔹 Freshdesk dashboard preserves the logs of all tickets making it easier to deal with which further improves the Support team's efficiency and analytics on individual performance.
Pros:
🔹 With Zendesk internal CRM can be maintained with ease.
🔹 The features allow tracking the ticket status. The integration of Shopify and creating a knowledge base is effortless.
🔹 The sheer number of plugins and integrations available attracts businesses.
🔹 Zendesk's thorough reporting system is the best out there in this market.
🔹 Zendesk generates alerts and status of tickets on the platform to ease the completion of the task, attachment of information, and keeping the log of the users and tickets.
🔹 New engineers can quickly register in the portal and begin to attend support tickets. It enables customers to keep track of the hours that are billed according to the tickets.



Cons:
🔸 The ticket management system may sometimes not display the exact team member's name which creates confusion
🔸 Spanish translations have been found to be erroneous and inaccurate.
🔸 Contact management and search need improvement.
🔸 Upgrading Freshdesk's features are overpriced based on the feedback received.

Cons:
🔸 The functionality and automation need time to understand.
🔸 There are multiple reports of difficulty in creating dashboards, and it is a bit confusing to use, with data that are out of sync at times.
🔸 Zendesk can improve the time it takes them to implement their service into a business's existing framework for dealing with customer concerns and complaints. 
🔸 New features are not implemented quickly enough.
User Reviews
The G2 platform states that Freshdesk has 4.4 out of 5 stars with 2,657 reviews and Zendesk has 4.3 out of 5 stars and record-breaking 4,581. Let's have a look at how users reviewed them.
Freshdesk Review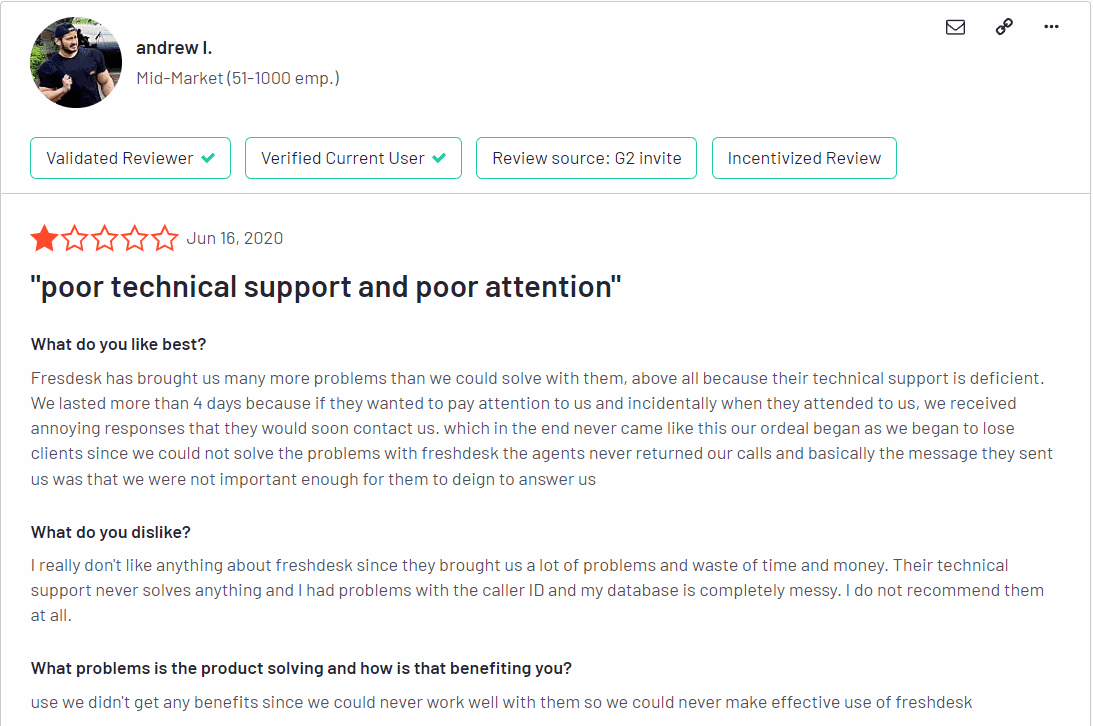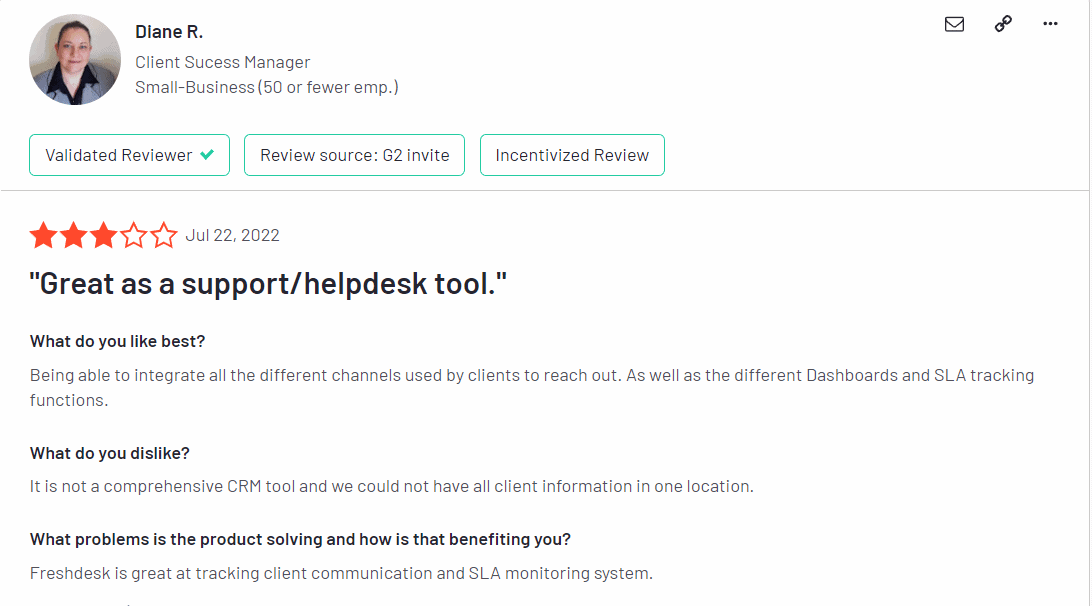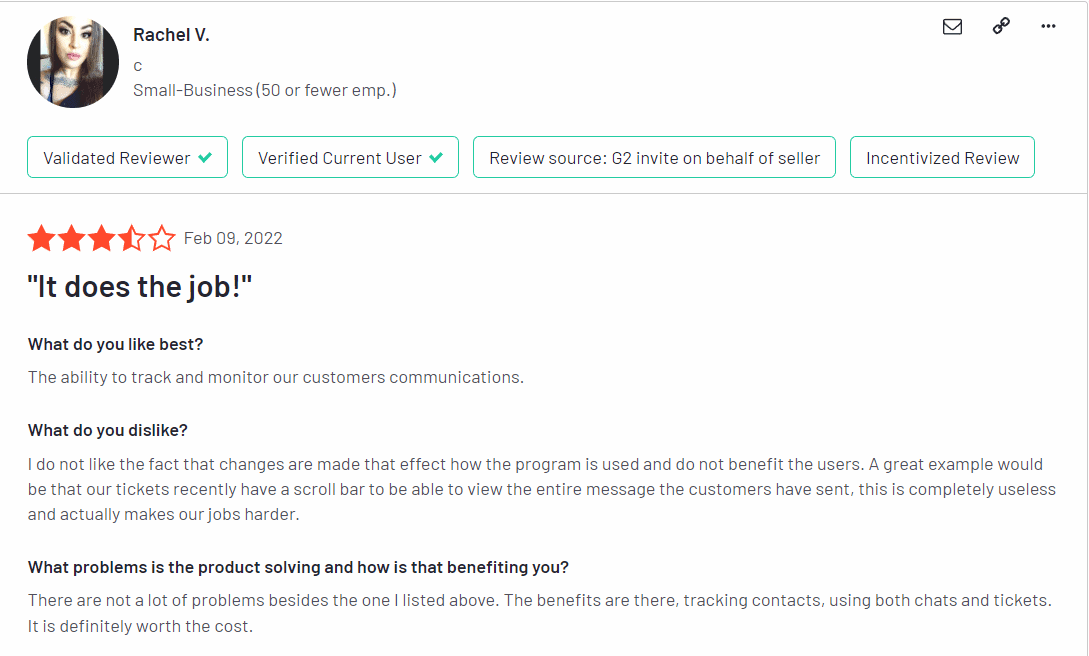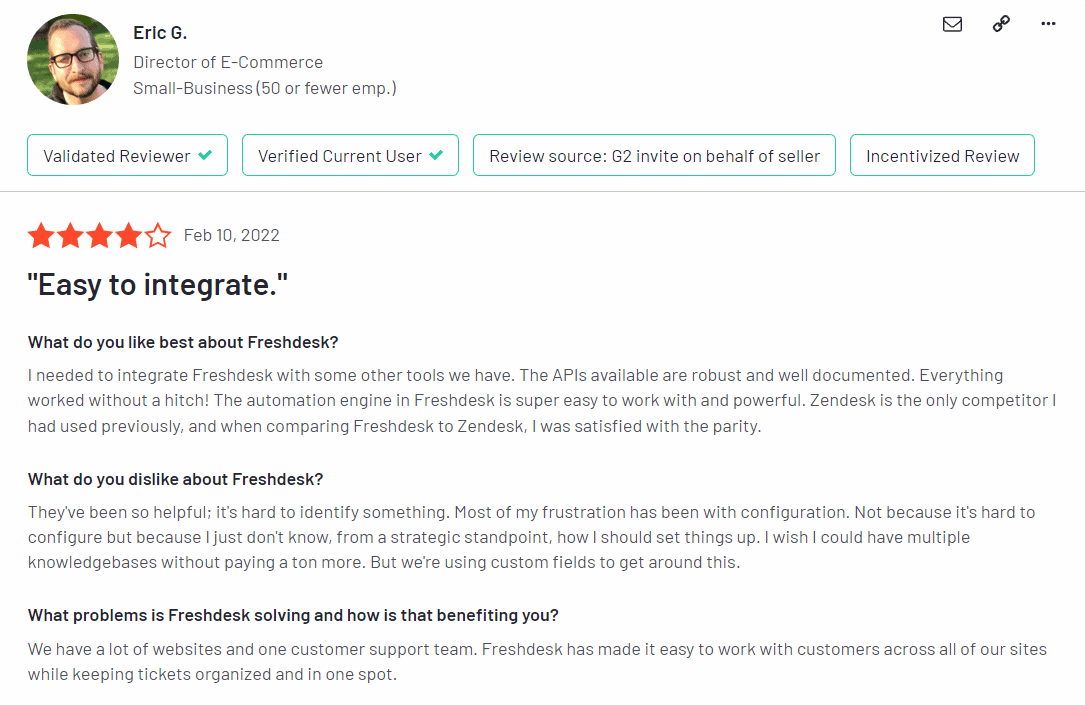 Zendesk Review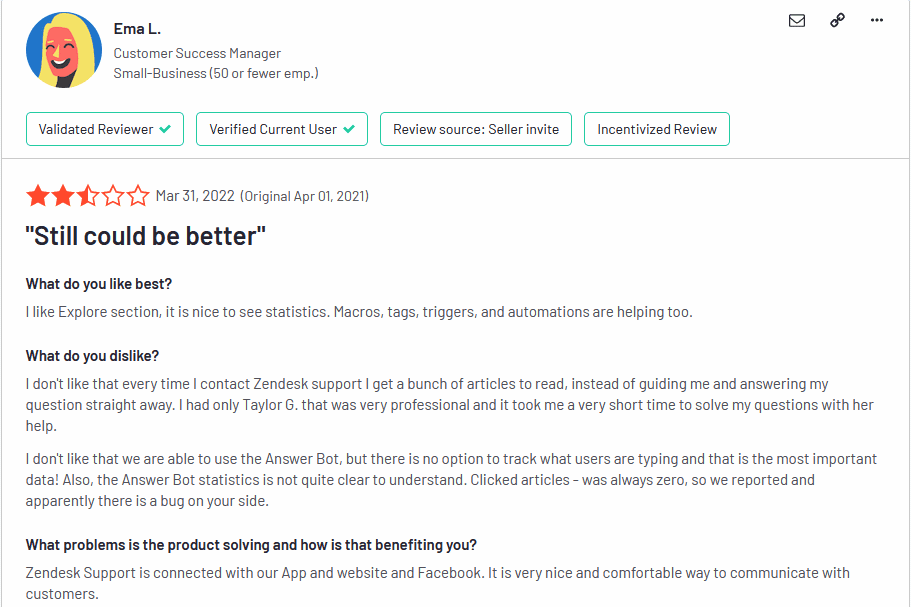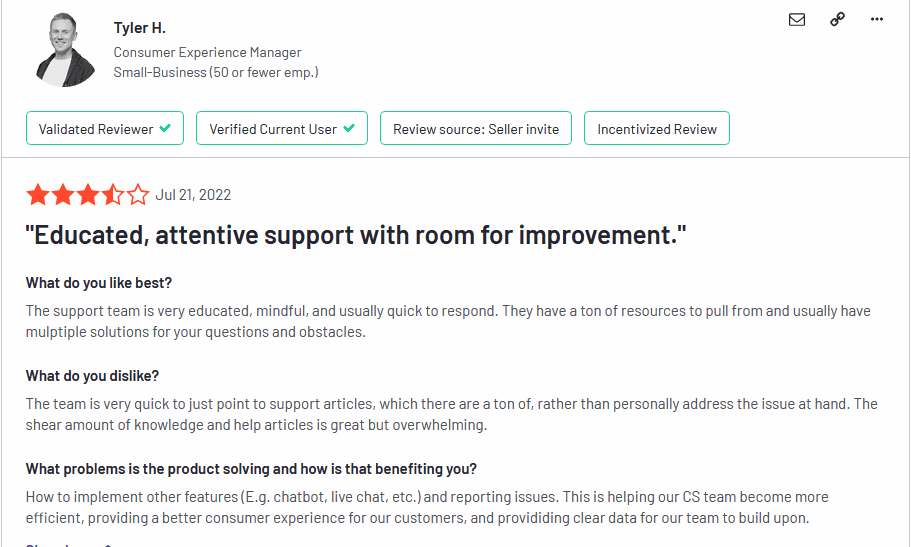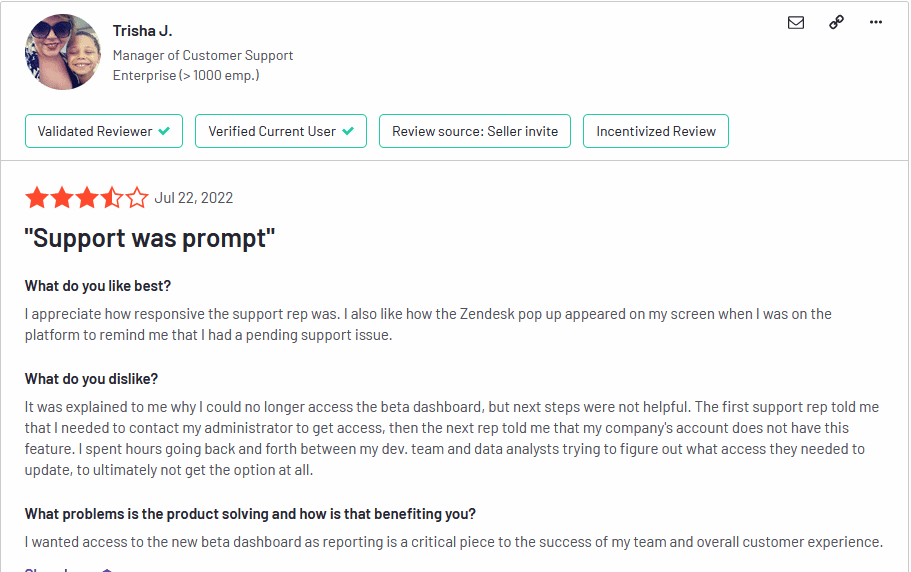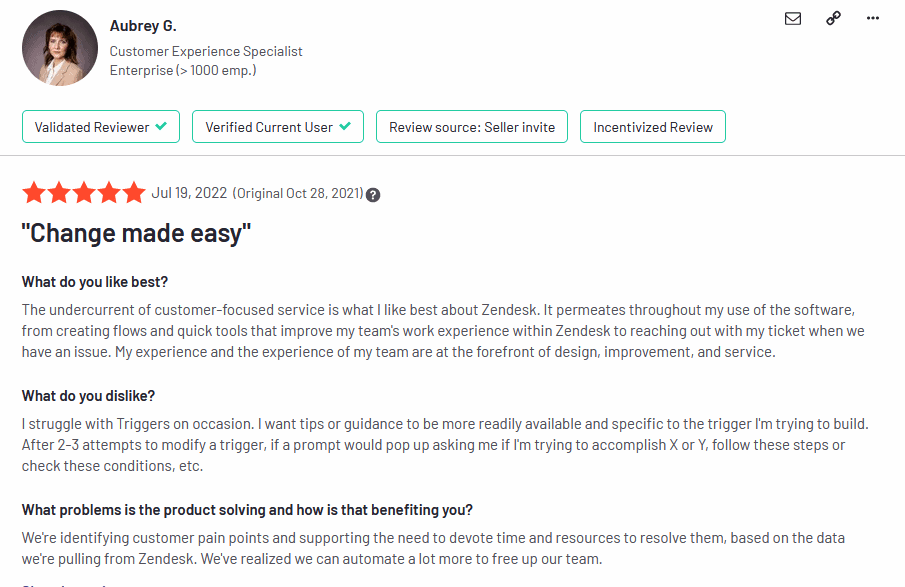 Best Alternatives to Zendesk and Freshdesk 
| | |
| --- | --- |
| ThriveDesk | ThriveDesk is arguably the best Freshdesk vs. Zendesk alternative customer support software. It offers the best interface out there, smoothing the navigation process. A quick reply to your queries is always appreciated. The quick live chat widget does precisely the same. The plans offered as also affordable for smaller businesses. |
| Zoho Desk | Zohodesk focuses on the customer experience by putting it at the heart of your business. It claims to be the industry's first context-awre help desk tool.  |
| Groovehq | Groove helps organize all your support emails in one place. It facilitates team collaboration through shared inboxes making interdepartmental collaboration easily achievable. |
| Crisp | Crisp is the messaging app that allows you to chat with tour customers and the inboxes centralize all your conversations. Thus converting them into tickets becomes an easy task. |
| Happyfox | Happyfox unifies the multi-channel customer queries using a ticketing system, thereby reducing the response time to customers' queries. |
| Jira | Jira specializes in simplifying the complexities of software development into separate manageable units of work. It values agility over anything. |
| Desk.com | Desk.com enable you to engage with all your customers in one place across all support channels. So you can be present for your customers, Desk.com lets you see all your customers in one place and 24×7. |
Final words
Here, we stand at the climax of this clash of Freshdesk vs. Zendesk. Based on the features, the reviews, and the feedback, Freshdesk edges this rivalry. Freshdesk has a more straightforward interface that enables anyone to access tools faster. Also, the cheaper pricing options attract smaller businesses. Zendesk is a better alternative for enterprises and big corporations due to its plethora of helpdesk management features.
However, there are more unified alternatives– like ThriveDesk. With ThriveDesk, you get additional features apart from those mentioned in the upper sections. Thrivedesk offers a modern-centric customizable live chat widget. The widget supports a plethora of features like assigning tags and statutes, private notes for your colleagues, re-assigning customers' requests, and many more. 
Their plans are more straightforward and affordable, which does not hamper scaling up your eCommerce outlet. Customer retention leads to an organic customer base which adds to the profitability of your business. Achieving that is only possible if you have customer support software in accordance with your business. Research and choose wisely!