"Everything you could ask for a help desk"
"High value for money"
"Probably the best Help Scout alternative"
The all-in-one Customer Support Platform for Startups
Your customer deserve better support with ThriveDesk
Start Using ThriveDesk Today



They really stand behind their product and constantly pushing it forward. Its getting better every day! I can now have all my customers tickets in one place – thats peace of mind
ThriveDesk is really easy to use while being super effective. I can say without a doubt that ThriveDesk is the best software for small companies.

What you can do with ThriveDesk?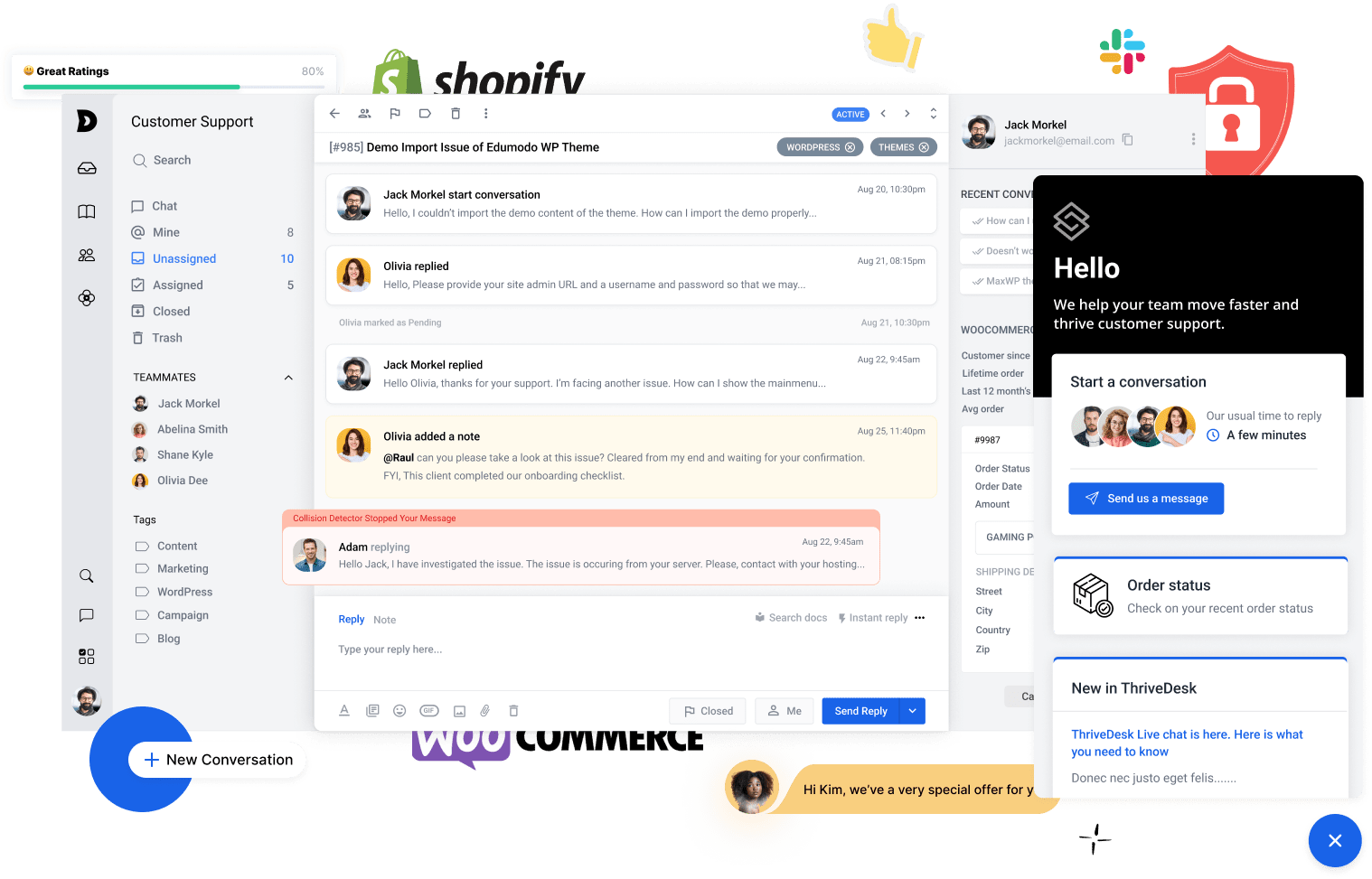 All the features your team needs
Make collaboration in a shared inbox a breeze, and reduce email volume by up to 30% with a self-help knowledge base.
Upgrade your email management
Maximize team efficiency and provide customers with a personalized and helpful experience using ThriveDesk's shared inbox. Do more with less, deliver exceptional support.
Collaborate with ease
Assignments, private notes, collision detection, and more help your team work better together.
Organize your inbox
Stay organized and efficient with a shared inbox—perfect for managing email and team communication.
Automate for efficiency
Automate tasks effortlessly with intuitive if/then logic—choose manual or automatic workflows.
Personalize conversations
Efficiently track and display customer info for faster, superior support—no system-hopping.
Learn more about Email Management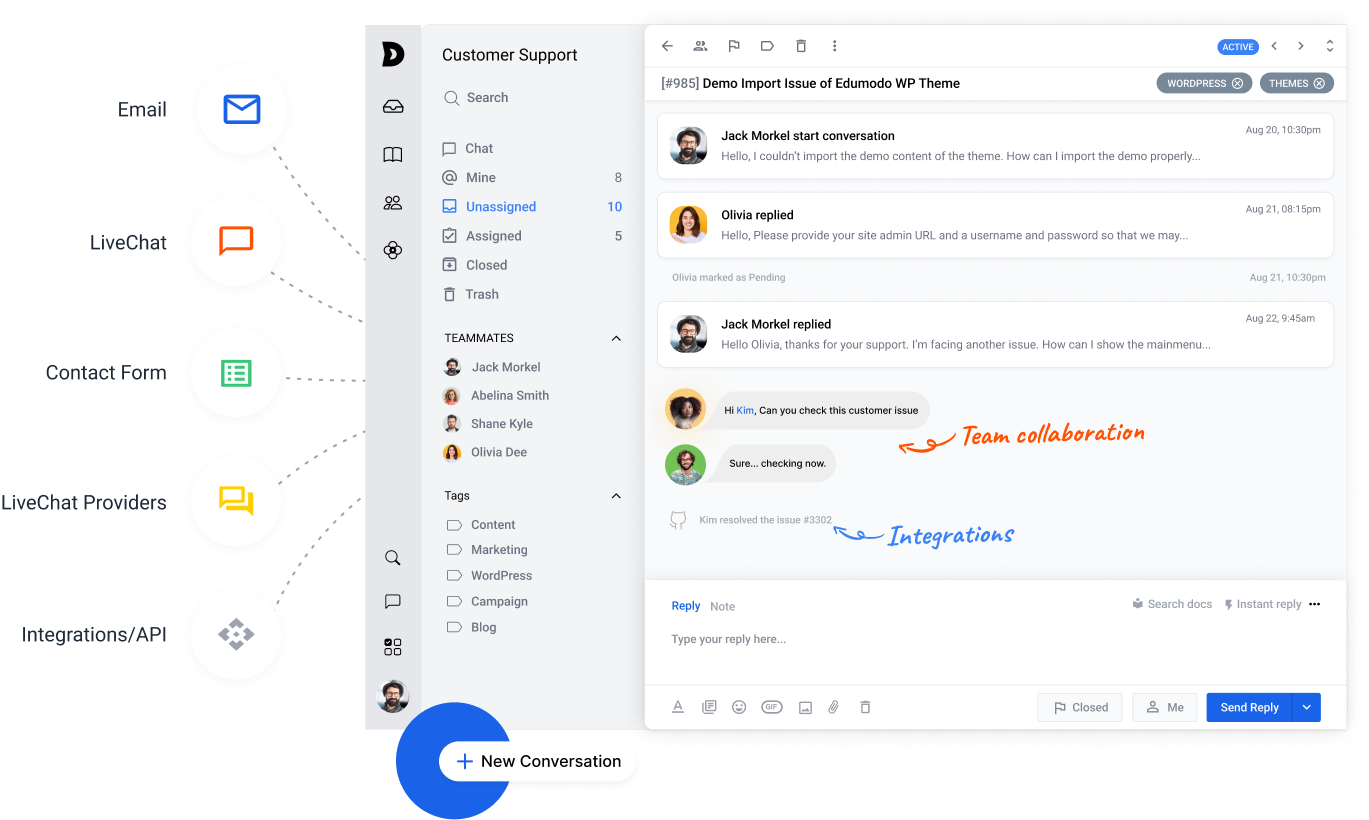 Help customer in real-time
Offer personalized, real-time assistance to your customers directly on your website or within your application. Engage in 1:1 conversations to address their needs promptly and effectively
Start in minutes
Install Assistant on your website or app for instant customer chat and seamless interaction.
Work together live
Effortlessly collaborate with your team using shared notes, assignments, and permissions, just like managing email.
Chat on your terms
Engage in chat when your team is available, smoothly redirecting customers to alternative options when unavailable.
Know who you're talking to
Leverage tags and customer profiles for swift, personalized assistance tailored to each customer's needs.
More about Live Chat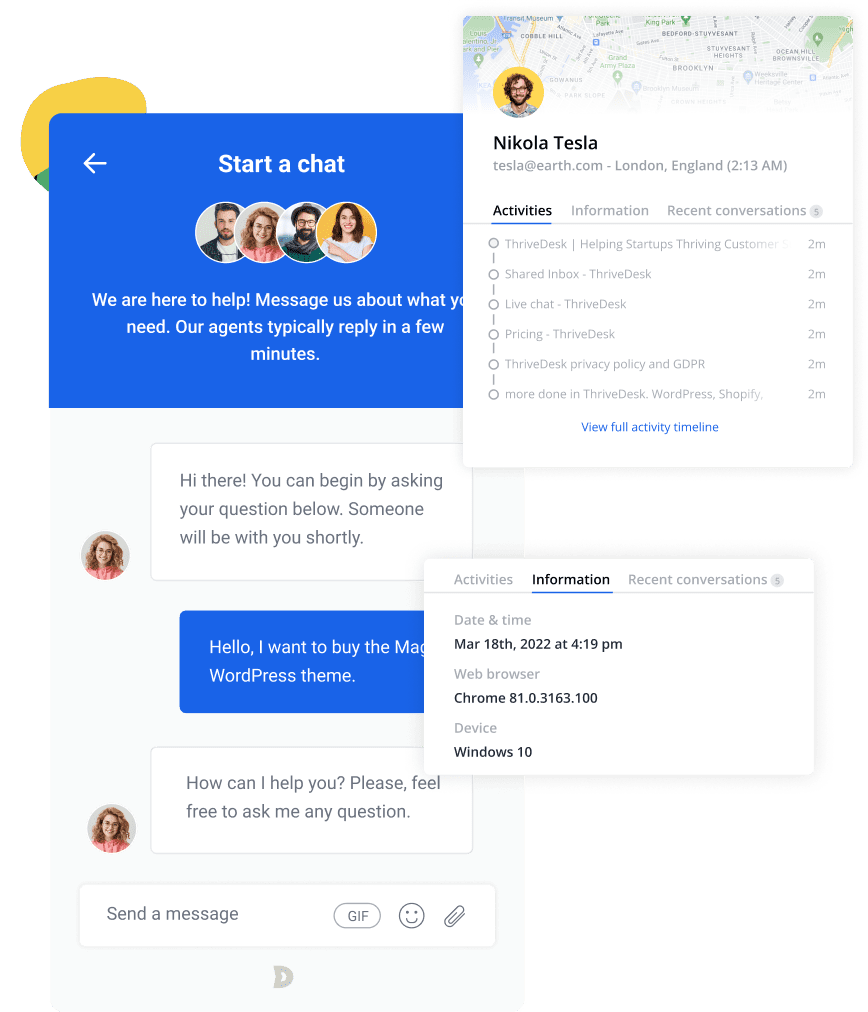 Deliver instant answers to customers
Offer personalized, real-time assistance to your customers directly on your website or within your application. Engage in 1:1 conversations to address their needs promptly and effectively
Easy to create
Set up your Docs site swiftly and publish your inaugural article within minutes. Start addressing FAQs promptly.
Understand customer needs
Monitor customer search trends to identify high-engagement articles and understand customer interests effectively.
Organized and searchable
Use nested categories to organize your articles and make search easy.
Beautifully branded
Personalize your knowledge base with custom company branding to align it perfectly with your brand identity.
More about Knowldege Base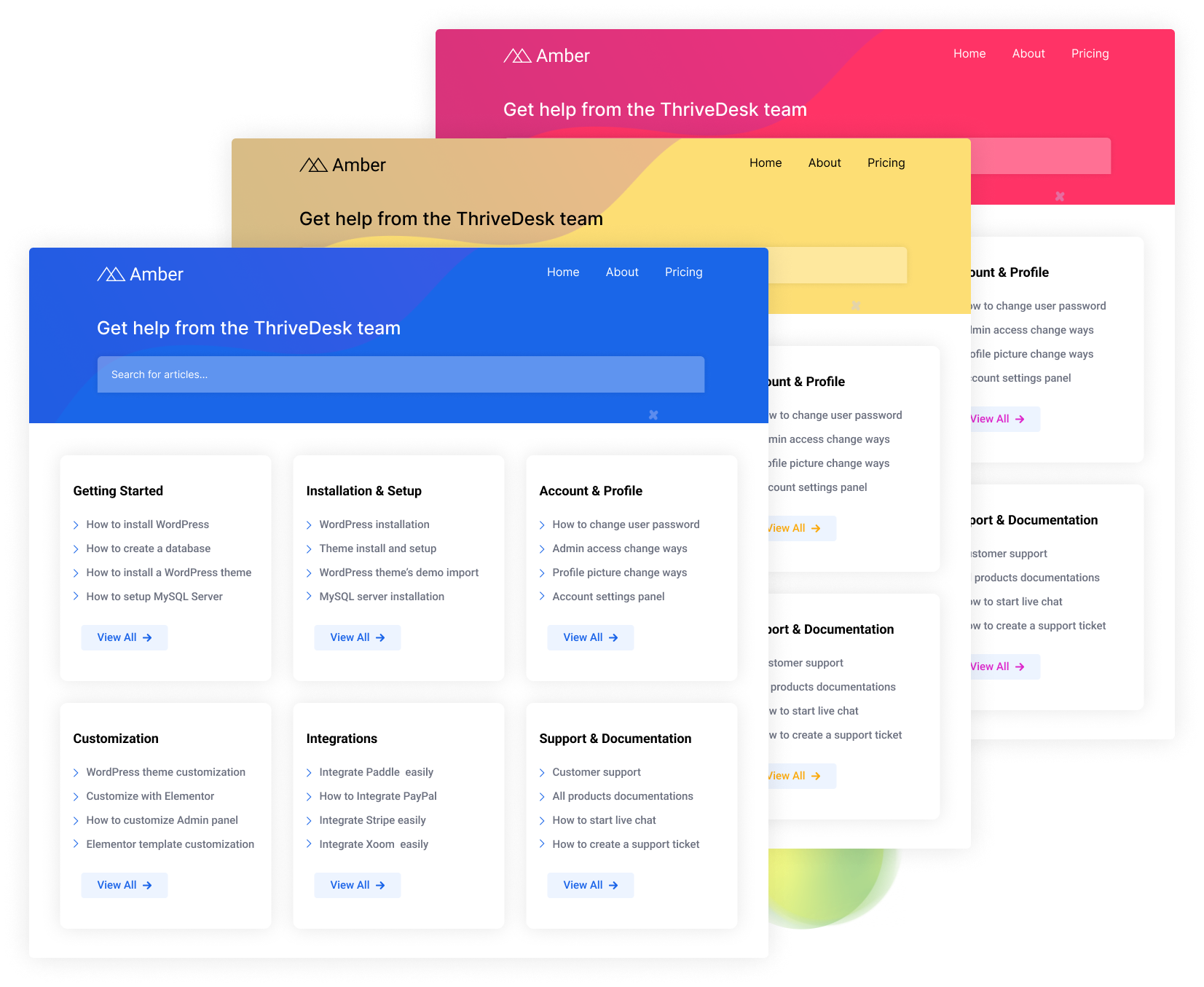 Metrics important for your company
Use Reports to track and optimize team efficiency, channel effectiveness, and customer happiness.
Report on what matters
Track volume, response time, resolutions, and user-specific stats for valuable performance insights.
Track custom data points
Monitor customer search trends to identify high-engagement articles and understand customer interests effectively.
Measure happiness
Evaluate customer satisfaction ratings and enhance as needed to drive continuous improvement.
Know your agents
Track agent performance, pinpoint improvements, and enhance effectiveness for optimal customer support.
Learn more about Reporting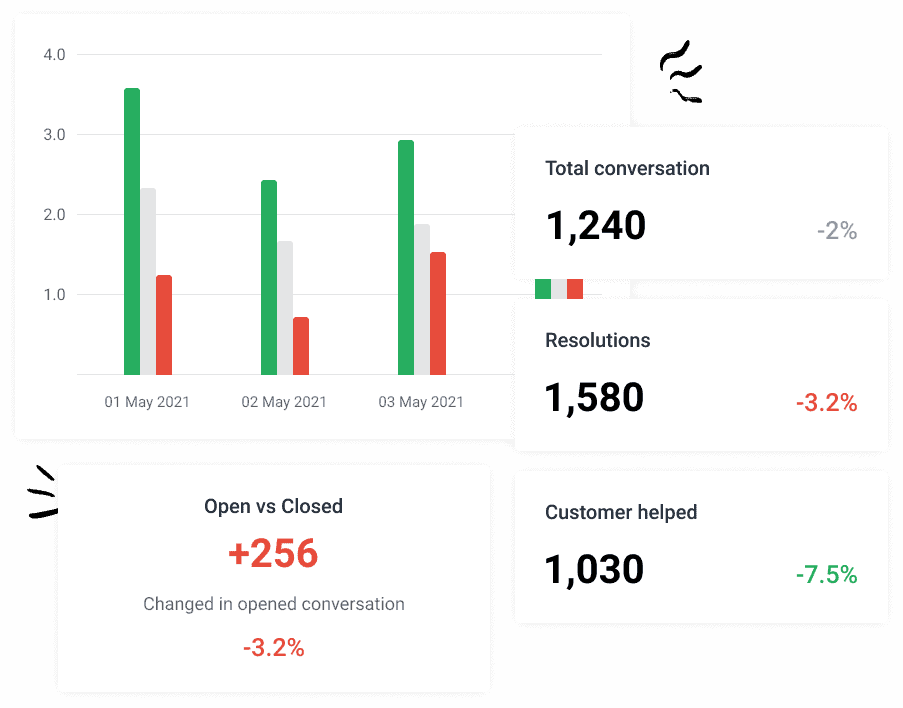 Enhancing team productivity
Supercharge your team's productivity with advanced tools and collaborative features designed to streamline workflows and maximize efficiency.
Automate your support
Unleash mesmerizing efficiency in customer support with enchanting automated workflows.
AI powered efficiency
With AI-powered efficiency, sparking an extraordinary customer support experience beyond imagination.
Power of canned response
Instantly respond to customer queries with pre-written canned replies for efficient support.
Keyboard shortcuts
Accelerate workflows with lightning-fast keyboard shortcuts for effortless efficiency and productivity.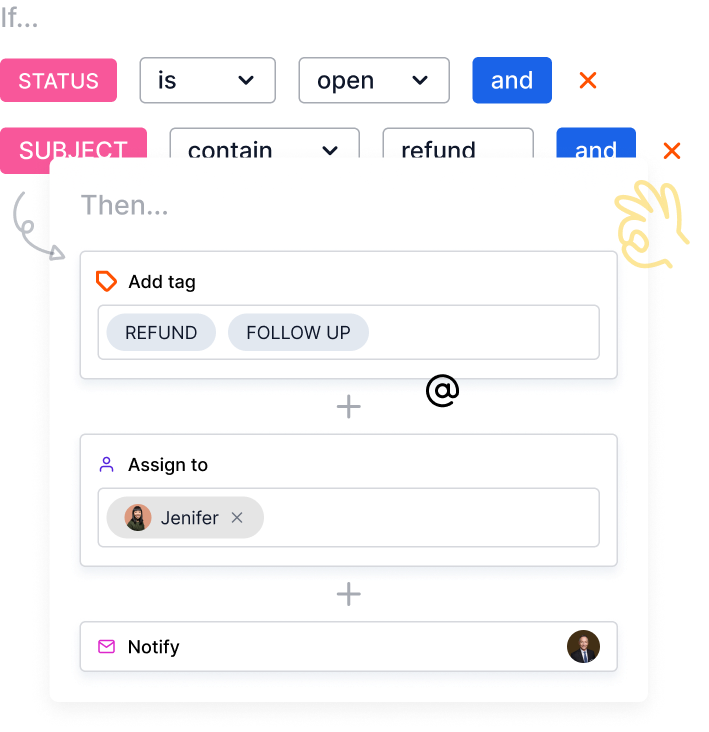 Connect with your existing tech stack
Integrate ThriveDesk software with tools for marketing, analytics and growth that you're already using. Streamline repetitive tasks to gain more time to focus on things that matter.
Go to integrations
Apps
Mobile ready when you step out the desk
Effortlessly oversee, respond to, and handle support tickets directly within the app. Seamlessly manage chat support while on the move.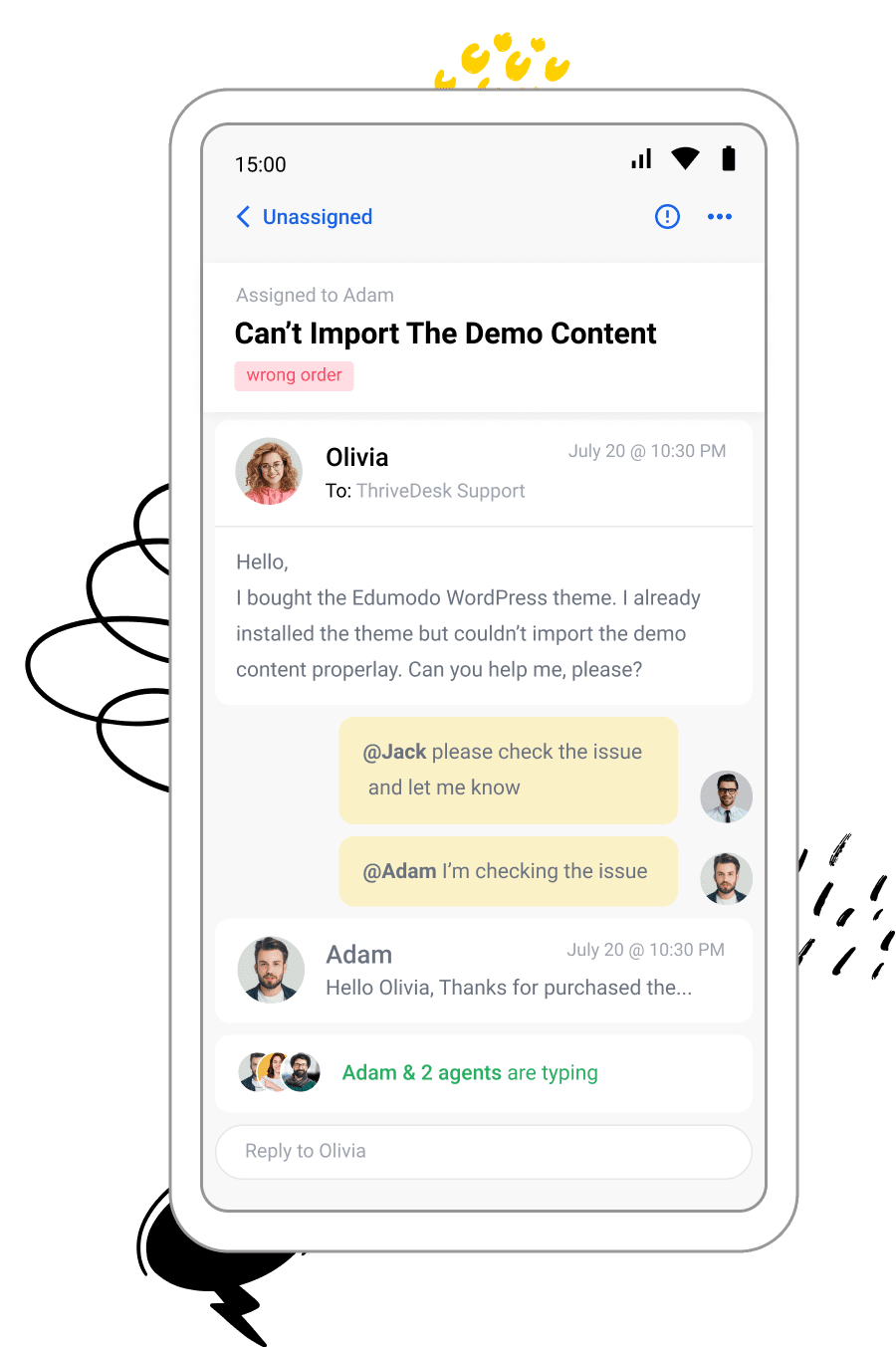 Get ThriveDesk for life
Adblock detected!
To complete the purchase of the lifetime plan, kindly disable any adblock extensions or apps currently in use, as our payment processor "Paddle" requires it to be disabled for proper functionality. 
Starter
For small teams who want to improve their customer relationships.
Buy Starter Plan
Includes:
Essential
Best price for value
Businesses that need all the bells and whistles for customer communication.
Buy Essential Plan
All the benefits of Starter, plus:
1 Knowledge Base included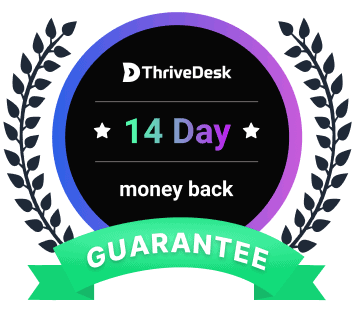 100% Satisfaction Guarantee
You are fully protected by our 100% No-Risk Double Guarantee. Give us a try, and if you aren't completely satisfied, we'll refund 100% of your purchase - no questions asked. You have everything to gain starting with ThriveDesk today!
Questions about ThriveDesk?
Checkout these FAQ's!
Here are some of the more frequently asked questions. But, if you still have any other questions, feel to
chat with us
here or drop us an email at
[email protected]
What is a Shared Inbox? Why should we have one?

A Shared Inbox is a special kind of Inbox that lets multiple team members handle emails that come into one Inbox without any problems.

Team collaboration: Private internal notes, @mentions, and collision detection prevent team members from working on the same conversation simultaneously.
Conversation History: Easily see the full audit trail on a conversation of who has worked on it and what has happened on it.
Reporting: makes it simple to keep tabs on both the individual and collective performance of your team.
Powerful Search: With a powerful search query builder, you can find anything and everything with a few clicks.

Is my data safe with ThriveDesk?

We adhere to the industry's best practices and highest standards in all aspect of our work, from code to infrastructure. The data is stored and replicated over various AWS (Amazon Web Services) servers and locations. Every hour, we perform a backup of our data and store it in multiple locations. Only a small number of our engineers get access to client data because we work on a "Need to know basis."

We've baked in several layers of enterprise-grade security into our product, platform, and processes. Everything is 256 bit encrypted. ThriveDesk is privacy focused GDPR compliant software from day one.

How is ThriveDesk different from sharing a Gmail login?

There are no team-oriented features in Gmail because it was designed to be used by only one person. As part of the ThriveDesk platform, you'll be able to take advantage of sophisticated collaboration features such as private notes, @mentions, and collision detection.

In addition, we have a bunch of handy features like conversation states, canned reply, powerful reporting and customer information widgets that contain full customer purchase history.

Does ThriveDesk allow us to support multiple brands?

Yes. You can forward in multiple email addresses and each will have its mailbox in ThriveDesk. Your team can see and respond as desired for each brand/store. You can also have multiple assistants, chats, knowledge bases, communities, etc. Each is customized with your branding.

What integrations do you offer?

ThriveDesk offers several integrations that can be added to your account. These include internal integrations (assistant, knowledge base, community, etc) as well as a variety of third-party apps that can be connected to ThriveDesk.

Does ThriveDesk support live chat?

Yes. We've made it super simple to get started with Live Chat with your customers on your website or app through the ThriveDesk Assistant.

Do you have Knowledge Base tool?

Yes! We have a powerful, customizable Knowledge Base available for you.

How long does it take to set up our account? Can you help?

As soon as you sign up, our onboarding workflow guides you through the process of setting up your mailbox and adding your team members in just a few clicks.

Please don't hesitate to get in touch with our support team if you have any questions or concerns about how to set up your account.

Can I delete my data and account?

Yes, from your account settings you can delete your account and we'll remove everything instantly. You've the complete right to be forgotten.

What payment methods do you accept?

We accept payments from PayPal, MasterCard, Visa, American Express, and all major credit & debit cards.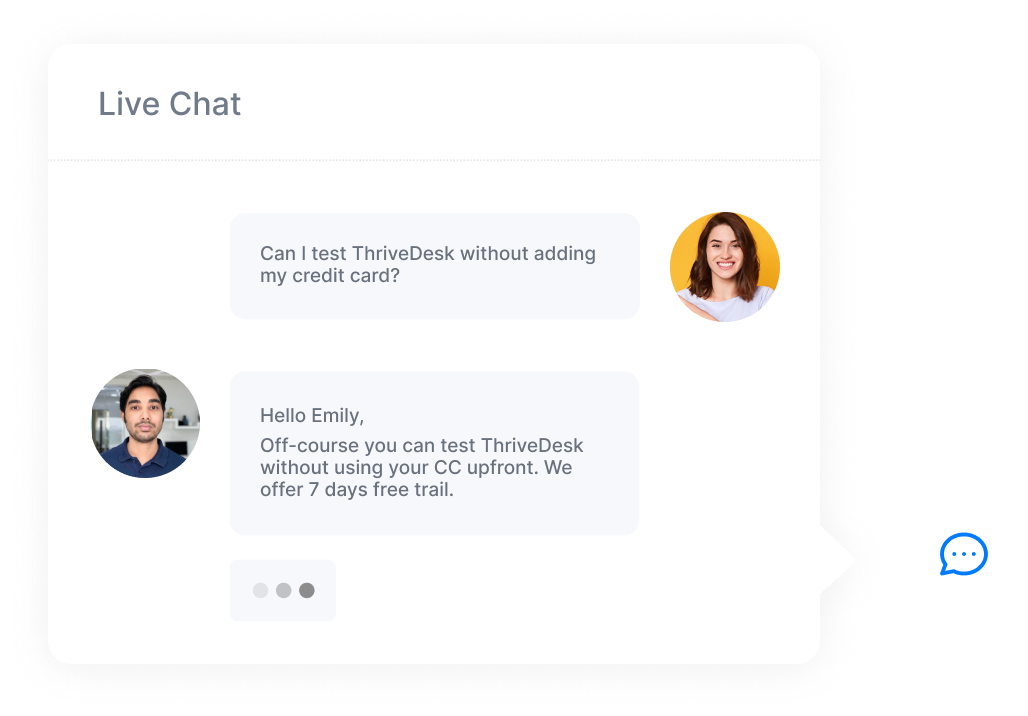 Need Help on Choosing the Right Plan?
We're here to help you every step of the way! Our team of experts is ready to provide efficient solutions to all your queries. Feel free to reach out to us anytime, we're excited to help you!
Let's talk