No business can thrive without building upon the trust of its customers. And to achieve that, you must attend to the customers' feedback and provide substantial support to them through a dedicated 'help desk.' However, at present, there are several help desk softwares available in the market and to pick the best one is often a difficult task. 
Probably the two popular help desk softwares are Help Scout and Zendesk. Both are very popular and widely used customer service tools that enable businesses to support their customers by listening to their problems, pinpointing them, and resolving them over time to serve their customers better.
Both the helpdesk software provides a plethora of credible CRM (customer relationship management) tools for online businesses, as per the need and scale of their customer base. But which of these two would be ideal for your business? 
Incorporating a help desk in a new business can be tricky and confusing as there are plenty of choices. So, in this article, we will help you get past all the Zendesk vs. Help Scout confusions and choose the best customer service tool, a.k.a help desk software, for your business. 
At A Glance Help Scout vs Zendesk vs ThriveDesk
| At A Glance | Help Scout | Zendesk | ThriveDesk |
| --- | --- | --- | --- |
| Rating | 4.4/5 stars with 357 reviews | 4.3/5 stars with 4542 reviews | 5/5 stars with 12 reviews |
| Market Segment | Small-Business | Small-Business | Small-Business |
| Entry Level Price | From $20 / Month | From $19 / Month | From $25 / Month |
| Free Trial | 15 Days | 30 Days | 7 Days |
Help Scout vs Zendesk vs ThriveDesk: A Quick Overview
HelpScout is a "simplified" customer service software for small and medium businesses. Zendesk is massive, enterprise-focused comes with complicated pricing and features you often don't need.
Both Help Scout and Zendesk are popular for their multi-channel support capabilities and ticketing features; However, Zendesk offers some out-of-the-box functionalities like call center management, community forums, and numerous social media integrations. 
Help Scout is a more cost-effective and economical solution in terms of pricing. Compared to Help Scout, Zendesk offers a complicated multi-tiered pricing structure, which is too pricey for startups and early-stage companies.
The entry-level pricing of Help Scout starts from $20 per month per agent, whereas Zendesk charges almost double, $49 per month per agent, with very unelectable features. 
Here is the third option though – ThriveDesk – a simply affordable customer service software specially built with SAAS startups and eCommerce businesses in mind. As a platform for improving customer relationships, ThriveDesk includes all the support features you could possibly want, including live chat, a knowledge base, a shared inbox, connection with WooCommerce, reporting, and community support for better user engagement.
A Look at the Comparison: Help Scout vs Zendesk
| Help Scout | Zendesk |
| --- | --- |
| ❌ Alerts / Escalation | ✅ Alerts / Escalation  |
| ✅ Automated Routing | ✅ Automated Routing |
| ❌ Call Center Management | ✅ Call Center Management |
| ✅ Document Storage | ✅ Document Storage |
| ✅ Email Management | ✅ Email Management |
| ❌ IT Asset Management | ❌ IT Asset Management |
| ✅ Knowledge Base Management | ✅ Knowledge Base Management |
| ✅ Macros/Templated Management | ✅ Macros/Templated Management |
| ✅ Multi-Channel Communication | ✅ Multi-Channel Communication |
| ❌ Network Monitoring | ❌ Network Monitoring |
| ✅ Real-Time Chat | ✅ Real-Time Chat |
| ❌ Remote Access/Control | ❌ Remote Access/Control |
| ✅ Reporting/Analytics | ✅ Reporting/Analytics |
| ✅ Self Service Portal | ✅ Self Service Portal |
| ❌ SLA Management | ✅ SLA Management |
| ❌ Social Media Integration | ✅ Social Media Integration |
| ✅ Ticket Management | ✅ Ticket Management |
| ✅ Workflow Configuration | ✅ Workflow Configuration |
Key Features: Help Scout vs Zendesk
Well, this is where it gets exciting. At first glance, one software may seem superior to the other but believe us; both have some unique edges. Whereas one customer support tool provides better customization capabilities, the other comes with a pragmatic ticketing solution. None is far behind the other. Let us see who offers what and who stands where.  
Features of Help Scout: Simplified Customer Service Platform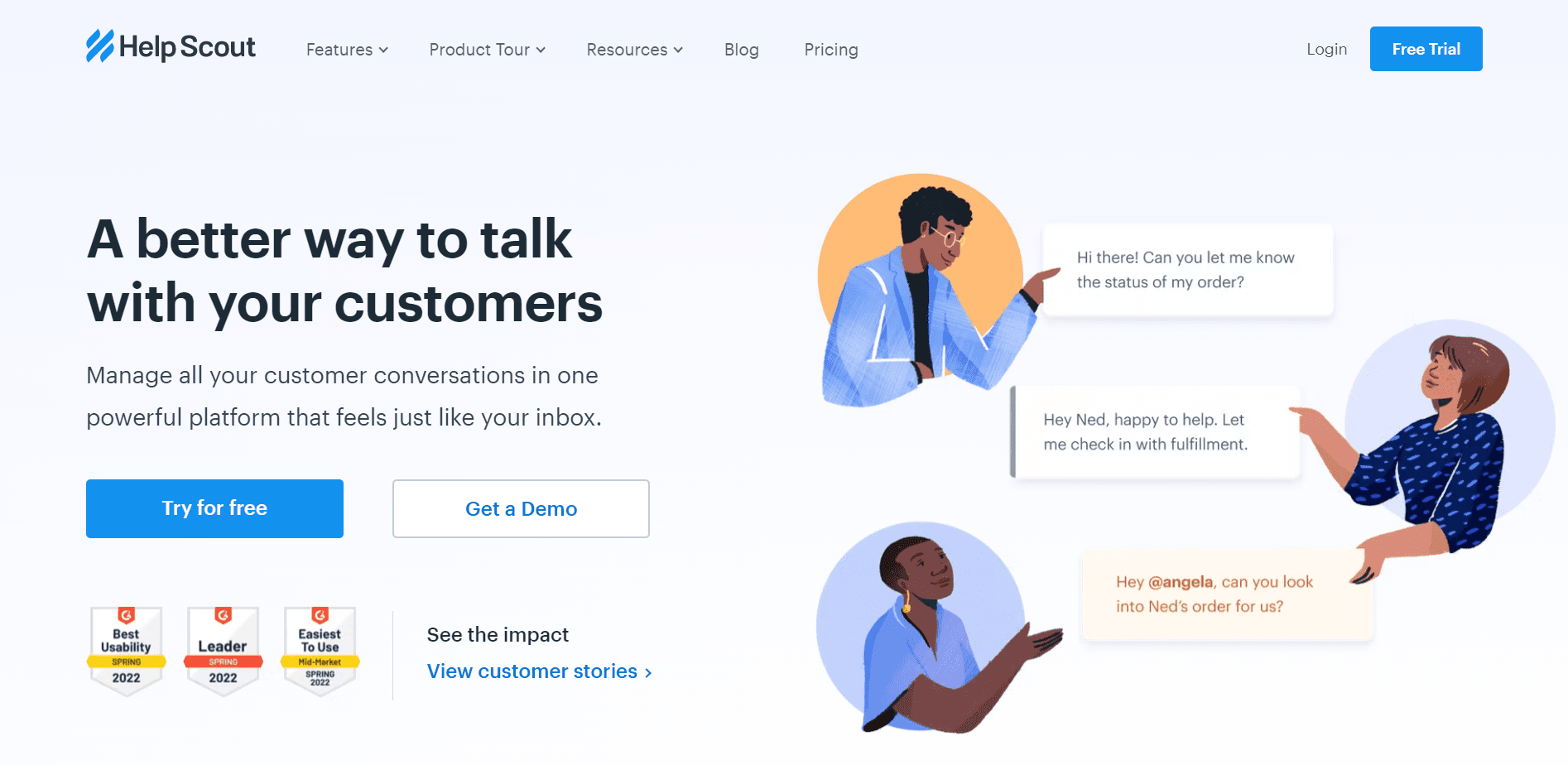 Help Scout was first developed in 2011 and has been a fan favorite for many. The most prominent Help Scout features are:
Shared Inbox:
The Help Scout customer support tool works based on a shared inbox, which goes by the name 'Mailbox.' The most highlighting aspect of the shared inbox is its simple and easy-to-use User Interface (U.I.). You can organize all your dialogue and communication in one place. And to add to that, in terms of conversations, it gives you the freedom to toggle dynamically between email, chat, and phone in real-time.
The power to add multiple mailboxes for various customer support teams down the line also comes handy. The Mailbox can broaden the scope of customer relationship management of your business by providing these essential additional features:
Create pre-written 'saved responses' for frequently asked queries and schedule their delivery.
For better synergy and synchronization among your team, you can also create 'private notes' and share them within your team to solve the user's problems in collaboration with your team. 
Automate workflow by tagging specific conversations, group user requests into categories to deal with a massive overflow of user requests, and streamline all the commotion.
You can provide more practical and dedicated customer support using the Mailbox's sidebar to store and process customer data.
Enables you to schedule effective automations that execute themselves on repetitive callbacks.
Knowledge Base:
The knowledge base vertical of Help Scout is called 'Docs.' It mainly functions as a text editor. Here's a list of other essential things you can do with it,
Make a simple hierarchy of all the information on your site by publishing individual articles, then put them in categories, and create collections later for ease of access.
Being a standard WYSIWYG text editor, it gives you the freedom to add images, videos and gifs to your articles.
Assess the 'actionable data' (what the customers seek and that percentage of your customer support reach) and react accordingly.
Specify proper keywords to make your article more SEO-friendly to stand out and get ranked higher on the web when people search for it.
Please choose from the various knowledge base locations in-hand, like Beacon, Modal, Popover, and Sidebar, and embed your article accordingly to be displayed in one of them. 
Live Chat Widget:
The live chat widget of Help Scout is named 'Beacon.' It is a no-nonsense, clean and new-age CRM tool that looks good. Beacon comes integrated with a 'help center' that endorses a 'customer self-service' environment for quicker customer support. You can provide users with an experience tailor-made just for them by incorporating specific modes such as Self Service, Ask First, and Neutral.
Beacon also allows you to add images to your messages in the 'proactive chat messages' section. The other convenient features of the Beacon Live Chat widget are:
Power to send instant responses to respective articles from right within the widget itself.
For swift user interaction, it allows you to choose your desired communication channel (chat or mail). 
It provides the choice to start a live chat whenever the customer likes it.
Help Scout doesn't adhere to false promises; the live chat widget gets active only when a human representative is on the other side.   
Features of Zendesk: Customizable Customer Service Platform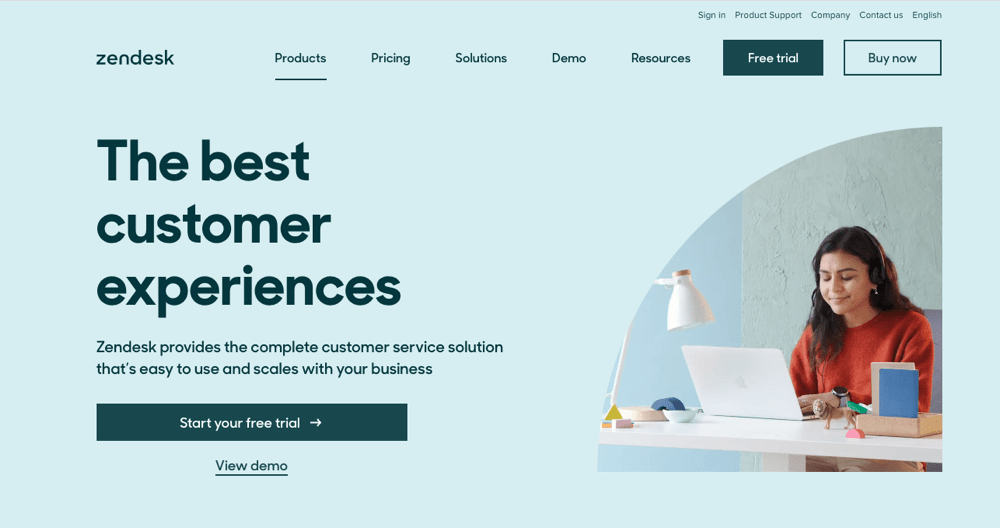 Zendesk, on the other hand, has been in the game for much longer since 2007. And the most prominent Zendesk features are:
Help Desk:
In a similar way to Help Scout, Zendesk also allows you to manage and organize all the conversations from all your emails, chats, social media, and cellphone inboxes, all in one place, called a 'Dashboard.' The dashboard displays them as 'Tickets.' The richness of this very feature gives Zendesk an edge over its competitors.
Zendesk was built to serve both the customer support representative and the customer. The representatives and customers can choose any channel to respond and reach out to, providing better communication.
Exchange internal notes within the team for efficient collaboration.
Zendesk offers monitoring and in-depth reporting, from average response time to complete callback of verbal calls and voice messages.
Apart from that, Zendesk's productivity tools also provide some significant advantages, which consist of: 
Views: 
Tool for categorizing and managing customer conversations.
Triggers: 
A tool executed when a new ticket is created, updated, or resolved.
Macros and Automations: 
Response automatically to frequently asked questions, common user queries, and FAQs. It also gives ticket modifying privileges at a specific time.
Help Center:
Zendesk offers an integrated help center called 'Zendesk Guide'. The Zendesk Guide comes with a forum or community feature called 'Zendesk Gather.' With the help of this, you can put topics for open discussion on your forum for clients to better understand their needs. The Zendesk Guide and Zendesk Gather provides you with the following perks:
A feature-rich text editor for publishing ease.
Support for Multilingual content in the future.
A.I.-based automated responses via the 'Answer Bot.'
Total customization privileges.
Integration of Live Chat, Social Media, and Messengers:
The Live Chat and messaging solution of Zendesk are much more robust than that of Help Scout. With a single line of code, you can add a widget to your site or a corresponding mobile application.
It seamlessly integrates various messaging apps like Whatsapp, Facebook, etc. 
Support for proactive messaging (image perms) to provide an interactive engagement among customers.
It offers a group messaging service.
Freedom to integrate Live-Location apps (like maps) and other third-party custom bots.
Table of Pros And Cons
Although Help Scout and Zendesk have an almost similar toolset to offer, there are a few variances here and there, in how they perform as a customer support tool.
Help Scout
Zendesk
Pros:
🔹 User-Friendly
🔹 Efficient customer-support
🔹 One-to-one interaction feeling
🔹 Real-Time support through Live-Chat
🔹 Clean and functional dashboard
🔹 Very appropriate for small businesses.
Pros:
🔹 Easy-to-use with amazing functionality
🔹 SEO-friendly
🔹 Excellent scope of training
🔹 Forums and Communities
🔹 Integration of third-party messaging apps and custom bots. 
Cons:
🔸 Poor 'search' tool
🔸 Keywords incompatibility needs to be addressed
🔸 Less engaging or interactive, a bit mundane. 
Cons:
🔸 Too many inkhorn terminologies involved
🔸 Poor technical support
🔸 Falls on the expensive side, not for solo creators. More apt for large companies.
User Reviews
The G2 platform states that Zendesk has 4.3 out of 5 stars and record-breaking 4,551 reviews and Help Scout has 4.4 out of 5 stars but only 357 reviews. Let's have a look at how users reviewed them.
Help Scout Review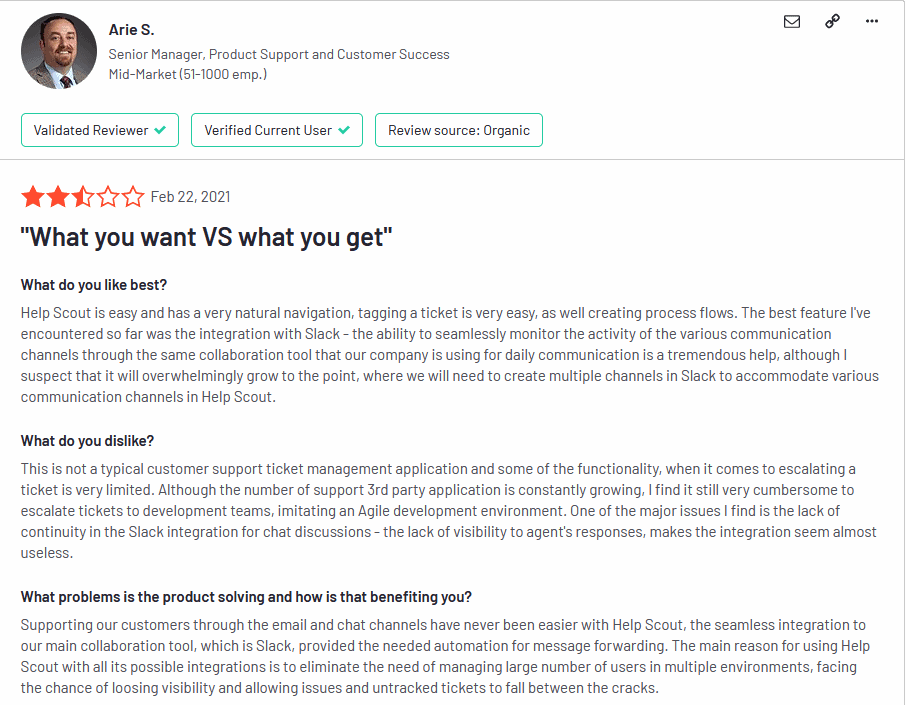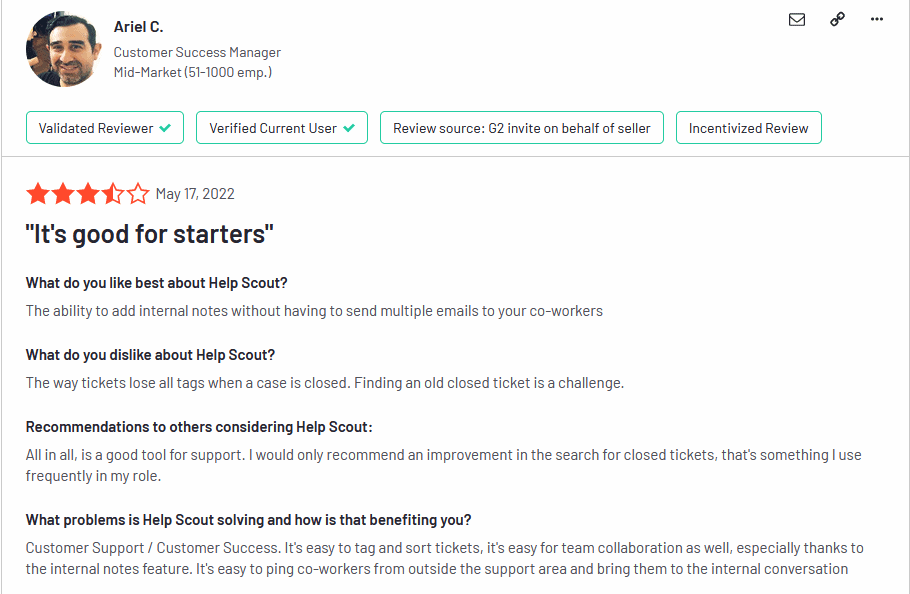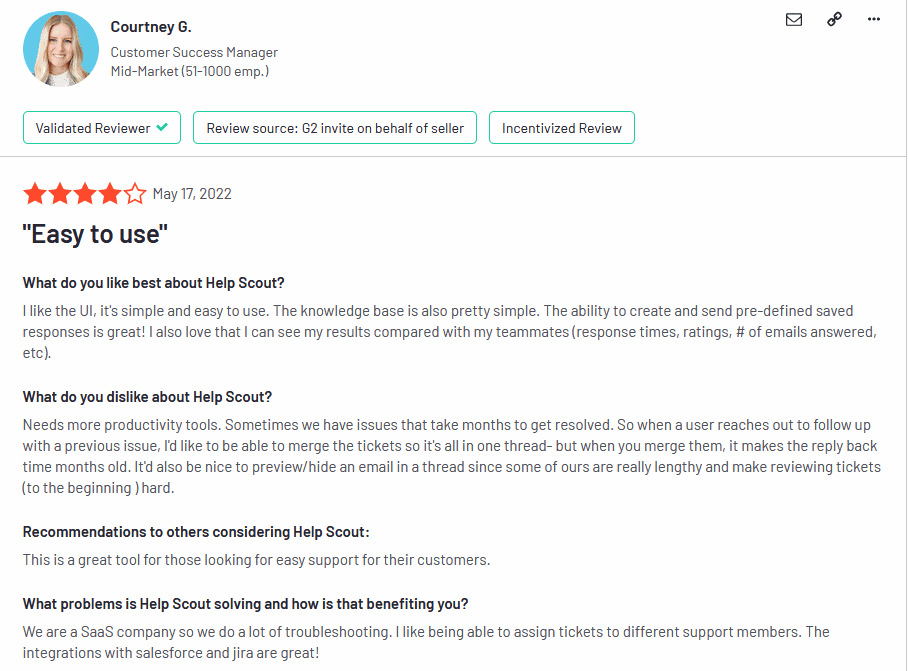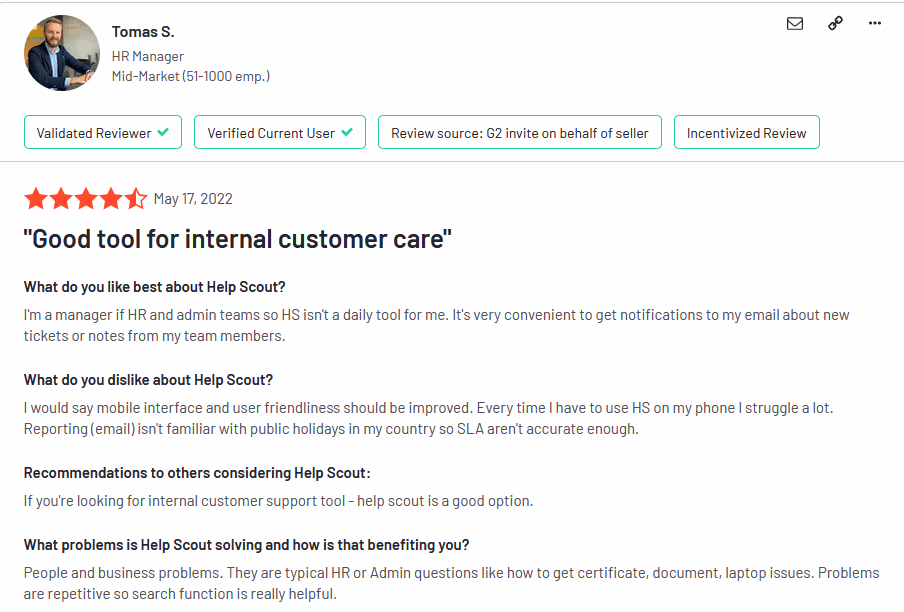 Zendesk Review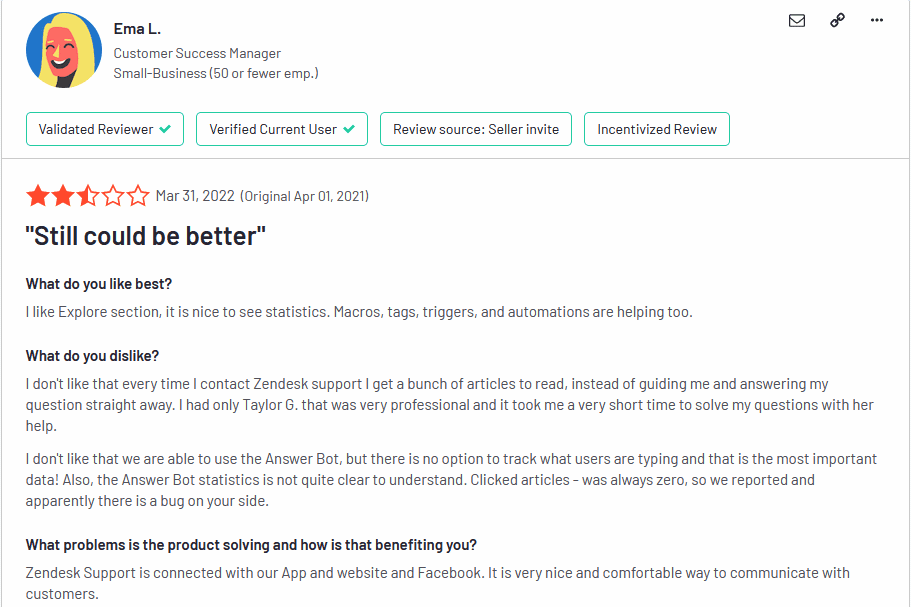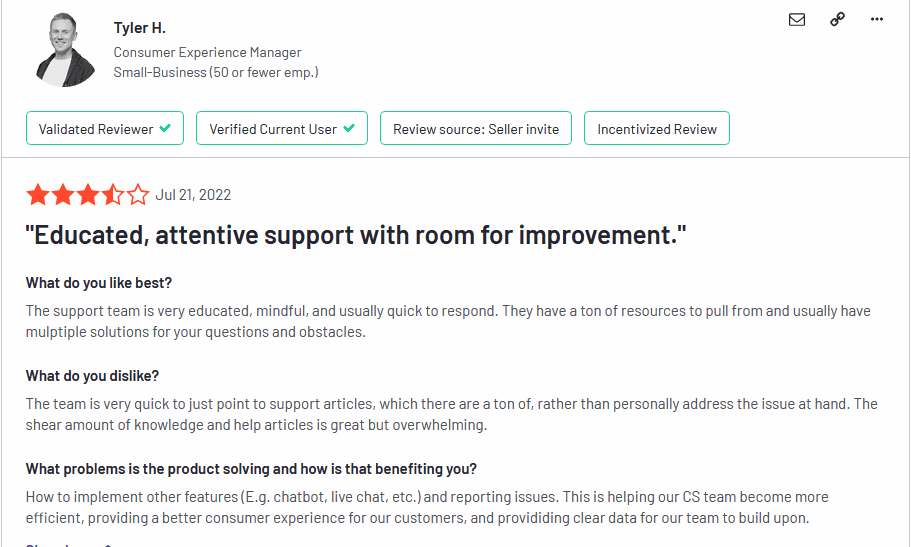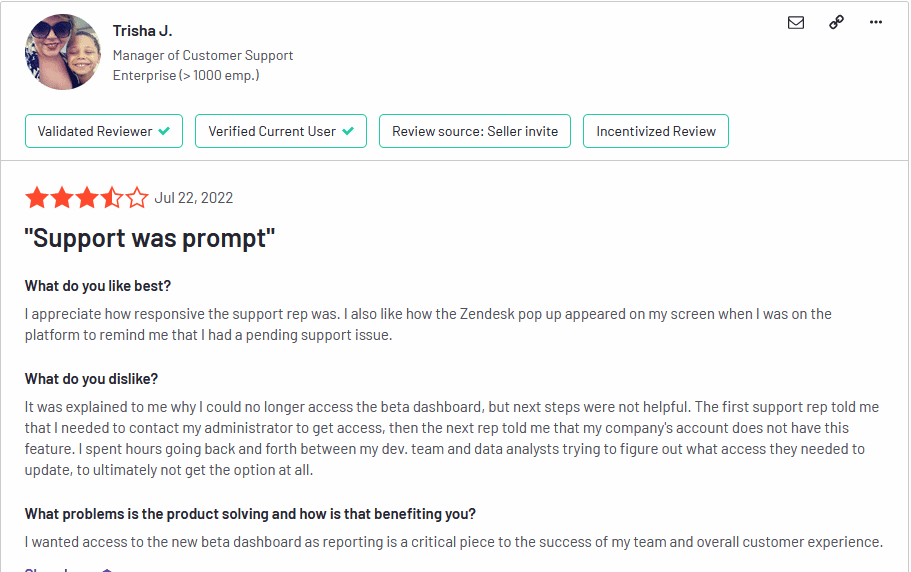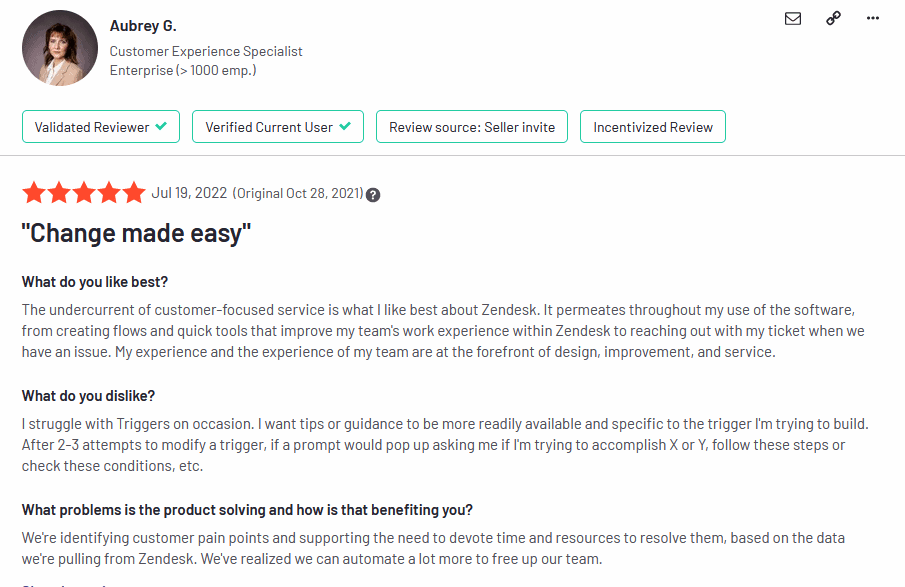 Best Alternatives to Help Scout and Zendesk
Some of the alternatives to Zendesk and Help Scout are:
ThriveDesk: A potent alternative to Zendesk is ThriveDesk. Helmed by everyone as the best customer support software, it has the lightest and fastest live chat assistant. It is simple, straightforward, and user-friendly. It can attract a large number of customers, and it doesn't slow down your website.
Intercom: Intercom is a Help Scout alternative that boasts a suite of integrated products for a product, sales, marketing, and support. It is a targeted customer communication platform operated by your website, in-site apps, and email.
Apache Spark: Spark runs in either Hadoop data clusters through YARN or in its standalone mode. It can process data in Hadoop Input Format (HDFS, HBase, Cassandra, Hive). It offers batch processing, machine learning, streaming, and interactive customer experience simultaneously.   
Crisp: Crisp centralizes all your conversations and lets you communicate with your customers.
Freshdesk: Another Zendesk alternative that provides 'on-demand' customer support across multiple channels is Freshdesk.
LiveChat: LiveChat provides a powerful customer service platform through which you can satisfy your customers much faster and get more business on the way. 
Reamaze: Reamaze is outstanding in handling your support@email inbox, live-chat, and in-app support. It can also manage your Twitter Handle and Facebook page. 
Choosing a Right Customer Support Desk for Your Business
So, as you can see, both Help Scout and Zendesk bring many helpful features to the table. Both hold some substantial ground on their respective functionalities. And no one loses to the other. The sole purpose of these two Customer Support Tools is to enable you to provide an effective and efficient customer support system to your clients.
If you just started and don't have time for complex software then Help Scout should be your choice. Easy to start and good for small customer support team.
If you are in the business for long haul and your customer support team is big enough for complex operation and process, Zendesk should be your choice. Zendesk is enterprise ready offers a far richer spectrum of functionalities compared to Help Scout with much higher price tag.
Frequently Asked Questions(FAQs)
Is Help Scout like Zendesk?
Yes, Help Scout and Zendesk are similar CRM softwares. They provide similar features such as live chat, help desk, knowledge base, email marketing etc.
What is a beacon in Help Scout?
Beacons in Help Scout is basically the live chat option they provide. After reaching the site, if you look at the bottom right of the screen you will see a chat bubble. This chat bubble is referred to as a beacon.
Does Zendesk have a Knowledge base?
Yes, Knowledge base is available from Zendesk that are simple to set up and utilize. You can use them as either an internal knowledge base, an IT knowledge base, a support agent-only knowledge base, or a customer-facing FAQ tool.
Does Zendesk have a mobile app?
Yes, Zendesk has a mobile app that allows agents and team leads to view and respond to Zendesk tickets from a mobile device or tablet.
Which is better: ThriveDesk or Zendesk?
Zendesk has been around for 15 years and ThriveDesk for just around 2 years. Taking that into consideration ThriveDesk is the best CRM software for small to mid businesses and startups. Having been around for 15 years, Zendesk has a very good support team but even though Thrivedesk's team is only 2 years old they also provide top tier customer support.                                
Which is better: ThriveDesk  or Help Scout?
In terms of features, ThriveDesk is better than Help Scout as they provide a greater volume of features that suit medium and small businesses alike. Help Scout however has better support owing to the fact that they are a more experienced company. Help Scout has been around for more than a decade. ThriveDesk is also cheaper which makes it suitable for small to medium businesses.