If you're looking for a new way to grow your business, adopting a live chat can be a game changer. Every business owner who takes online presence seriously can generate more conversions, almost 3.87% higher, and visitors to their website through live chat software.
According to research, 38% of customers are more likely to purchase from a website if it provides live chat support. No doubt, live chat has a significant impact on sales and customer satisfaction. But as there are so many live chat apps available in terms of pricing and features, it is always hard to find the suitable one.
If your online store is made with Wix eCommerce and wants to provide your customer with a better shopping experience through Wix live chat module, then this article is for you. 
In this article, we will discuss the #7 Best live chat apps for Wix, their costs, best features, and the pros and cons. So that you won't miss out on any opportunity that can help keep your website relevant and lively!
Let's dig in!
Our Top Pick Table
| | | | | |
| --- | --- | --- | --- | --- |
| Our Best Pick | Best For | Free Trial Period | Pricing (Per user) | Our Ratings |
| ThriveDesk | For SaaS, eCommerce, and  Small Business  | 7-days free trial | $6.67 per month | 4.7 |
| LiveAgent | For small businesses | 14-days free trial | $15 per month | 4.7 |
| Kommunicate | For BFSI | Available | $40 per month | 4.6  |
| HubSpot Service Hub | For medium and big companies | Available | $45 per month | 4.4 |
| JivoChat | For eCommerce and small business | 14-days free trial | $19 per month | 4.6 |
| Help Scout | For small to medium teams | Available | $20 per month | 4.7 |
| Kayako | For mid-sized companies | Available | $125 per month | 4.0 |
What is Wix?
Wix Chat creates open channels of contact between you and site users. They can reach your company right away. It allows you to strike up a conversation with potential clients while they explore and it provides a great outlook for your brand. 
Wix is unquestionably one of the most well-liked website builders in the world. It is clear why the platform has been around for so long. The majority of profitable eCommerce websites were made by Wix. Wix will assist you in taking care of business if you want to excel in the world of e-business!
Why Do I Need a Live Chat App For a Wix Website?
Live chat app is an integral part of every eCommerce site of any size. It allows you to keep your customers engaged and ensure satisfaction with their experience. 
In today's fast-growing world, people always prefer to communicate with businesses in real time, and here live chat is the best possible way to do so. If your eCommerce store is made with Wix you can easily add a live chat app from their app market to ensure a better shopping experience for your customer.
More than 41% of customers expect live chat on your website.

Forrester
Live Chat app for Wix makes it easy for you to be available 24/7 to answer customer queries and questions. This is a great way to improve customer service and satisfaction and is also useful for increasing conversions on your site which can remove buying objections and add credibility at the same time.
Having a reliable live chat app like ThriveDesk for example, offers a variety of built-in advantages, like comprehensive customer analytics, a wide range of integration, a knowledge base, product connection capabilities, and more.
The Best Way to Help Your Customer
Get started in 5 minutes. Used by 100+ SaaS & eCommerce companies to make their customer happy.

#7 Best Live Chat Apps for Wix to Connect with Website Visitors in Real-Time
The best live chat app is something that can enhance and drive conversion to your website. It may also be a successful strategy for growing your customers and sales. There are plenty of live chat apps for Wix that you can choose from. But which one is the best? We listed some of the most popular Wix live chat apps and compared them to each other, so that you can make your choice.
If growing your website is your top priority, then ThriveDesk is your best bet. ThriveDesk is a help desk software that helps to grow your business with its extensive features and the simplest yet powerful live chat assistant. It's the most inexpensive, light, and fast live chat solution which is also available for Wix. 
ThriveDesk live chat application assists small businesses to manage real-time customer and client communications across multiple channels. With a bunch of built-in features, including instant reply, sharing files right from the chat widget, relevant emojis, satisfactory surveys, reports for your eCommerce sales tracking, search for the answer from the knowledge base, and monitoring you can manage your Wix store with ease. 
Although ThriveDesk is lightweight and quick, this won't affect or slow down your Wix powered eCommerce website. With the optimized agent interface, ThriveDesk live chat  ensures fast replies for maximum efficiency. 
According to the G2 rating, ThriveDesk is rated 4.7.
Features of ThriveDesk
Self Service Portal 
Third-party Integrations
Performance Metrics
Workflow Management
Alerts / Escalation
Multi-Channel Communication
Ticket Management
Customer Database
Email Management
Extensive Knowledge Base 
Surveys & Feedback
Pricing
An individual has to pay a sum of $6.67 per month.
Pros of ThriveDesk
Reduce costs of agents
Reduces customer effort
Easy to install   
Easy to use
From sign-up to onboarding
Easy to navigate between
Chat interaction
Real-time response
The ease of use of ThriveDesk and the resources it provides, such as the community, shared mailbox, and live chat have made it rampant and one of the most used live chat apps for Wix. It is highly recommended and reliable.
Cons of ThriveDesk
Absence of native mobile alerts
LiveAgent is a helpdesk app that integrates various channels into a small, portable application. The program has live chat, email, and social media integration (Twitter and Facebook). Among its many useful features are file sharing, contact forms, gamification, statuses, POP3 accounts, and others. It is a reliable helpdesk solution. 
According to the G2 rating, LiveAgent is rated 4.6.
Features of LiveAgent
Automated ticket distribution
Auto-Responders
Canned messages
Email forwarding
Spam filter
Universal inbox
Pricing
An individual has to pay a sum of $15 per month.
Pros of LiveAgent
Easy to navigate
Allows for self-hosting behind the firewall
No chat button limit
You can use the API for development
Cons of LiveAgent
Could have more customizations
Additional fees
Kommunicate wishes to offer your company the tools it needs to develop strong client bonds that spur expansion. You can manage client discussions with Kommunicate, as well as design and integrate chatbots, website chat, support agents, team conversations, and customer happiness features all in one location. It allows Bots and several channels, like Facebook, Whatsapp, and web chat, can all be integrated into a single platform. 
According to the G2 rating, Kommunicate is rated 4.6.
Features of Kommunicate
Bots and automation
Integration with multiple apps
Reports and analytics dashboard
 Multi-platform integration
Team inbox and email support
Pricing
An individual has to pay a sum of $40 per month.
Pros of Kommunicate
Omnichannel communications
Team management tools
Analytics dashboard
Customizable chat
Cons of Kommunicate
Custom fields cannot be used to store data
Conditions cannot be used in your chatbot chats
It requires a more sophisticated website widget from a chatbot builder
HubSpot Service Hub is a cloud-based customer support platform that is made to make it easier for businesses of all kinds to manage customer inquiries and boost client engagement. It enables users to communicate with clients directly through live chat, automated answers, conversational bots, and more. 
According to the G2 rating, HubSpot Service Hub is rated 4.4.
Features of HubSpot Service Hub
To give your company a single perspective of every customer encounter, a CRM's features include:
Conversational capabilities
A shared inbox
Help desk automation
Knowledge base functionality
Customer feedback custom surveys reporting
A customer portal
Pricing
An individual has to pay a sum of $45 per month.
Pros of HubSpot Service Hub
Enable end-to-end customer service
Provide online access to a personalized Helpdesk
Appearance customization
Doesn't require 3rd-party apps
Integrates seamlessly with Hubspot CRM
Cons of HubSpot Service Hub
Expensive plans
The free plan just allows access to forums and excludes technical support
JivoChat is a live chat solution for websites that offers configurable web and mobile chat widgets with features including real-time visitor monitoring, page-view history, email chat transcripts, file transfers, scripted responses, customer reviews of service quality, performance reporting, and more, Users can interact with and answer to site visitors from anywhere, at any time, thanks to the availability of browser-based, desktop, Android, and iOS agent apps. 
According to the G2 rating, JivoChat is rated 4.6.
Features of JivoChat
Mobile Chat Widgets
Pointers for Directing Visitors
Visitor Monitoring
Location-Based Customer Distribution
Canned Responses Support
Multi-Language Support
Pricing
An individual has to pay a sum of $19 per month.
Pros of JivoChat
Translated into 20+ languages
Reports and chat logs
Real-time access
Automatically calculates daily service quality ratings, ranging from 0 to 5 
Make recommendations for improvement
Cons of JivoChat
Only designed to host a few users at once
Requires high-quality internet to function properly
Help Scout is a unique customer support platform it was created for expanding teams to provide outstanding customer service. When you register, you gain access to a comprehensive set of tools, including a shared inbox, a knowledge base, and live chat software, all of which are designed to help you deliver the best client experience. 
According to the G2 rating, Help Scout is rated 4.7.
Features of Help Scout
Private notes that enhance team communication
Collision detection
Workflows and client profiles
Pricing
An individual has to pay a sum of $20 per month.
Pros of Help Scout
It is a comprehensive platform
Predictable, open pricing
Simplicity
Scalability
Cons of Help Scout
The integrations work fairly well
Merging tickets can be a little perplexing
Kayako is a unified customer service platform that enables businesses to better serve consumers, manage client requests and discussions across all channels, and maintain a human touch even as they expand. By bringing email, social media, and live chat conversations together in one organized location, Kayako links the dots between customer information, support channels, and the team. 
According to the G2 rating, Kayako is rated 4.6.
Features of Kayako
Real-time reports
Security & privacy
Unlimited chat history
Editable chatbox look
Targeted chat
Pricing
An individual has to pay a sum of $125 per month.
Pros of using Kayako
Multiple live chats in one location
Team management
Improve communication
Offer a live chat experience
Handy automation features
Cons of Kayako
The overall look is a bit boxy
File sharing
Only one plan
How to Choose The Best Live Chat Provider for Your Wix Website?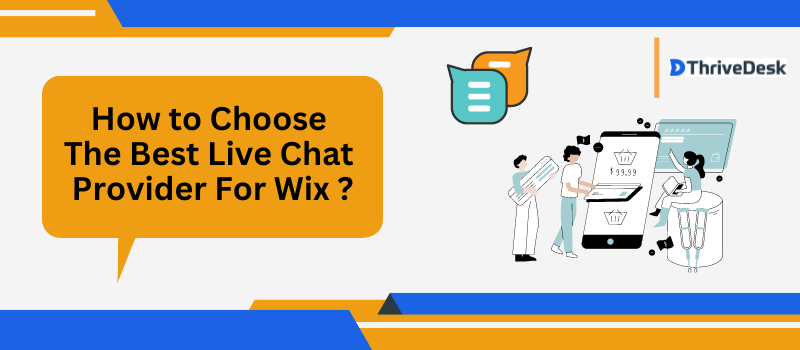 Live Chat app for Wix is a chat application that integrates with your Wix site. It helps you engage with your website visitors and convert them into customers. There are many live chat providers available, but not all of them have the qualities that you need for your website. To help you choose the best provider for your needs, we have outlined a few important factors to consider when looking for a live chat provider.
When you are looking for a live chat app for Wix, make sure that you look at the following:
The pricing model – what is the cost of using this provider?
Compatibility – Is the live chat app compatible with your Wix website?
Loading time – Is there any major loading time difference before and after installing the live chat app?
The features – what can you do with this live chat provider?
The integrations – which other tools does this provider integrate with?
Knowledge base – is there any centralized knowledge base to educate users?
Reporting – is there any reporting and analytics to understand customer behavior?
Mobile-focused – Check if the software is mobile-friendly.
Customer reviews – what do customers say about it?
The Best Way to Help Your Customer
Get started in 5 minutes. Used by 100+ SaaS & eCommerce companies to make their customer happy.

How To Setup Live Chat App for Wix Without Much Fuss?
There is a simple 4 step process to add the ThriveDesk Live Chat app for your Wix powered site. We are going to guide you through these 4 steps.
Step 1: Create a new assistant or simply retrieve the code from the installation page of an already existing Assistant. Copy the code.
Step 2: Navigate to the site editor on Wix then head to "Embed" => "Marketing tools" => "Custom code"
Step 3: Click + Add Custom code at the top right. Paste the code snippet from "step 1" into the text box. Enter a custom name for your code so that it is recognizable to you later. Then specify if you want to add the code to All pages or Selected pages. Choose Body-end under place code then click Apply  
Step 4: Publish your website and enjoy the full functionality of a working Live chat app for your site! 
Wrapping Up!
Wix Chat creates open channels of contact between you and site users. It allows you to engage potential clients in conversation as they browse to give your business a more human touch.
The #7 best chat tools we recommended have been extensively tested and are reliable options for any type of Wix website, market, or store. They can easily handle demands in the tens and thousands. Each software also extends a warm welcome to both experts and amateurs.
They all have unique features and numerous ways of adding value to your brand. However, we do highly recommend using ThriveDesk due to its unique features and diversity. You can also try out other options too depending on your requirements and their offers.