What do Shopify, Zendesk, Buffer, Intercom, Help Scout, and Evernote have in common?
They all launched on AppSumo.
AppSumo is the bread and butter for thousands of tech enthusiasts. While many people call it a marketplace, it is also an interesting community where businesses and tech enthusiasts interact with each other.
Entrepreneurs come here to collect some initial capital to jump-start their company. Tech enthusiasts explore new software that offers lucrative deals(mostly lifetime) and avail of a package that suits their interest. 
Since AppSumo offers the opportunity to grab heavily discounted lifetime deals their reach is extensive, with hundreds of thousands of users (dubbed Sumo-lings) on their mailing list and millions within their social media circle of influence.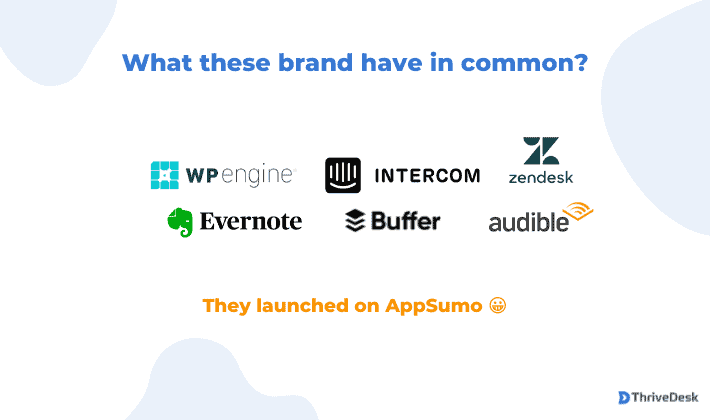 Considering the huge audience for AppSumo, we recently took the liberty to analyze AppSumo software launches over the past two years. We have tried to understand the competition in each product category and how each category is doing traffic-wise.
We have also found some great products that have done phenomenally. Following are the types of information you will be able to find in this statistics roundup
Total number of software launched on AppSumo
AppSumo Select product launches
Categories of software launched on AppSumo
Number of software launched in each category
Category-wise product site traffic analysis
Sites with the highest traffic
What Should These Stats Mean to You?
This article is a go-to guide for present and future entrepreneurs so that they can decide how they should approach launching their product on AppSumo. So let us dig right in.
Before Jumping into any kind of conclusion regarding any data presented in this article, it is extremely important to understand how these data have been collected and analyzed by us. We have collected all the information from AppSumo website. We have only taken software into our consideration.
About AppSumo
| | |
| --- | --- |
| Founded In : | March 2010 |
| Founder : | Noah Kagan |
| Headquarters: | Austin, Texas |
| Annual Revenue: | more than $80M |
| Active AppSumo Users: | more than 800,000 |
| User Growth: | 4-5K new Sumo-lings join the community every month. |
| Median revenue of an AppSumo Select deal: | $108K (in the end, around 70% goes to AppSumo, and 30% goes to the founders) |
| Median revenue of an AppSumo Marketplace deal: | $41K (in the end, 70% goes to the founders, and only 30% goes to AppSumo) |
| Average Discount: | around 83% from the initial price |
| Average Lowest Tier Price: | around $59 |
| Ad Spend: | more than $5M |
| Number of Affiliates: | more than 4,000 |
| Competitors: | Dealify, Saasmantra, DealFuel, SaaSWiz, GrabLtd, Lifetimo, EarlyShark. |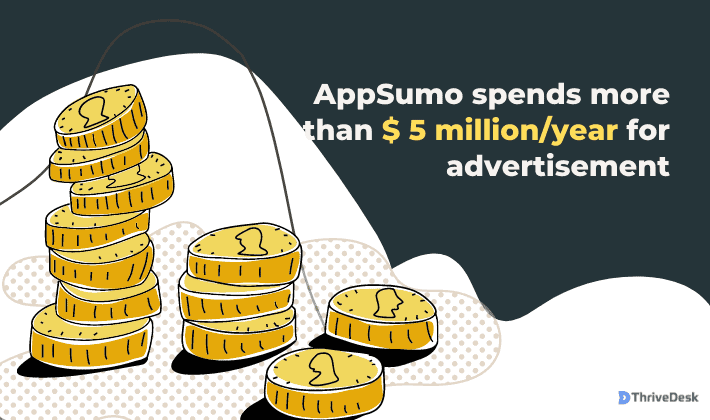 AppSumo Revenue Share Model
AppSumo has two different sets of revenue-sharing models. If you are planning to launch your product on AppSumo, you must know how each model is catered to specific types of entrepreneurs.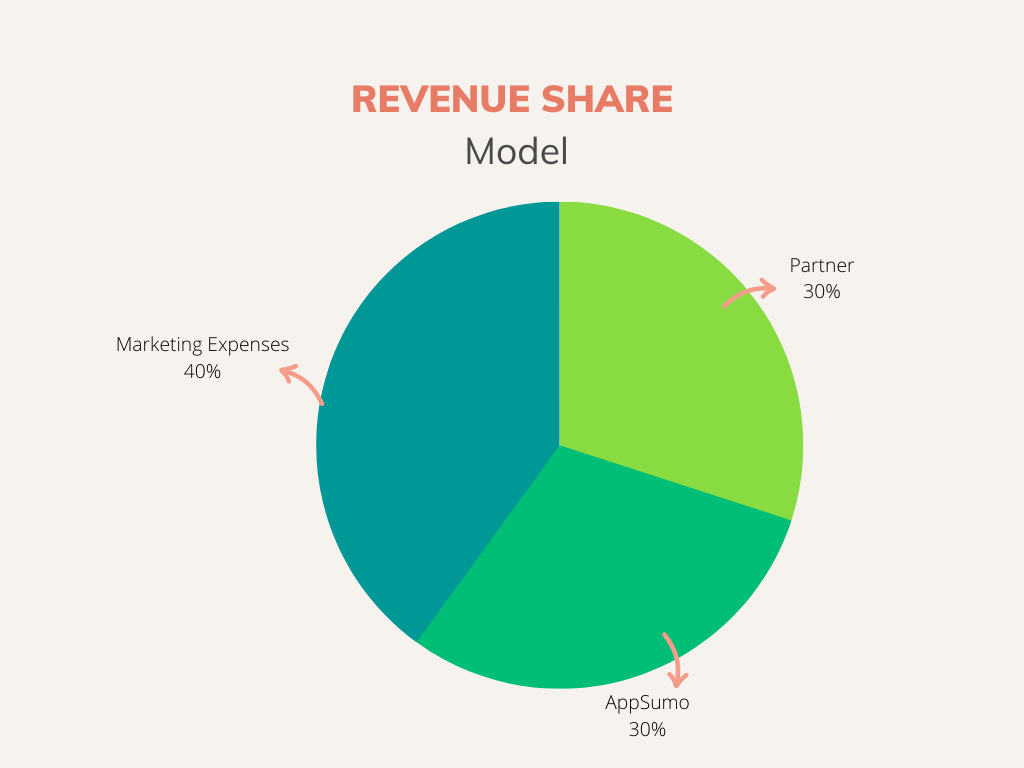 Partner Revenue Share
According to AppSumo, they spends a lot of money getting deals in front of potential buyers. Marketing is a significant ongoing expense required to make the magic happen. So, in their real revenue share model, they split the revenue with their partners 50/50, i.e., each taking home 30%. 
40% of revenue is immediately invested into marketing, advertising, affiliates, and payment processing fees (they spend $100,000+ in payment processing fees alone each month!)
Their default revenue share model is to split the remaining 60% with their partner
Here's the fine print; they don't spend 40% dedicated for each deal. They cut this from all deals but spend on a collective marketing budget. Also, they gradually spend more on deals that perform better organically.
AppSumo Launch Statistics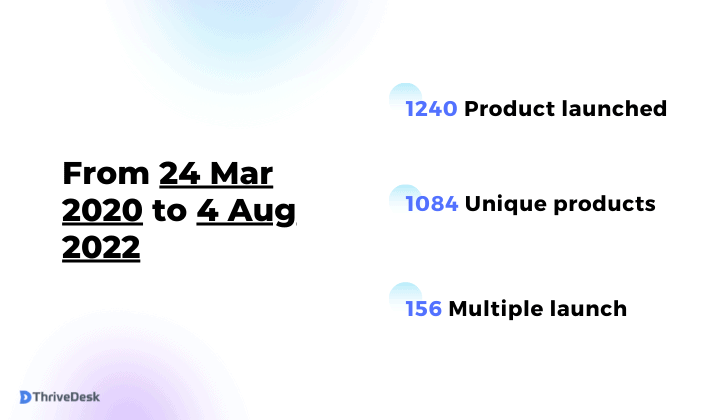 We have applied two specific filter in the search panel; lifetime deal and unavailable. Applying these filters gave us a total of 1240 products. So, these, 1240 software products are specifically those products that were launched with a lifetime deal and are currently unavailable.
Among these 1084 products, 944 products were SaaS products. From rest of the products, 69 products were WP products. Our team was unable to access some websites, therefore we are unable to comment on those sites along with their type.
AppSumo Select product launches
AppSumo select is the SMB acquisition accelerator in which AppSumo helps build every aspect of the product launch campaign to target their global SMB audience. Among the 1246 software, 738 software had AppSumo select ribbon. 
Categories of software launched on AppSumo
Since there were a variety of types of software that were launched on AppSumo, we have categorized them on our own and sorted them into 22 separate categories. Out of these 22 categories, one category is called 'others' and it contains software types that are mostly unique. Please note that further categorization is also possible for the 'others' category.
The categories are:
Ai Writer (35)
Analytics (43)
Coding Support (13)
Community (5)
Cybersecurity (7)
CRM & Customer Support (69)
eCommerce (52)
Hosting & Data Storage (28)
Image & Video Maker (76)
Legal (12)
Marketing & Sales Funnel (158)
Page Builder (78)
Project Management (94)
Review (16)
SEO (38)
Social Media (51)
Text to Speech & Audio Support (16)
Url Shortener (4)
Webinar (29)
Workflow Automation (11)
Others (177)
Number of software launched in each category
In the following chart, you can check the number of unique products in each software category.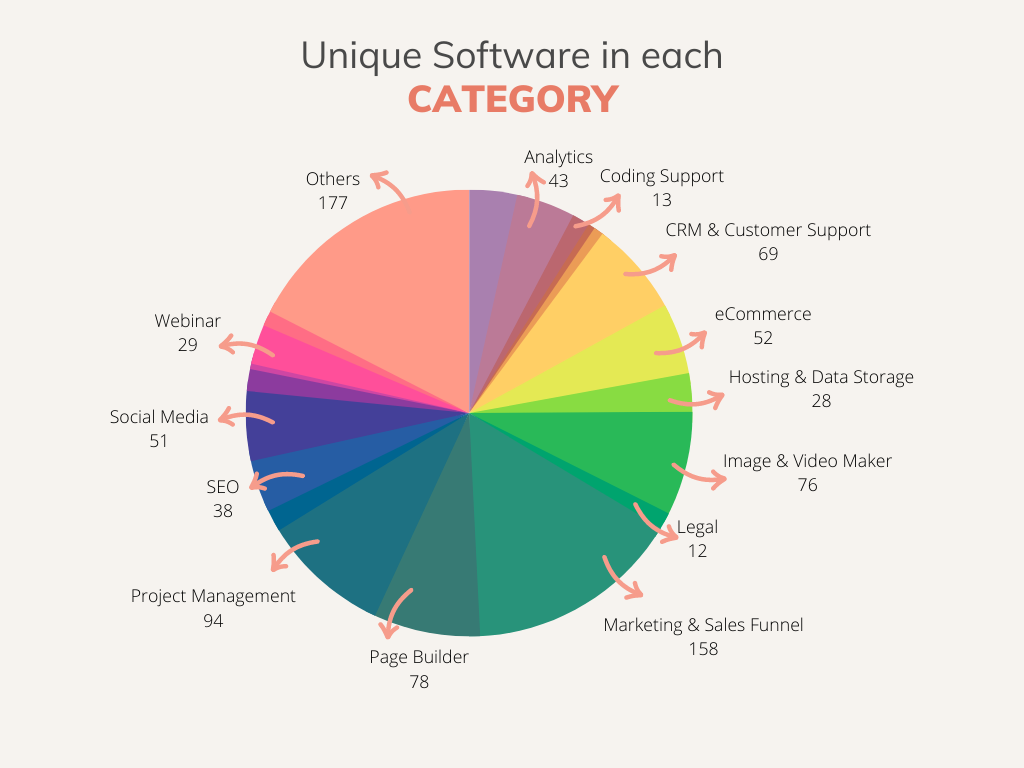 Category-wise product site traffic analysis
Next, we have tried to explore how these products are doing in terms of traffic. We have collected website addresses for all the products and used SimilarWeb to check the traffic information. Afterward, we categorized these sites based on the traffic they get. You can check out our findings in the following chart: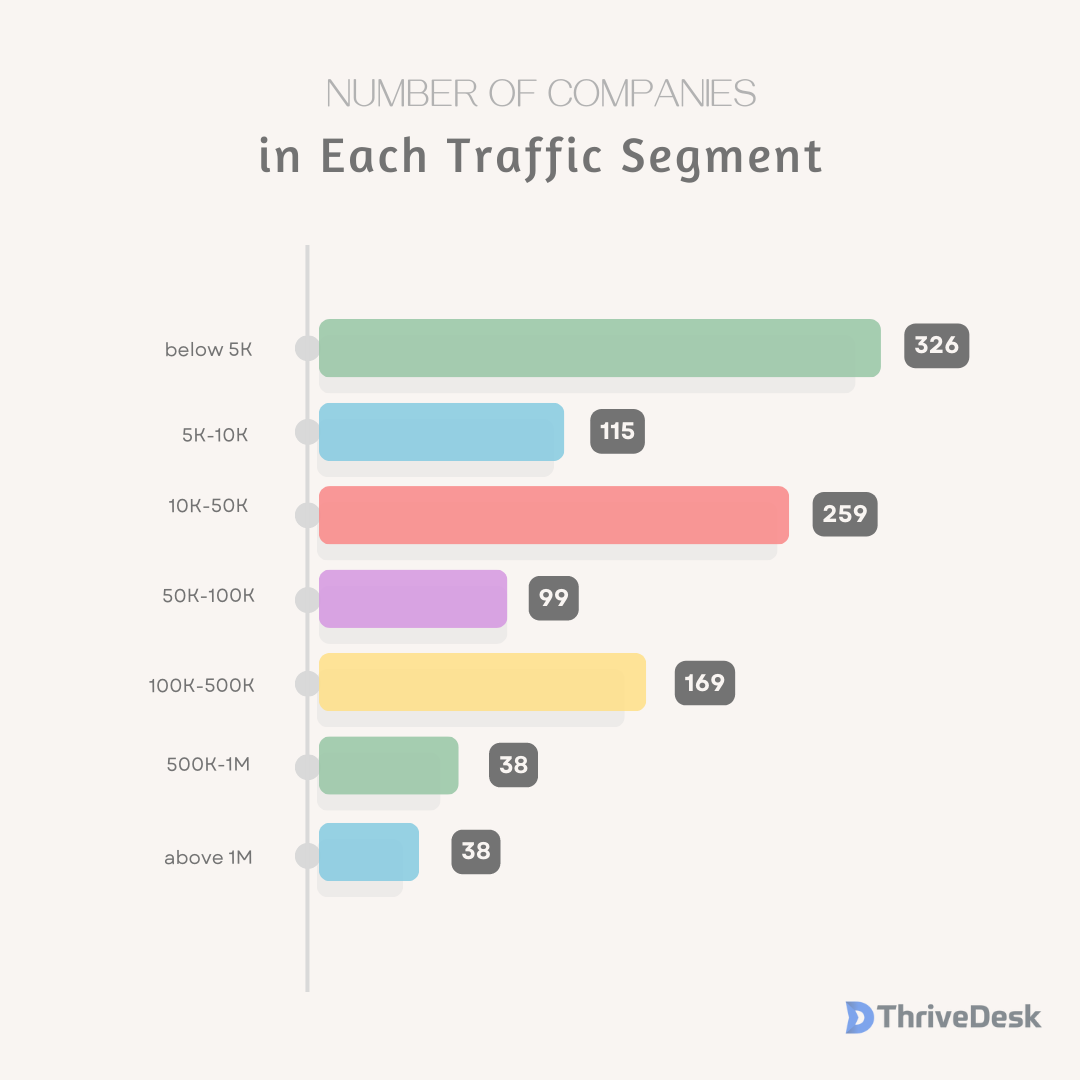 There were a total of 40 sites that our team was unable to visit. These sites are either temporarily unavailable or permanently discontinued.
Sites with the highest traffic
Now that you can see the number of sites that get a substantial amount of traffic each month, let us also show you the product categories that have performed the best in terms of traffic. In the following table, you will see all the products that have the highest traffic along with the categories they fall into:
Ai Writer
The market for AI writer tools has many established sites at the moment. The Two that get the most traffic are Rytr and ProWriting Aid with 2.2M and 1.8M visitors followed by Frase and Writesonic with 902K and 815K visitors. 
CRM/ Customer Support Tools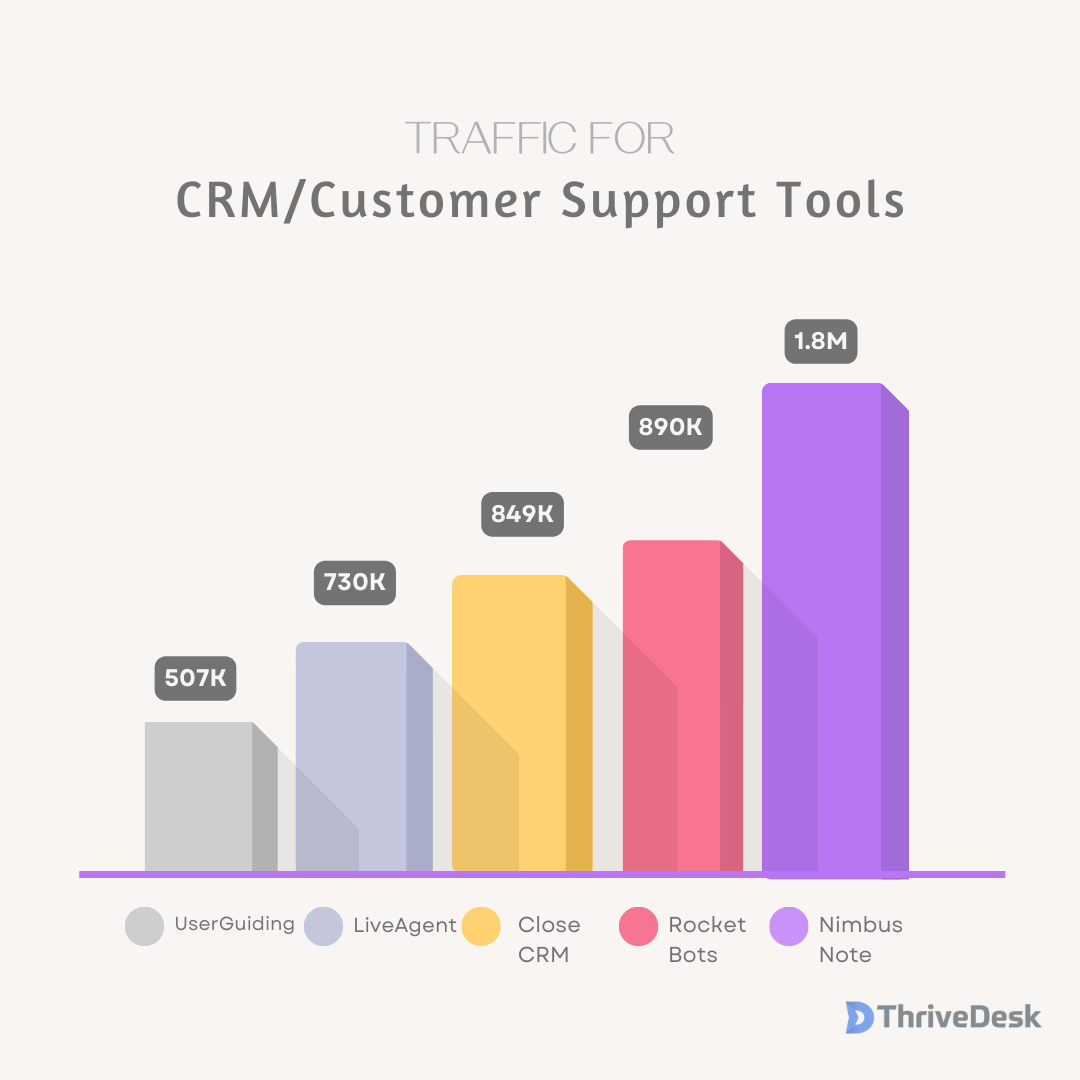 The market for CRM tools is fairly competitive as well. Nimbus Note leads the pack with 1.8M visitors. Tools such as Rocket bots, Close CRM, LiveAgent, and UserGuiding are clustered together with traffic of 890K, 849K, 730K, and 507K respectively.
eCommerce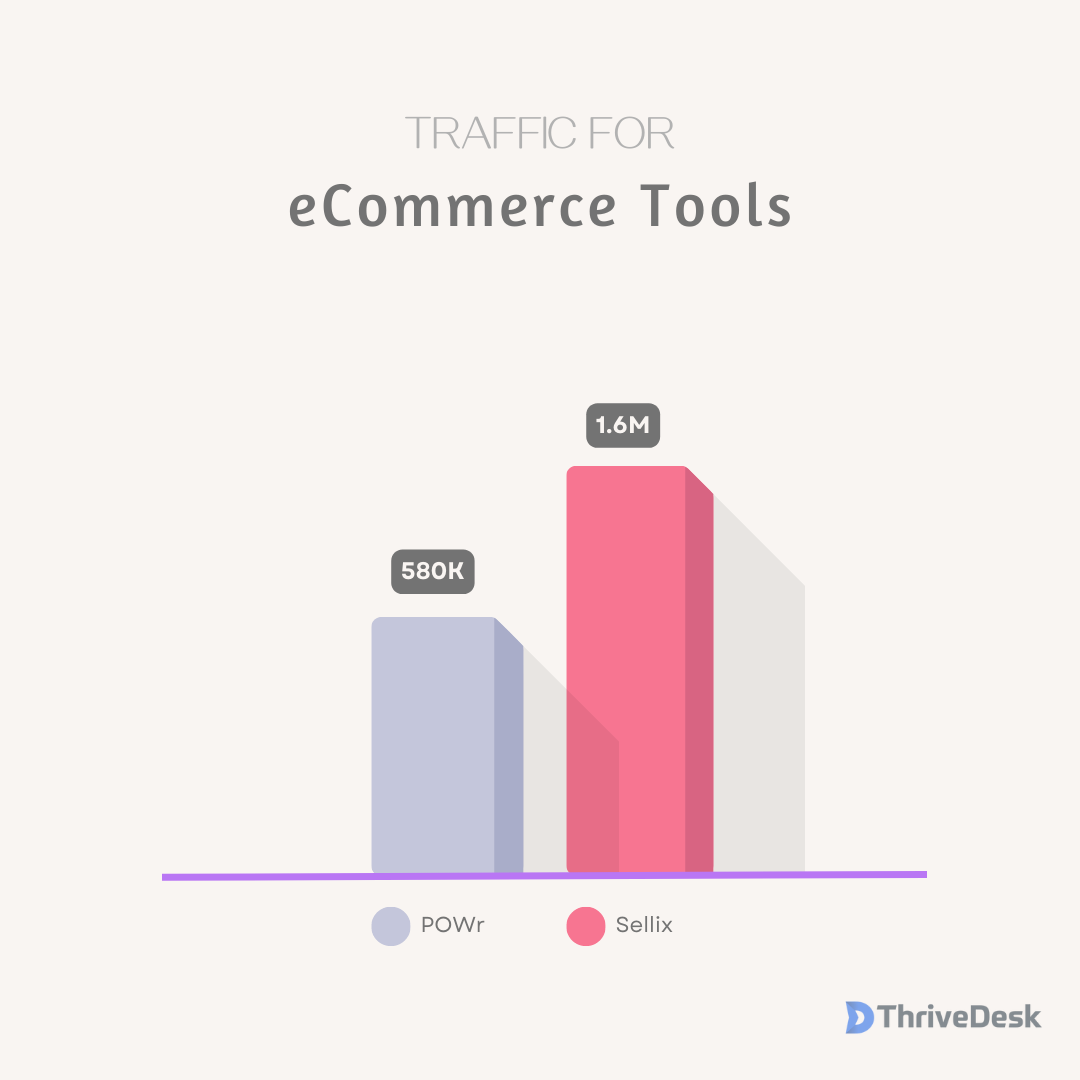 Market for eCommerce tools is dominated by Sellix with 1.6M in traffic and POWr following second with 580K.
Image & Video Maker
There is a vast array of choices available in the image and video editing tools market. Some of the tools with the highest traffic stats are Luminar(1.5M), Apowersoft Background Eraser(1.5M), Flixier(1.3M), and Pixelied(1M). Some other alternatives are Slazzer(836K), Lumen5(585K), and Designer Logo Kit(573K).
Legal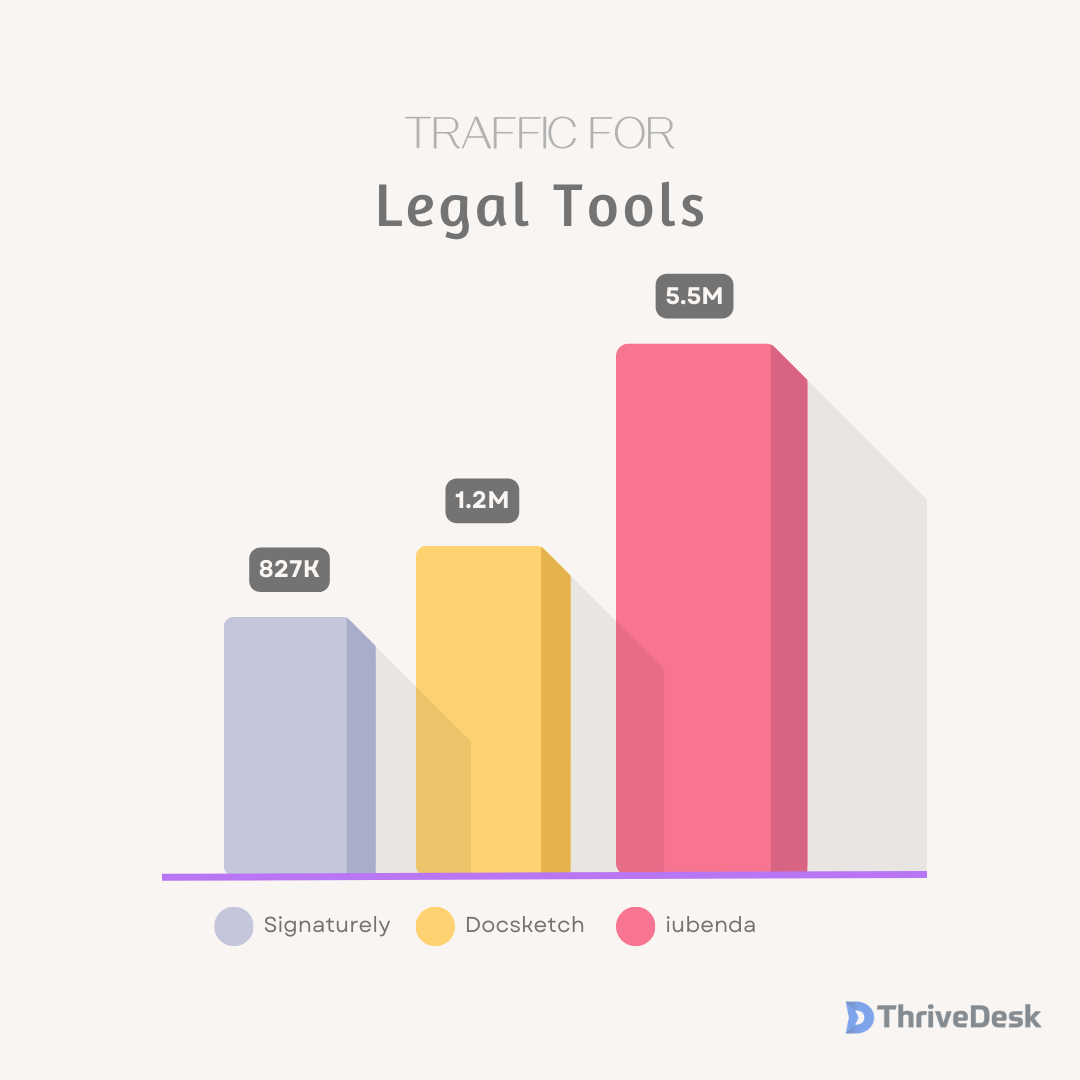 Iubenda has the lion's share of the market when it comes to legal tools with traffic stats of 5.5M. Some other alternatives are Docsketch with 1.2M visitors and Signaturely with 827K visitors.
Page Builder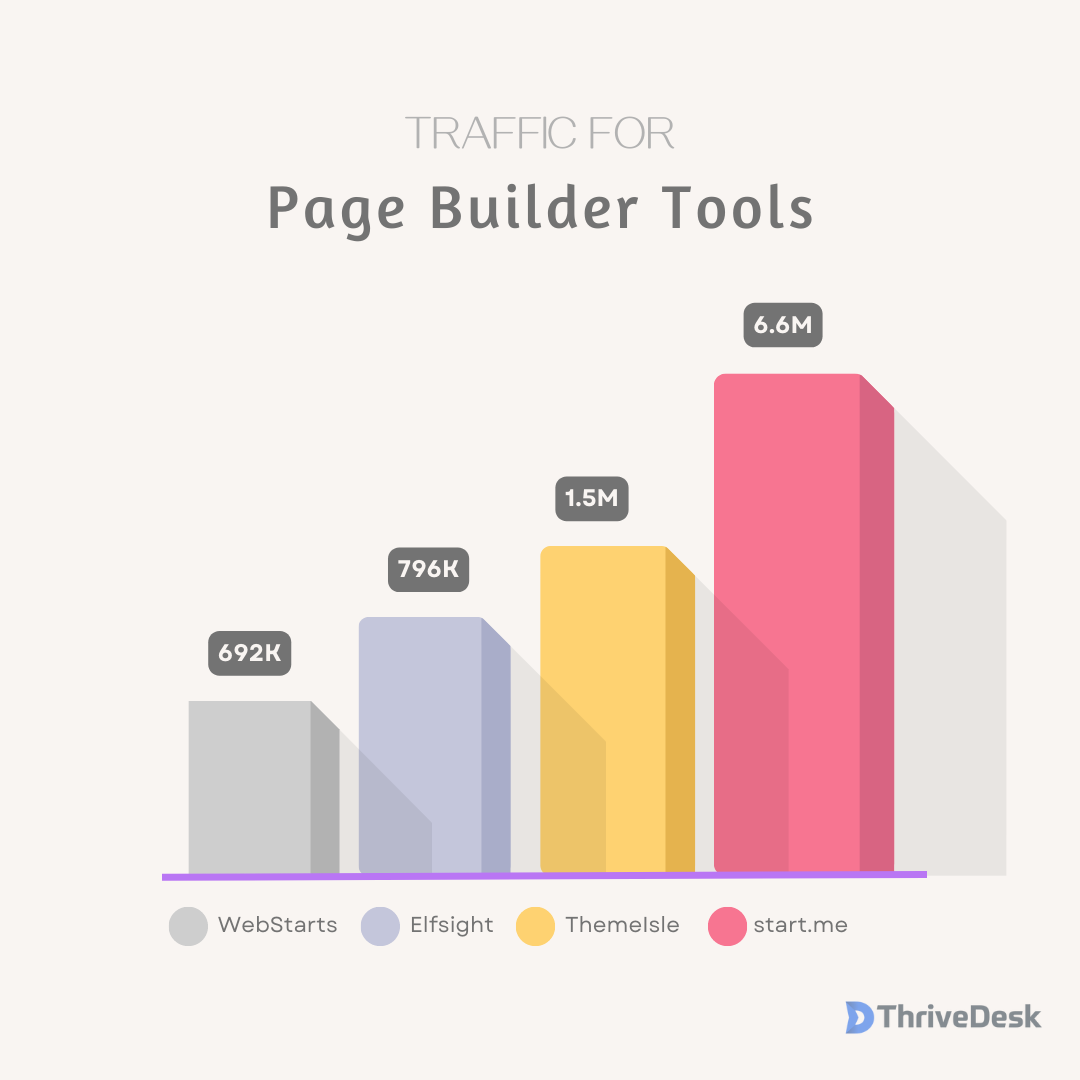 Start.me gets the most traffic with 6.6M visitors in the page builder tools market. Some other tools also available in this market are ThemeIsle(1.5M), Elfsight(790K), and WebStarts(692K).
Project Management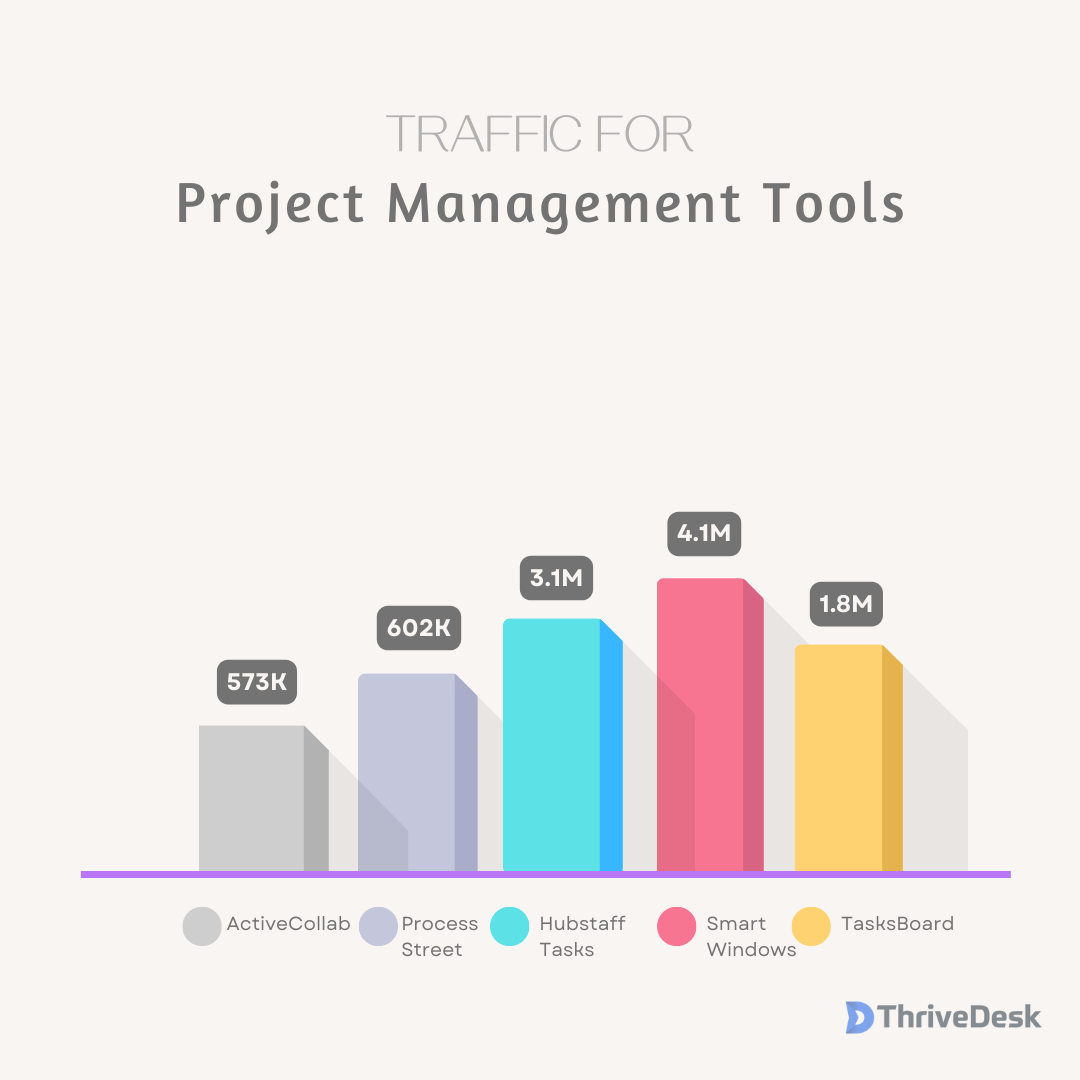 Two of the biggest project management tools currently are Smart Windows and Hubstaff Tasks with 4.1M and 3.1M visitors respectively. Some alternatives are Tasksboard(1.8M), Process Street(602K) and ActiveCollab(573K).
Sales Funnel & Marketing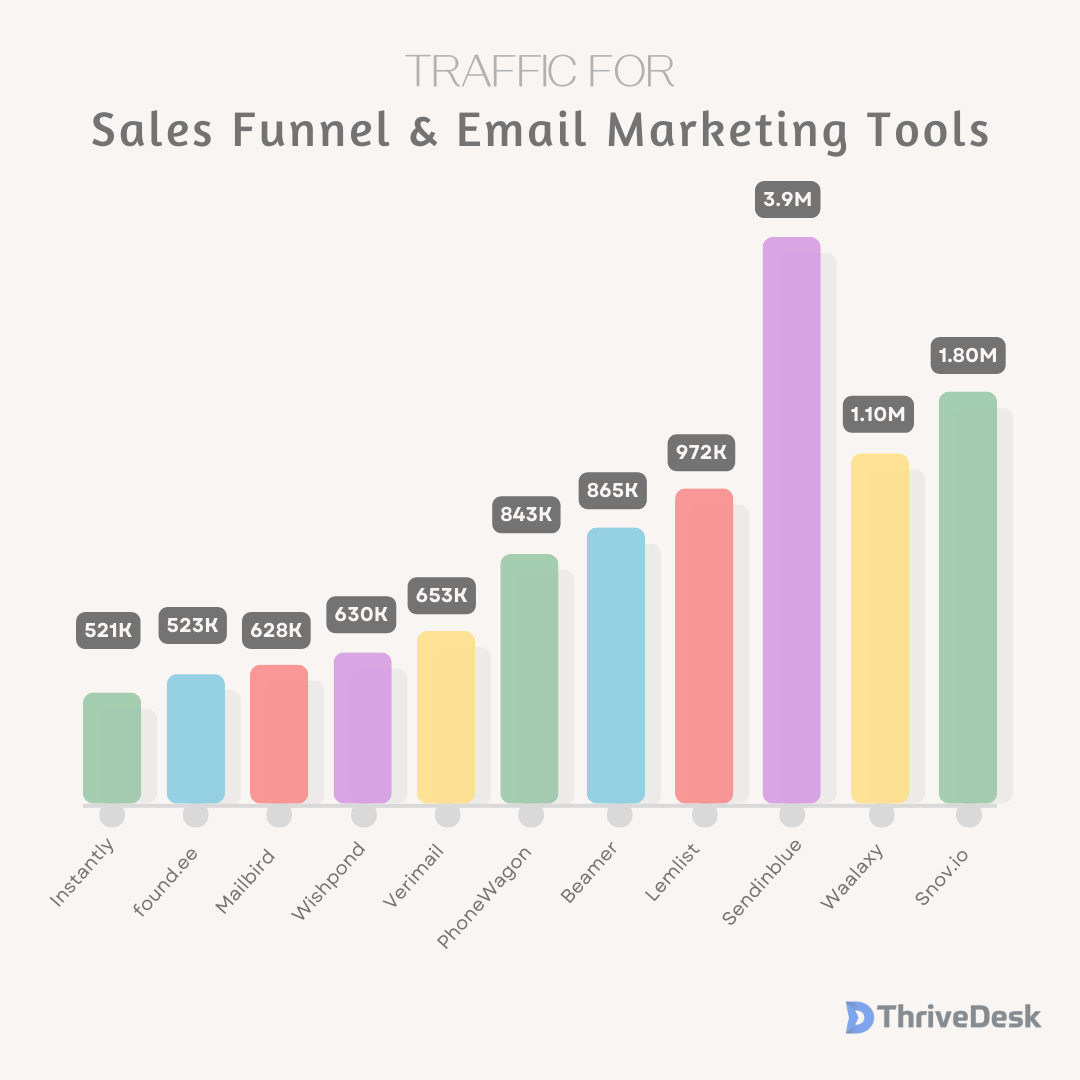 Sendinblue gets the most traffic with 3.9M visitors in the sales and email marketing tools market followed by Snov.io and  Waalaxy with 1.80M and 1.10M respectively. Then there are a host of other tools such as Lemlist(972K), Beamer(865K), PhoneWagon(843K), Verimail(653K), etc. 
Audio
The market for Audio support tools is primarily dominated by Listnr(TTS) with traffic stats of a massive 39.5M. Some other less known alternatives are Amberscript(744K) and Transkritor – Lite(567K).
Webinar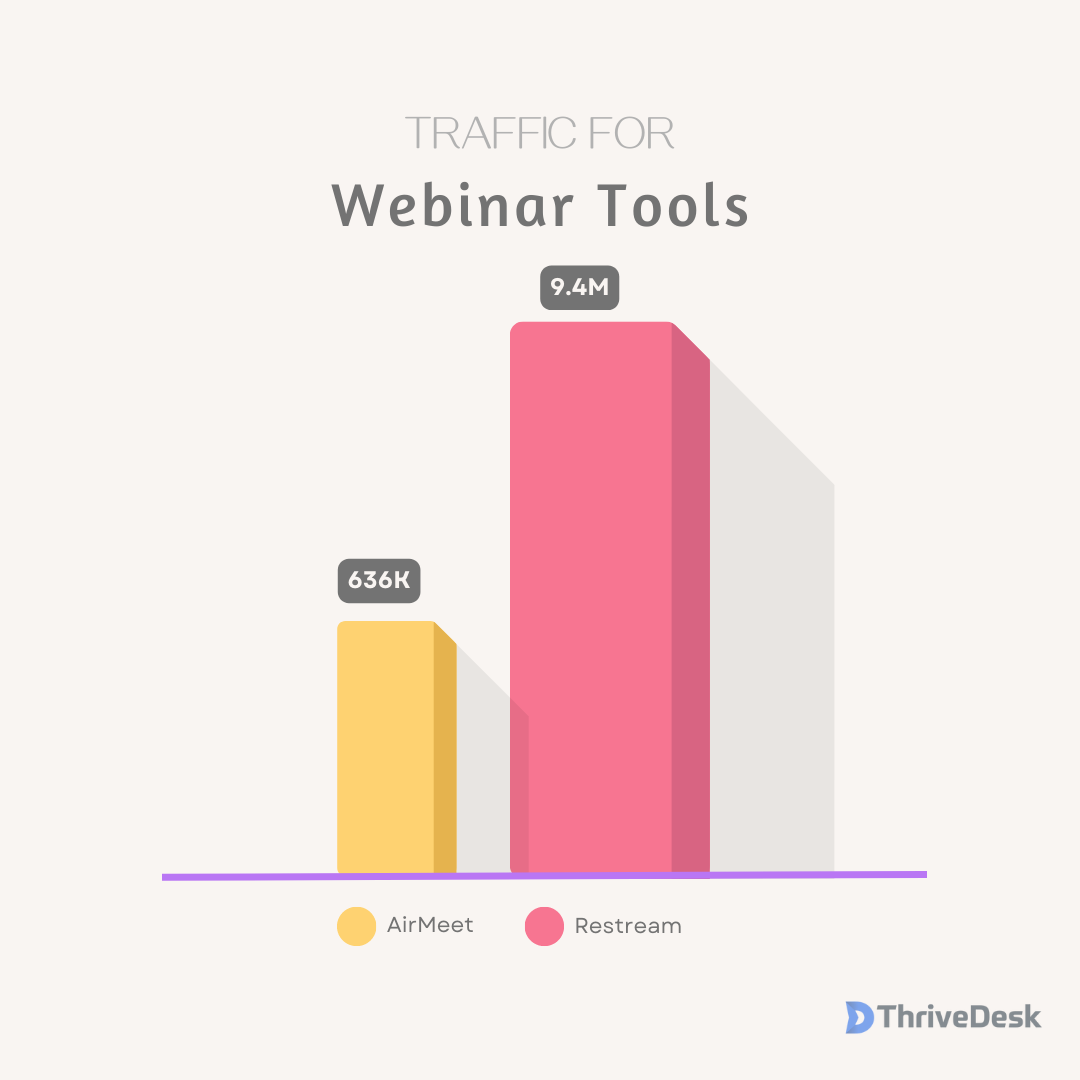 The market for webinar tools is dominated by Restream with 9.4M visitors, AirMeet being the less known alternative with 636K traffic.
Apart from the companies mentioned above, the following companies have done significantly well in terms of traffic:
| | |
| --- | --- |
| Crello (VistaCreate): | 3.90M |
| Andromo: | 507.5K |
| Icedrive: | 1.00M |
| Social Media Manager School: | 854.7K |
| Simplified: | 931.1K |
| Justinmind: | 509.6K |
| Crocoblock: | 615.4K |
| Krisp: | 827K |
| Uppbeat: | 861.3K |
| QR.io: | 1.90M |
| RoboForm: | 2.20M |
| Quokka: | 4.00M |
Highest amount of monthly traffic doesn't necessarily mean they are the only ones doing great in their business. Please note that there can be other factors to consider before measuring business success. 
We have also found that out of these 60 top performing sites 42 companies had already been doing pretty well in business before the launch of AppSumo. For the rest 18 companies, AppSumo launch has made a tremendous impact in their business growth.
Price Analysis
We further wanted to find out which price point has worked the best and the worst for AppSumo platform. For that, we looked at the product that have the lowest traffic on their website and which price they offered. And the graph turned out to be something like this: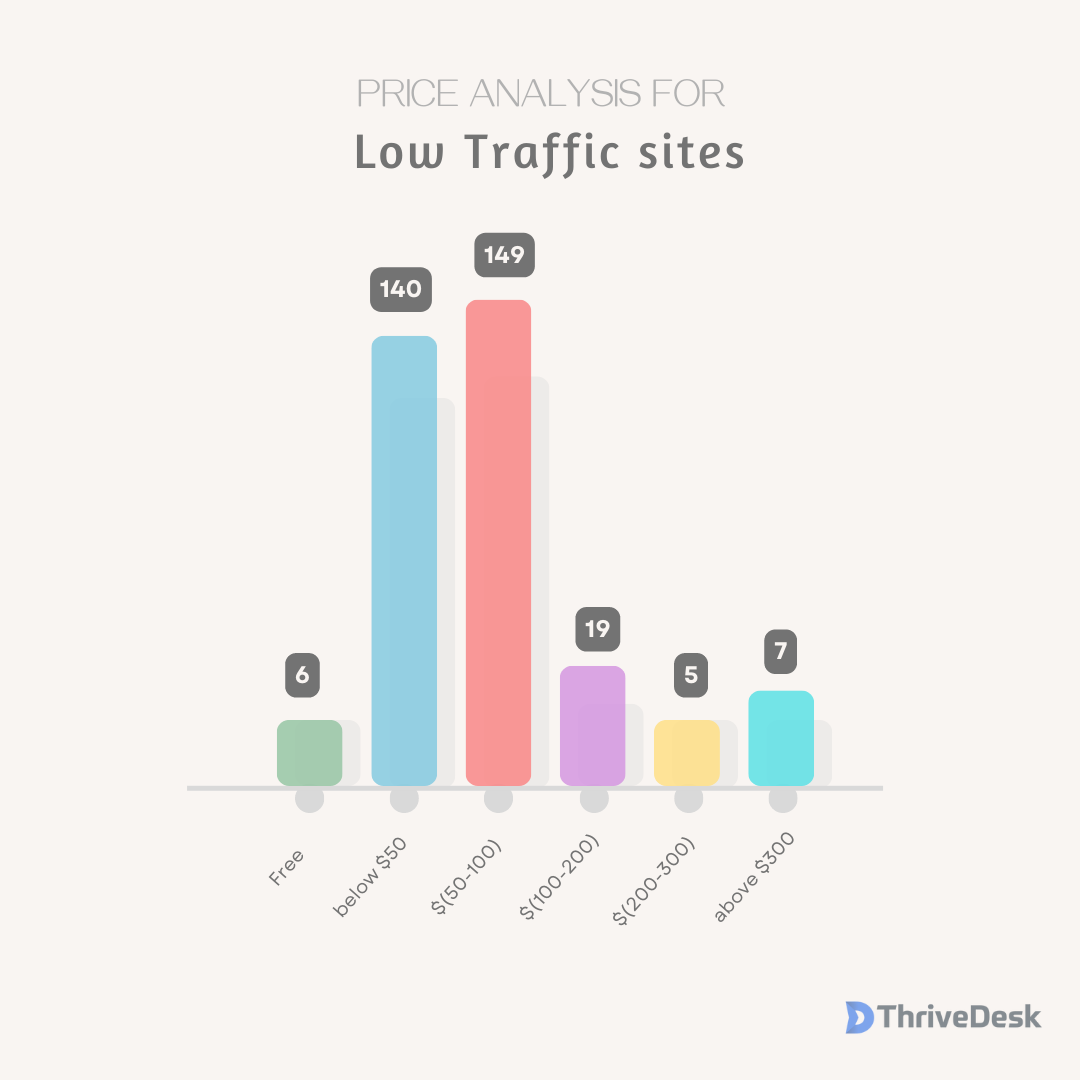 After doing a price analysis, we found that, for low-traffic sites, 140 sites offered their products at below $50. 149 sites sold for between $50-$200. 26 sites sold for between $100-$300 and only 6 sites offered their products for free.
 We also looked at the product that have the highest traffic on their website and which price they offered. And the graph turned out to be something like this: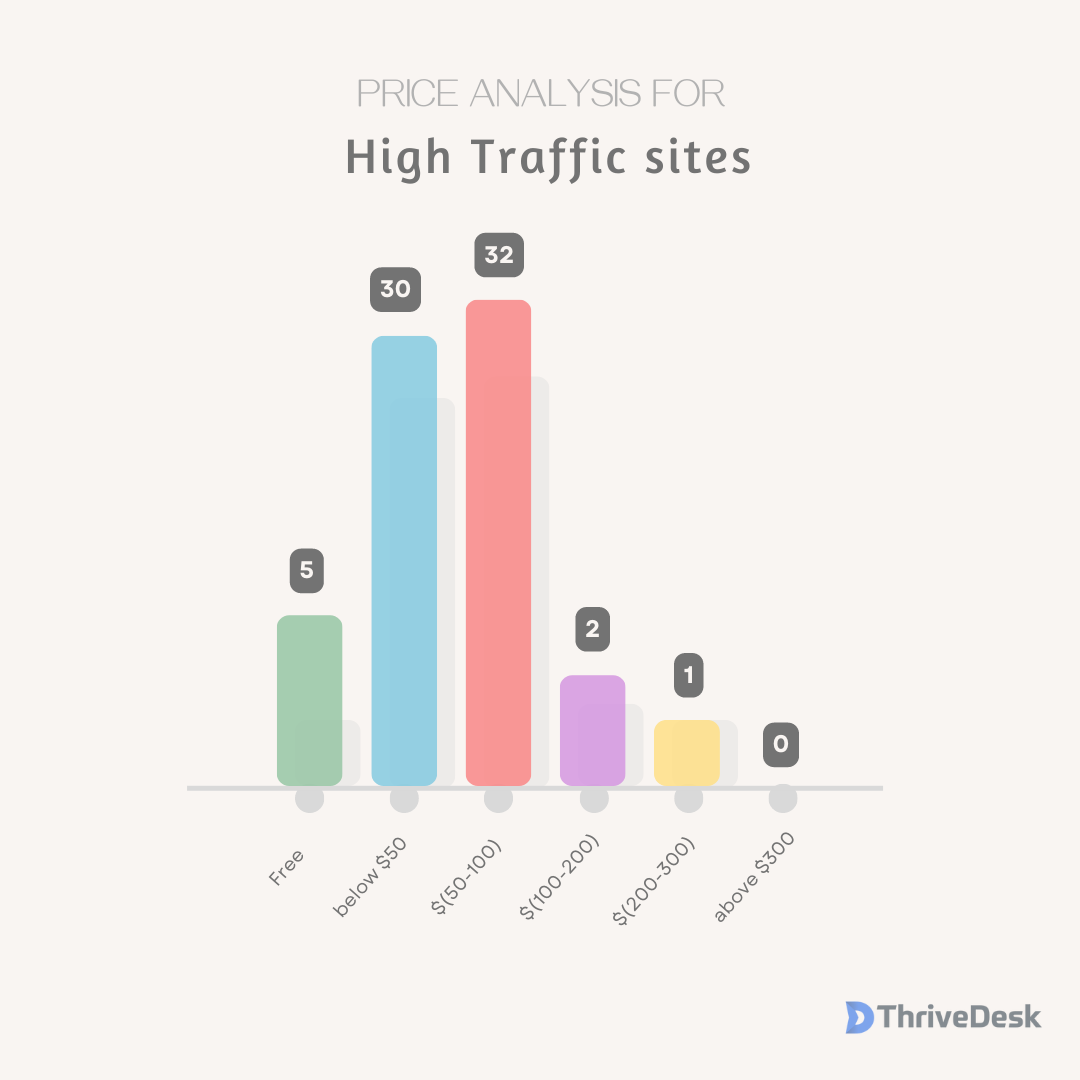 For high-traffic sites, we found that 30 sites sold for below $50, and 32 sites sold for between $50-$100. 3 sites sold for between $100-$300 and only 5 sites offered their products for free. 
Additionally, we wanted to know what kind of offers both of these groups of products have provided during the time of the launch. For instance, we took a deep look at the offer of all the companies that have traffic below 5K. We have analyzed the offers and found out that 135 of these companies made a kind of offer that gives the customer the ability to use the product in a sort of unlimited manner. There were no usage limits. On the contrary, we have found 185 companies made an offer that had some sort of limit to it.
On the other side of the coin, 24 companies from the 500K+ traffic club have offered unlimited offers on their product and 45 companies have offered limited access to the product in their LTD deal.
AppSumo Success Stories
For the past decade, the AppSumo community has essentially been micro-investors. Their partners have raised over $17 billion in funding, making headlines around the world. Following is a small sample of their recent collaborators:
Restream: Raised $50M Series A a year and a half after their AppSumo launch
Frase: Had the biggest launch in AppSumo history, their website traffic is up 500% above pre-launch levels two months after their deal and weekly active users are up from 840 to 13,579 (an 1800% increase!)
Process Street: Raised $12M Series A in the year following AppSumo launch
Respond.io (formerly Rocketbots): Co-Founder Gerardo Salandra was on the Forbes 30 Under 30 list for Enterprise Technology in Asia in 2020
Krisp: Raised a $5M Series A one year after their AppSumo launch
CloudApp: Raise a $4.3M Seed Round a year after their AppSumo launch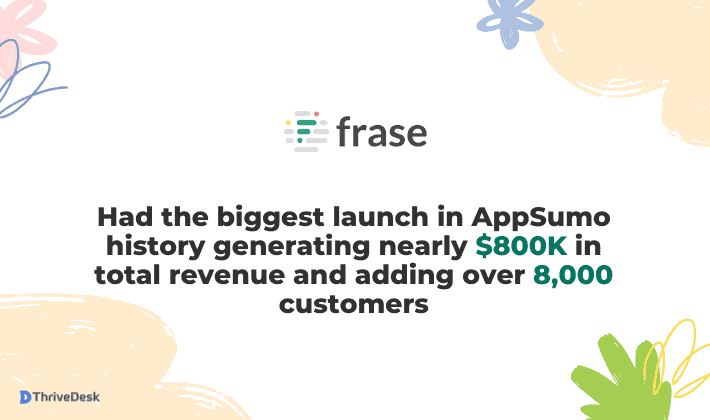 What Should These Stats Mean to You?
As mentioned at the beginning of this article, all the information presented here is there to guide the founders of the future. If you are one of them, it should be pretty clear to you how hard the competition is in the market.
While in almost every category there are certain products that have done incredibly well, some categories have also made distinctive appearances, housing the majority of million traffic marks. Categories such as sales funnel & email marketing, image & video editing tools consist of the highest number of top performing products according to our observation.
Interestingly, the software that has established a strong domination in the market also happens to have pretty high traffic(if not the highest). These stats also give an idea about what kind of products customers expect from the makers. 
Our analysis suggests that products/services that facilitate the process of content creation (such as images, videos, etc) and acquiring new customers have done the best in the entire launch saga of AppSumo. However, they are not the only ones who have done well.
Conclusion
That mostly concludes our statistical analysis of AppSumo software launch.
AppSumo has been through some crazy big launches within the timeframe we have mentioned. Many businesses that have sustained after the launch are still doing amazing.
New and new launches are happening each day- and we can't wait to see how these statistics are used to launch great products of the future.
We'd like to hear from you now:
Did you find the information that you had in mind before starting to read this article? What more would you like to know about the topic?
In any case, please participate by leaving a comment below.