When it comes to support channels, live chat has consistently been the most popular. Around 41% of consumers preferring live chat support over any other channel while others prefer email or even social media.
We've investigated the growth of live chat as a help channel, spoken with other customer support specialists, used live chat for our customers, and now successfully providing live chat solutions with ThriveDesk live chat. We know what to do and what to avoid.
Here are some of the proven live chat best practices that you can implement immediately and ensure growth opportunities for your business globally.
What is live chat support and why it is so important?
Live chat is an instant messaging platform where customers can communicate with support staff in real-time. Customers can ask inquiries and get prompt answers in the same little window by using live chat software integrated into a company's website.
Live chat facilitates the conversion of website visitors into prospects, improves resolution rates for customer issues, and ultimately reduces churn rates by providing the most significant digital experiences possible.
According to studies, live chat has the best customer satisfaction of any help channel and is frequently chosen by customers. 40% of buyers who had used live chat were more likely to buy online, compared to 22% of buyers who had never used chat, and 38% of buyers said that it was the chat itself that made them buy.
Here some of the reason to describe why live chat are so important, 
Improves the support experience for customers
Boosted conversions and sales
Provides a competitive advantage
Builds long-term relationships and increased retention
Improves the efficiency of your support team and marketing effort
Helps to deliver a great website experience
Reduces repetition for your customers
Lets you provide 24/7 support
Increases customer engagement
Statistics shows how live chat is important for increasing conversions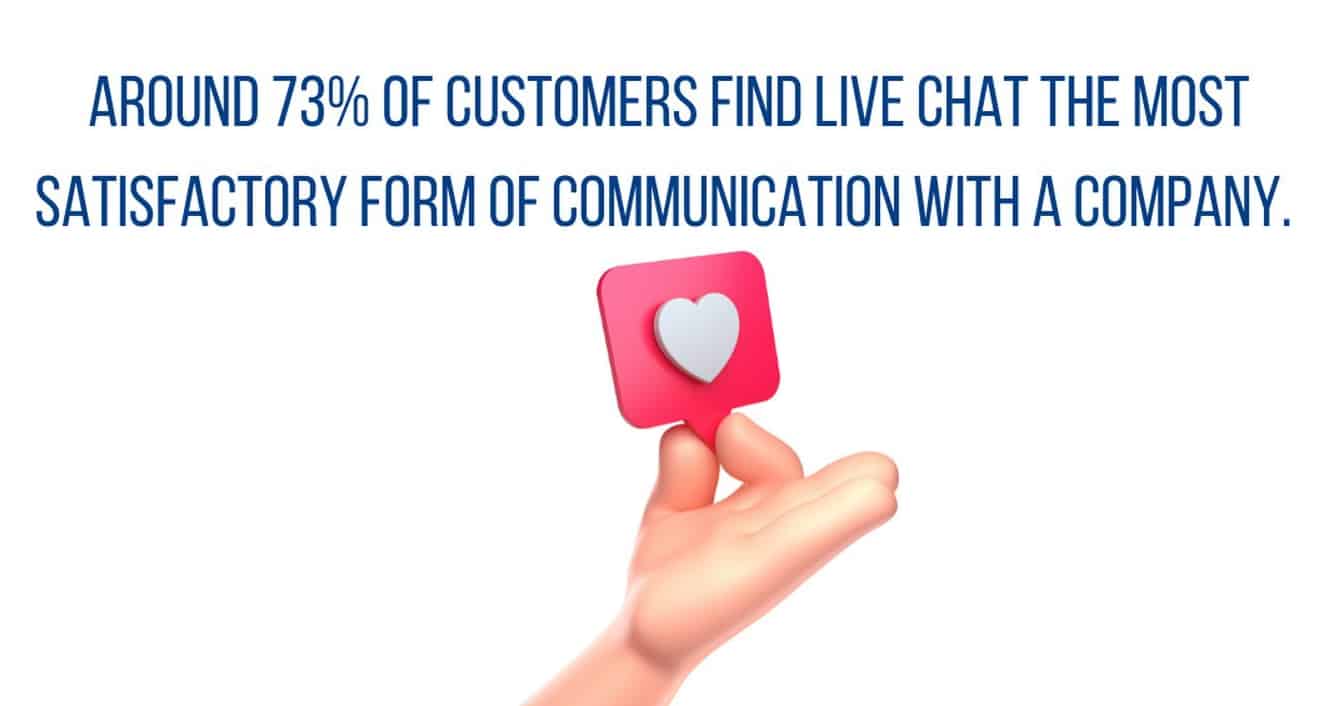 A massive 61% of B2B companies use live chat. 
82% of consumers look for an immediate response from brands on marketing or sales questions. 
41% of customers expect your website to have a live chat.
63% of millennials prefer live chat to traditional customer service channels.
73% of people consider live chat the best way to communicate with a business. 
64% of internet users say 24-hour service is the best chatbot feature.
Around 38% of customers say that they end up purchasing a positive live chat experience. 
85% of companies will have some form of live chat support by the end of 2022. 
More than 79% of customers prefer live chat as a business communication channel because of the immediacy of support it provides.
Adding a live chat feature on a website will typically lead to a 20% increase in conversion rates.
The total number of live chats for all businesses handled on LiveChat is over 68.5 million.
The Best Way to Help Your Customer
Get started in 5 minutes. Used by 100+ SaaS & eCommerce companies to make their customer happy.

#9 Live Chat Best Practices to Increase Sales And Conversion Rate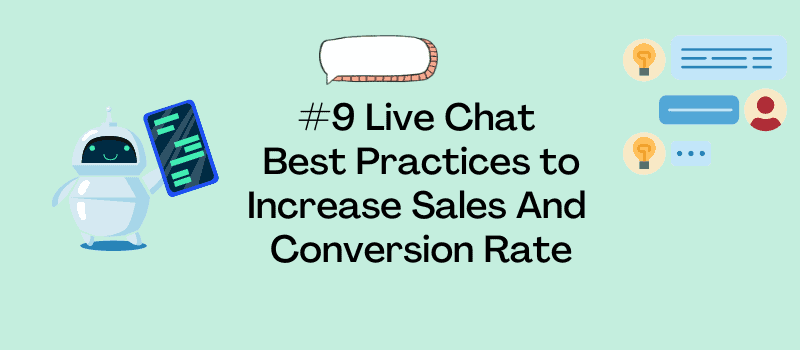 Live chat is a great way to increase sales and conversion rate. It's also a great way to interact with customers quickly and conveniently. It has been used by companies of all sizes, from small businesses to multinational corporations.
Here are nine best practices for live chat:
1. Response quickly
One of the most significant advantages of live chat is that it allows you to communicate with your consumers quickly. However, if you put clients on hold, that benefit is null and worthless. Additionally, putting customers on hold can leave them with a negative opinion of your brand. 
Another important measure you can utilize to enhance virtual customer service is a quicker reaction time. Response time is crucial for this reason. The faster you respond, the more satisfied your customers will be. Here, live chat allows employees to handle several conversations at once without keeping consumers waiting for long periods.
You can start some procedures to speed up response times. One approach is to inform customers of your business hours. They'll know you're available without wasting their time. Another strategy is to overlap your customer service representatives so they can finish their chats with consumers 30 minutes before the end of the day.
Quick tips:
Accept chat automatically and advise the customer that if necessary, your agent will return later.
Configure automatic canned responses for all incoming client chat sessions.
Allow your agents to access client profiles and previous discussions in order to deliver helpful information prior to the chat.
2. Communicate in a smart way
It might seem like a no-brainer, but the most critical best practice for live chat is proper communication. At the end of the day, your responses' content helps solve problems and keeps your customers happy.
There are a few things to keep in mind to make sure your communication is crystal clear:
Carefully peruse the messages left by customers.
Respond in a manner that is both precise and lucid.
Please provide precise answers.
Make sure that what you write may be understood easily.
Clarity and precision in your response are required,
Before sending any messages, make sure to proofread them.
3. Place your live chat window at the right place
Customers will make decisions based on instinct when they visit your website. And so, place live chat in the appropriate location on the pages to give your clients a better live chat experience. When consumers get stuck on a page and want support, they should know where to go.
The location of the live chat button on each of your product, service, and solution websites needs to be consistent. The bottom-right corner of the page is the best location for the live chat button. This is the optimal position because when users open a window on your site, their eyes naturally gravitate to that side. Furthermore, the live chat button should be accessible yet not intrusive.
To begin the live chat session, press a little button with bright colors. The bright colors will assist customers in locating the live chat button without scanning the entire website. To include clients who use smartphones, make sure the button passes a mobile usability test.
4. Automate your conversations with AI Chatbots
With human support agents, you may only assist consumers during your business hours. However, AI chatbots enable you to solve basic inquiries 24 hours a day, seven days a week. Being available at all times boosts your live chat client's happiness.
All chatbots match a customer's inquiry against common phrases and keywords, then recommend the following line of action, such as forwarding it to the appropriate department, inserting relevant FAQ pages, or immediately addressing the question.
Of course, chatbots cannot handle all discussions, but they can take easier ones, allowing operators to focus solely on difficult situations.
AI-powered chatbots are already assisting enterprises in increasing engagement and conversion rates. Live chat software can be readily integrated with a chatbot, allowing the chatbot to be available when live agents are unavailable and vice versa.
Approximately 85% of visitors are open to interacting with chatbots. You can anticipate and respond to client needs with sequence-based chatbots, guiding the path of interactions contextually.
Here are some examples of frequent chatbot use cases from various business areas.
Customer service: Chatbots enable businesses to automate live chat interactions to deliver rapid responses and proactively communicate with clients, increasing engagement.
Lead generation: Using chatbots to generate leads helps to prequalify qualified leads. They also aid in the collection of prospect information to target leads better.
Online booking: Chatbots for online bookings for food, travel, and other purposes can help businesses grow their customer base.
Website engagement: Through simulated interactions, chatbots assist organizations in creating user-friendly customer experiences.
5. Use Live Chat with a CRM
What happens if a live chat agent wants to leave a conversation? What if the customer decides to leave and return later? The customer will have to explain their problem once more.
A CRM can be the best solution for this. CRMs are one of the most widely used types of software since the SaaS industry has experienced an explosive expansion in recent years. A CRM would aid in synchronizing individual customer identities, including contact information, preferences, and chat history.
With these profiles, a client can continue a conversation where they left off when they rejoin it. This results in an excellent client experience and streamlines the conversation.
6. Measure your team's performance
Metrics tracking is essential at each level of customer support, including live chat. Monitoring your live chat metrics allows you to assess your service level and quantify your live chat performance in relation to your objectives. With the correct live chat metrics, you can compare your team's performance to your KPIs to see where you excel and where you need to improve.
Continuous KPI measurement allows you to improve your clients' live chat experience as well as the efficiency of your team. You can track the following KPIs:
How do key performance indicators (KPIs) assists companies in understanding and measuring? 
Customer satisfaction ratings can assist determine whether or not agents are meeting or exceeding customer expectations.
The performance of the team or agent in terms of business KPIs and dialogues.
The return on investment (RoI) is related to live chat and aids in determining whether it is successfully adopted or not.
Here are a few crucial live chat indicators for measuring and accomplishing objectives.
The first response time (FRT): Refers to how long it takes support agents to respond to a problem. It is useful to see how adaptable the company is when it comes to client communication.
First contact resolution (FCR): This metric assesses customer satisfaction across several touchpoints. The more your FCR, the greater your client satisfaction.
Customer satisfaction ratings (CSAT): A CSAT score can be used to determine a company's strengths and shortcomings, as well as the best tactics to keep consumers satisfied.
Price per conversation: It calculates your business's return on investment (ROI) based on how much time and resources you invest in live chat.
7. Don't leave customers hanging
In contrast to email, chat is all about real-time assistance; therefore, you must be ready to stick with each client until the problem is either resolved or moved to the next stage. This emphasizes the need to set expectations, both for customers and for your own team.
A simple way to inform clients of your chat availability is to publish your office hours on your contact page. Try overlapping teammates on your team so the one finishing the day can check off the conversation an hour in advance. Alternately, to lessen the impact on their personal time, plan their online hours so that their day concludes an hour after your live chat hours do.
Here are some excellent examples that you may copy and paste:
"Thank you for contacting us!" We are temporarily closed. We'll get back to you the next business day."
"Good day. Thank you for your email. We will strive to respond to your message within two hours. In the interim, you can visit help.thrivedesk.com to find solutions to frequently asked questions."
8. Give your live chat a personal touch
Live chat agents might find it challenging to engage with clients while maintaining a cheerful attitude. When agents attempt to create rapport, the sheer volume of requests or even the customer's manner of speaking or voicing dissatisfaction can interfere.
Here are some suggestions for improving human connections via live chat:
Personalized chat:  Personalize your greeting and responses by starting a conversation with a visitor's name.
Make connection: Use the names and pictures of your agents so that your customers feel like they are talking to a real person. This will help build trust.
Be upbeat and friendly: Use a positive tone so that agents don't get the wrong idea and think you're rude. Use exclamation points in your greetings to make them a little more casual.
Don't Ask for too much information at once: Don't ask for too much information about the consumer. This may deter people from establishing a conversation in the first place. 
Voice and video calls: Use innovative technologies, such as a conversational customer experience platform, to make voice and video calls, and encourage closer connections and smoother conversations with a human touch.
Use co-browsing sessions: A co-browsing solution allows you to collaborate with clients without keeping them waiting, which improves reaction time. Sharing the browser screen during the session aids in completing complex form fill-up and application processes making dialogues more engaged which provides a virtual in-person experience.
Use in app integrations: Using WooCommerce or Shopify integrations helps to manage online customers more efficiently. Knowing customer purchase details while using live chat assistant with shipping, and license-related information add extra benefits to personalized the conversation. Also, support agent can easily cancel or refund customer orders directly from the chat widget with a single click. 
Here is a proper example, 
9. Ask Customers for Feedback
Asking for client feedback is the most straightforward approach to learning whether your customers are satisfied or dissatisfied with your products and services. Client feedback is essential for every organization and crucial in determining your company's progress.
Feedback provides your company with a clearer picture of how it is performing. Collecting feedback entails asking clients to provide input on the product, service, or overall experience.  'How would you rate this chat?" is really all it takes. 
You can also collect feedback using customer satisfaction surveys, feedback forms, and questionnaires.
Let's see how does gathering feedback benefit businesses?
Feedback determines the level of consumer satisfaction with the product or service.
Feedback helps you improve your interactions with customers
Feedback helps you deliver a better customer experience
Feedback helps you to enhance customer retention
The optimum time to solicit consumer feedback is immediately following a customer care conversation. When you analyze and act on feedback, it becomes more effective.
The Best Way to Help Your Customer
Get started in 5 minutes. Used by 100+ SaaS & eCommerce companies to make their customer happy.

How to measure your live chat conversion rates?
The live chat app on your website can help with real-time sales questions, turn leads into sales, and help you get the most out of your investment. To discover how effective your chat system is in encouraging sales, look at the chat-to conversion rate measure.
You can count the number of talks your company has participated in and then compare that number to the overall number of conversions from those consumers. Narrow your results here by separating your total number of live chats into those intended for sales information and those requesting assistance using your data and analytics solutions.
If your conversation to conversion rate isn't as high as you'd want, there are several things you may try to improve it:
Launch a chat window automatically: As soon as someone visits your website, open a chat window with a bot that asks whether you can assist your customer. You can even include a list of frequently asked questions so your consumer can seek support as soon as possible.
Follow up on chat conversations: Send an email to any consumers who ask inquiries on your chat widget. This is an excellent technique to reconnect with clients who may have become distracted and abandoned their cart.
Personalize suggestions: Use AI insights and data from your customer management solutions to identify which products are most likely to appeal to each consumer and recommend those items. Remember to match your tone of voice in the chat to your brand.
Remember that the faster you respond to consumer questions and handle their problems with your live chat approach, the more likely the chat will result in a sale. Customers are ultimately persuaded to purchase when they feel confident in your company's ability to provide top-notch experiences.
Wapping up
So, if you've already introduced live chat in your business, the recommended live chat best practices listed above will help you enhance client engagement and provide excellent live chat assistance. You can also assist your website users and clients in accomplishing their objectives, which will help you achieve your business objectives.
Live chat is commonly used in marketing, sales, and customer service. The better the customer experience, the faster and more effectively you can communicate with them. With the world becoming more digital, this has become increasingly vital.