Has it ever occurred to you that every customer interaction is an opportunity to strengthen your brand and create a lasting impression?
By providing top-notch customer support, you're not only helping your customers achieve their goals, but you're also building a superhero team of loyal customers who will champion your business for years to come. 
This is crucial for online marketplaces where customers have an array of options and they can switch whenever they want.
This means, the better you treat your customers, the more people will trust your store and want to use your products or service.
So, dear Freemius shop owners, it's time to make every customer interaction a chance to shine.
ThriveDesk announces direct integration with Freemius!
We want you to uplift your game and woo your customers with the best possible support.  This integration is going to make you wonder how you ever lived without it.
Let's tell you more about the Freemius integration for ThriveDesk and clarify what this means for you. 
Identify important customers superfast
When you integrate your Freemius store data with ThriveDesk, a new widget appears in the customer conversation screen. At the very top of the widget, your agents can check basic customer history and insanity to decide if the customer deserves a priority service or not.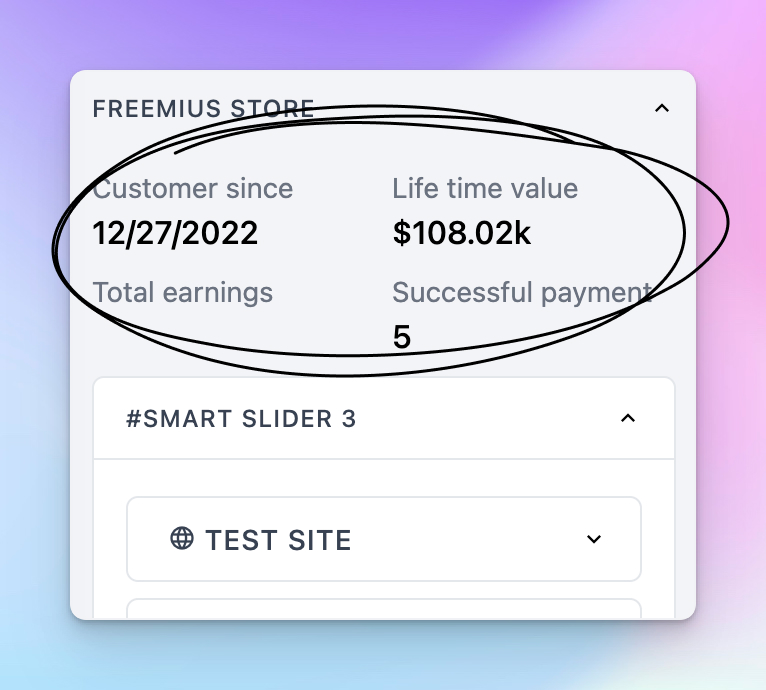 No business should be keeping their highest paying customers on hold, and we know you won't either. That's why our integration lets your team segregate important customers right from the start.
Easier problem identification
Often, customers send support queries that do not have enough information. It may be because they were angry and excited, or it could be because of their forgetful nature. When this happens and the customer demands immediate problem resolution, it won't be a good idea to ask them which product they are using that is causing the difficulty.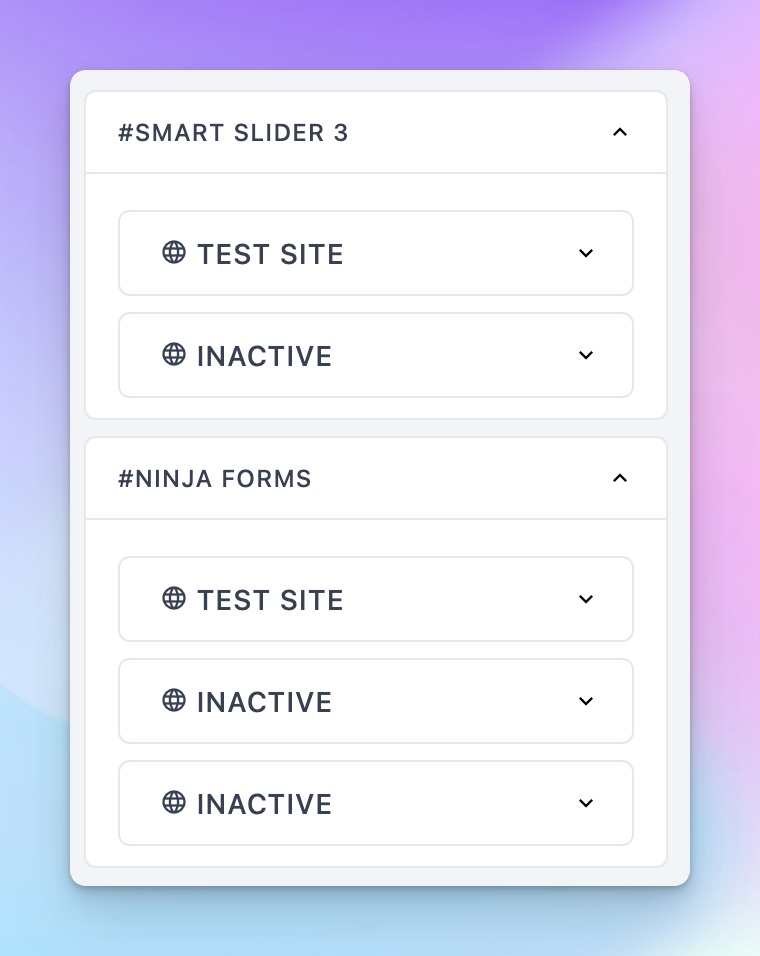 The Freemius widget attached to your conversion window will show you right of the bat the products your customers has subscribed to. Your agents won't need to ask the wrong question(because often this makes the customer furious) and the issue can be resolved easily.
The Slug Headache
A small technical detail can often cause a lot of trouble. For example, white setting up a plugin purchased from Freemius store, customers often put the slug wrong. This leads to malfunction of the plugin and operation comes to a halt.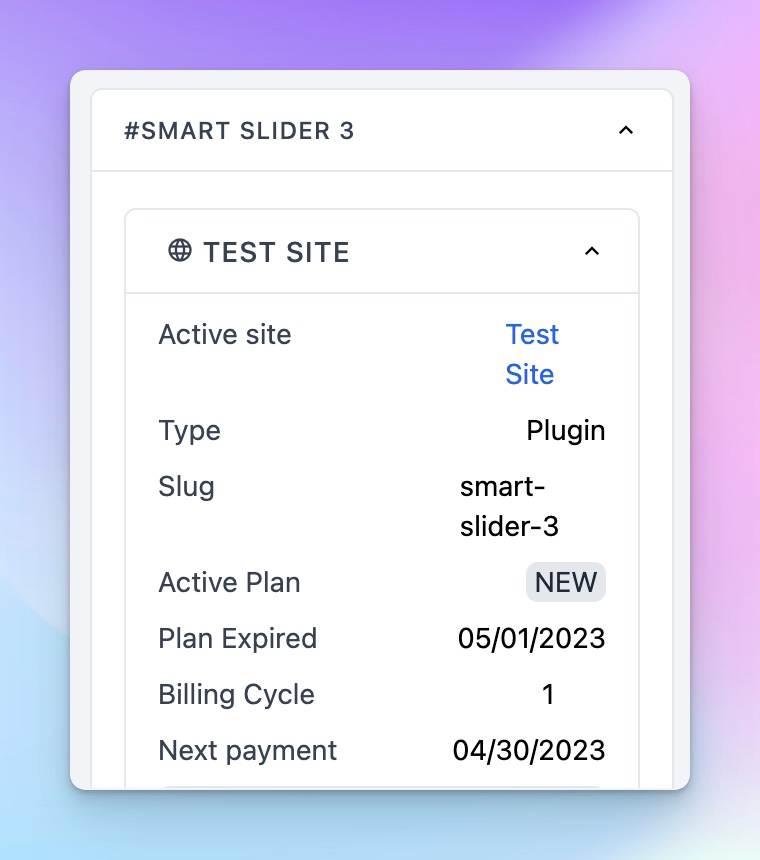 We have seen that almost 30-40% of customers face setup issue related to slug. The widget shows the write slug for the plugin to use which your agents can easily suggest your customers, should your customers face this very common yet painful problem.
One of the common customer complaints store owners receive is can I avail this feature. Why? The answer lies in the package they have purchased. If your store offers multiple pricing plans and features vary based on those plans, your agents can answer this query just by looking at the plan the customer has purchased. 
In the previous picture, you also can see it displaying the current plan your customer is on. 
The right environment to flourish
What do trees and software have in common? They both need the right environment to flourish.
When your customers do not fulfill the environment requirements yet expect their plugin or theme to work, your agents might find themselves in a difficult situation.
A plugin may not work for many reasons, but if it is because of the right environment, this needs to be identified quickly. Our environment settings details does just that.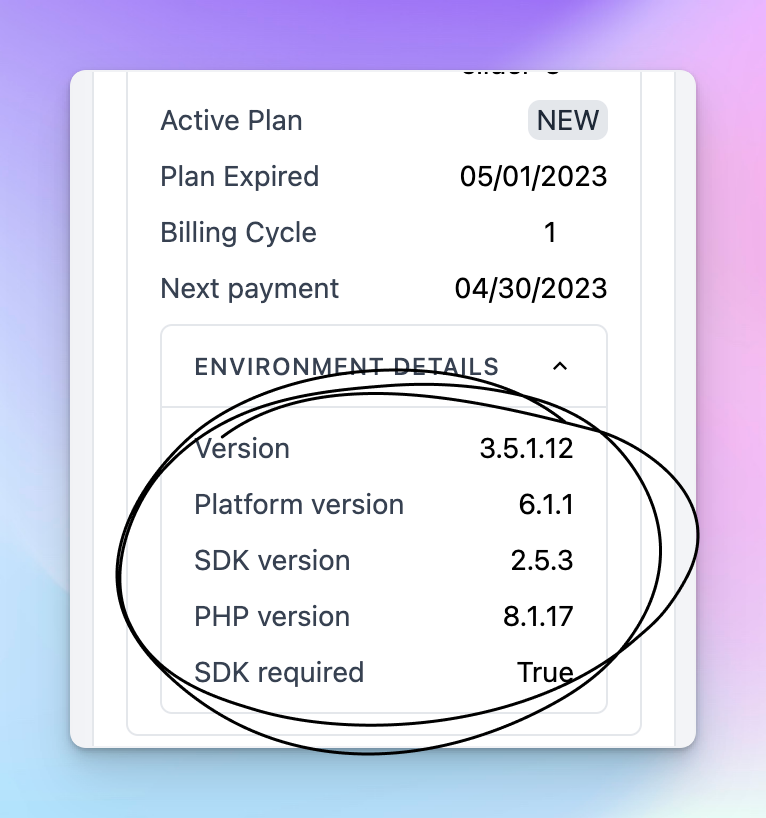 Your agents can quickly take a look at the environment settings and guide the customers accordingly. Your customers will be happy, your agents will be relaxed. That what we call a win-win.
Customer Payment Information
Customer payment is one of those items that raises a lot of problems in both ends. In order to solve any payment related issues, your agents need to have access to all the payment related information.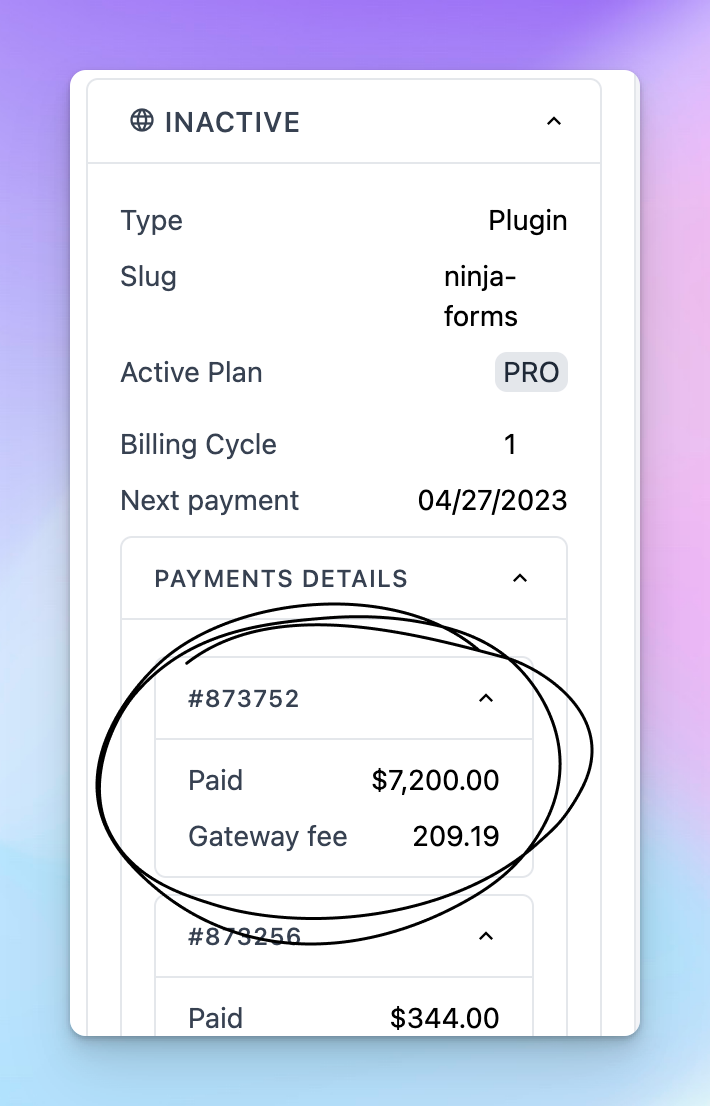 The Freemuis integration widget shows all the necessary information related to payment such as current plan, paid amount, payment breakdown etc so that your agents can thrive in customer support should there be any payment related issues.
Setting up Freemius Integration
Now, let's see how you can integrate the app with ThriveDesk.
You need to install the Freemius app from the ThriveDesk app store. Check this video tutorial for full understanding of the process.
Also, if you would like to read the developer documentation, here is the link to that.
Things you get with the Freemius integration
The Freemius integration lets you 
Ability to connect two plugins with each inbox: You can connect two plugins with each inbox inside ThriveDesk. This is a big thing since Helpscout only lets you connect one plugin at a time. Connecting more than one plugin gives your agents more data and increases efficiency in delivering the best customer support.
Easy setups process: The setup process for the integration is extremely easy. It is done though Api-calling. ThriveDesk does not store any data  which means you get to enjoy privacy and mental peace.
Huge savings on cost: The math is quite simple. If you have 10 plugins to sell on Freemius and you need to provide support for all those plugins, ThriveDesk literally cuts down 50% of your costs straight our of the box compared to other available alternatives. As a business owner, who doesn't like saving money on business costs!
A Decision that Matters
Listen up, Freemius shop owners! If you want to be a smart and savvy entrepreneur, we suggest you cut down unnecessary costs.
Currently, ThriveDesk Freemius integration is the most budget-friendly helpdesk deal for Freemius shop owners. With each inbox, you can tag two Freemius products and thrive customer support. 
Moreover, ThriveDesk is easy to use, easy to set up.  The integration allows support agents to access customer data within the ThriveDesk dashboard, eliminating the need to access the Freemius admin panel.
---
WPPortal: Create help center inside your WordPress site
Since we're talking about the WrodPress space, you may also want to consider getting WPPortal. ThriveDesk has recently launched this new service called WPPortal that lets WordPress site owners arrange a dedicated support portal for their customers within WordPress customer dashboard:
Using the portal, customers can: 
View all conversations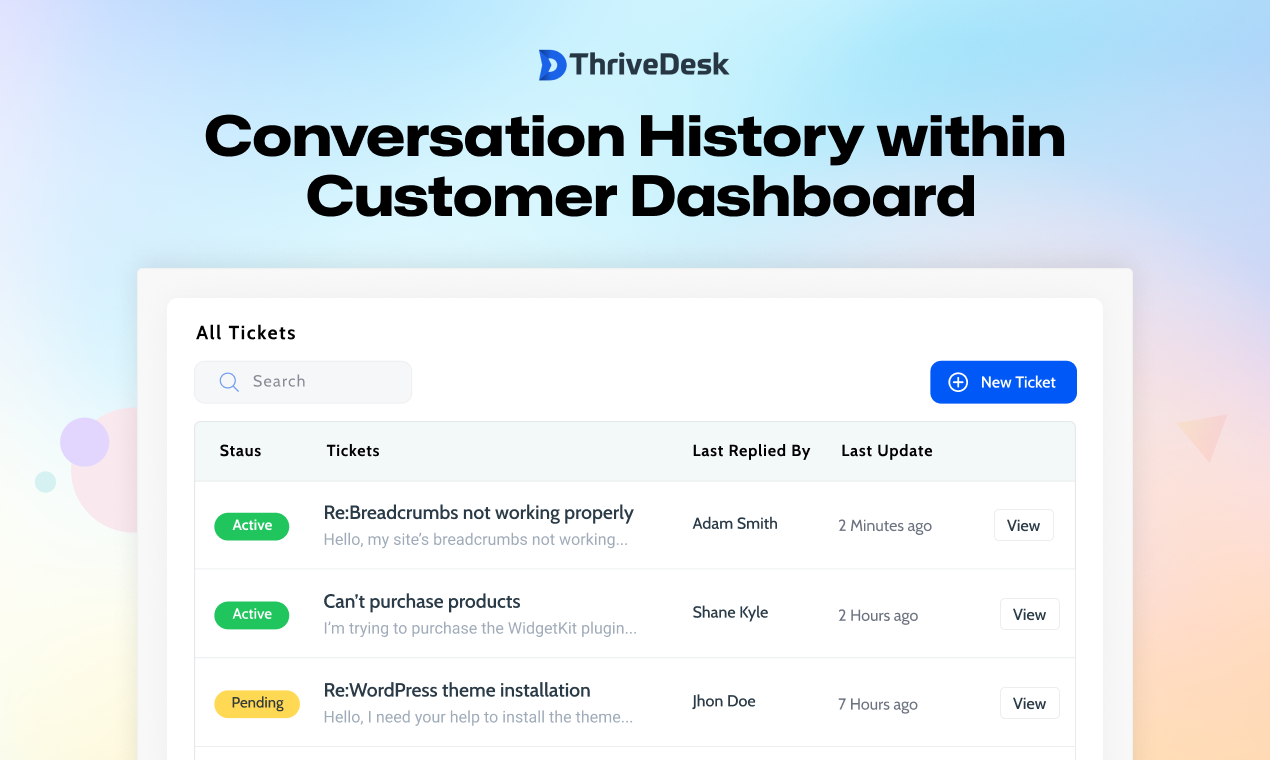 WPPortal allows you to grant your customers access to their entire conversation history on the portal interface. 
The optimized search function makes it easy for customers to find any specific conversation without needing to scroll through a list of conversations. 
This is a necessary convenience as it streamlines the process of issue reporting by cutting down on time wasted manually looking through endless conversation lists. 
Do Faster Communication and Issue Resolution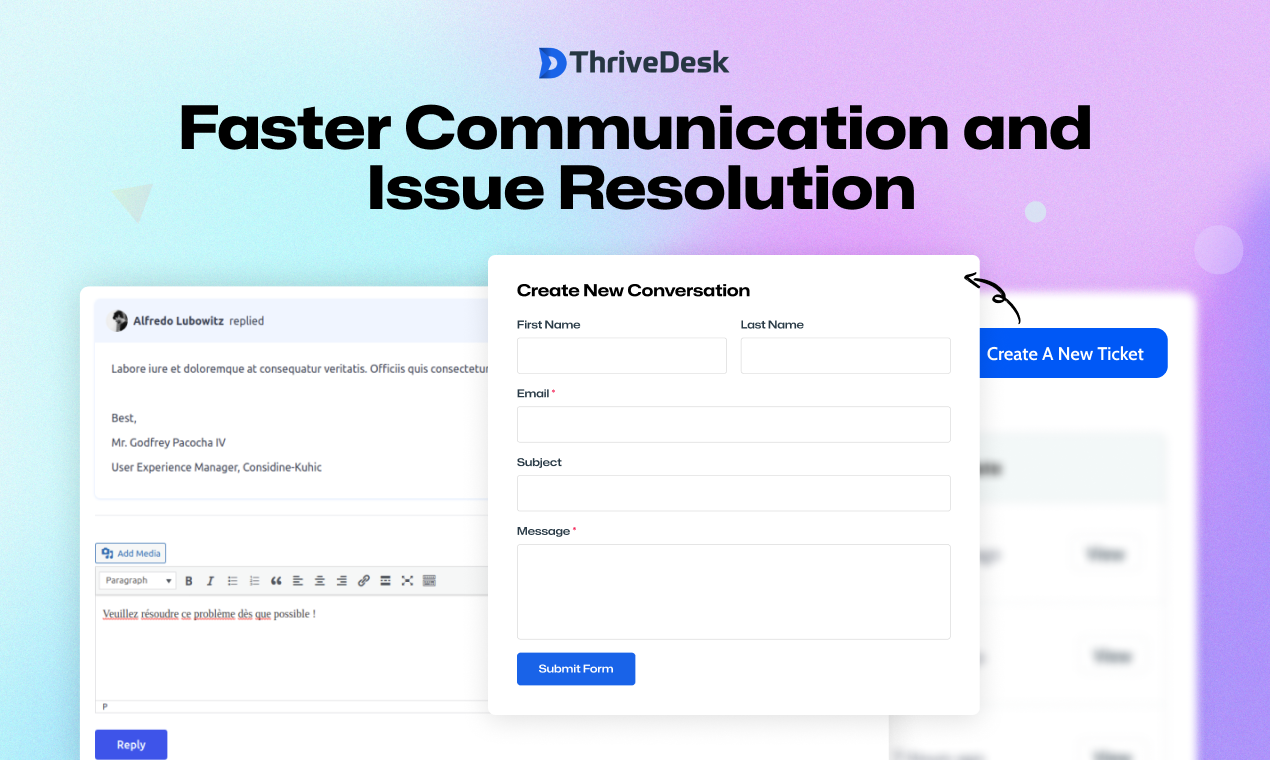 With WPPortal, your customers can reach out to you faster. 
Once you have it integrated into your website, customers will be able to initiate a new conversation with just one click directly from their customer dashboard. 
This means more convenience for your customers.
Get Built-in Access to Knowledge Base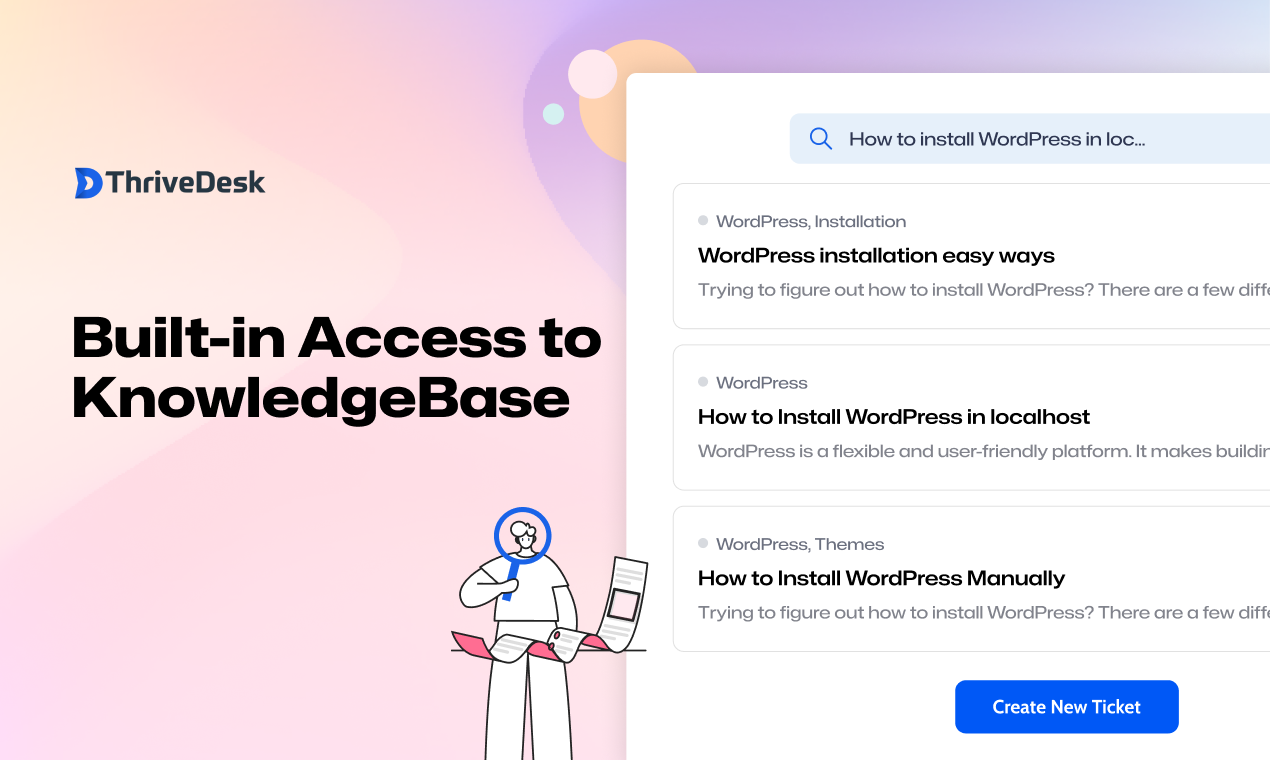 DIY is the order of the day, and WPPortal lets your customers do exactly that!
Before creating a ticket, customers are given a search option to scour your business' native knowledge base on WordPress to find any pre-existing resource to help them tackle their issues. 
Arming customers with the ability to solve their own issues means reducing support ticket volume for your support agents. 
This means instead of repeatedly solving the same trivial issues over and over again, support agents can now focus more on resolving more critical support issues that require more time and finesse. A win-win for everyone!
Access a wide array of Integrations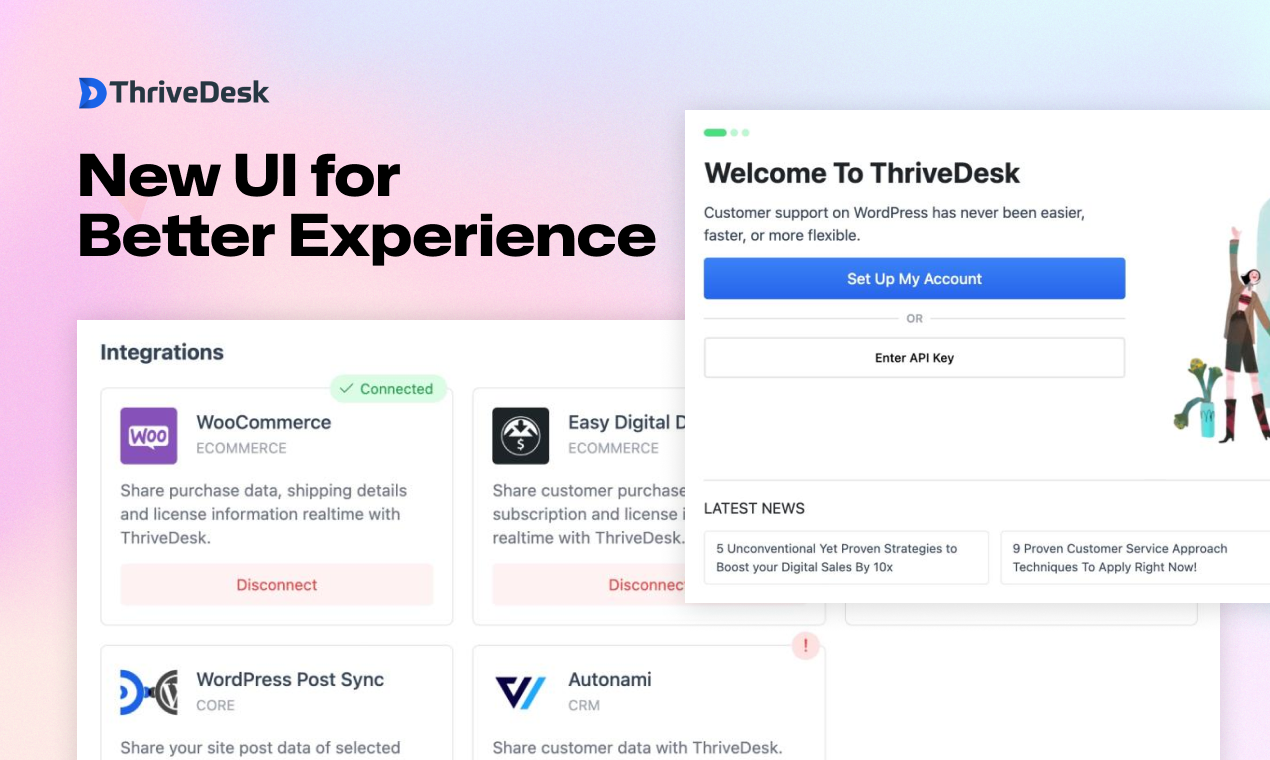 ThriveDesks WPPortal allows for an extensive range of invaluable integrations on the business ends.
As a result, you or your support agents don't need to toggle between browser tabs. Also, apart from support, all other important business operations can run seamlessly without much effort.
And we all know at this point that how tedious things can get when we have to back and forth between multiple places to verify customer information.
No matter how you look at it, it's a no-brainer! WPPortal can provide your support and overall business with a significant boost. 
Here is an overview of WPPortal to give you some solid idea about how it works: 
Wrapping Up
If you're on the hunt for an awesome helpdesk solution that won't break the bank, then you've gotta check out ThriveDesk. 
One of the coolest things about ThriveDesk is how it gives you access to all your customer data right in the dashboard. That means you can offer more personalized support to your customers, which leads to happier and more loyal customers. And who doesn't want that, right?
Plus, the setup process is a breeze, and you can connect multiple plugins with each inbox. 
And let's not forget about the money you'll save with ThriveDesk. 
Now, as a Freemius store owner, if you are looking to provide top-notch customer support while also cutting unnecessary costs, ThriveDesk, will definitely be the tool to take your business operations to the next level!