Running a rapidly expanding business comes with challenges. As your business grows, so does the volume of customer inquiries and support tickets. Managing everything manually is becoming increasingly difficult, and you need a robust customer support platform to streamline your operations.
Let's look at two of the best customer support software currently on the market.

Intercom brings a dynamic approach to customer support. Its suite of tools goes beyond traditional ticketing and focuses on customer engagement and messaging automation. From in-app chat to personalized autoresponders, Intercom provides a unified experience across multiple channels, creating a support ecosystem that nurtures and converts leads.
Intercom is considered more of a CRM than a helpdesk solution.
On the other side of the scale, Gorgias is an AI-driven customer support solution that focuses heavily on eCommerce and DTC brands.
As these platforms go head-to-head, we'll dissect their strengths, delve into their unique AI-powered capabilities, and help you determine which one holds the key to elevating your customer support and engagement strategies. So, get ready for an insightful journey through the landscapes of Intercom and Gorgias, where support excellence converges with AI innovation.
QUICK NOTE: If you are a startup or SMB, Intercom or Gorgias might not be a good fit for you. Check out ThriveDesk, our take on customer support software for startups or SMBs.
Intercom vs Gorgias at a glance
| Criteria | Intercom | Gorgias |
| --- | --- | --- |
| Rating | 4.5/5 | 4.6/5 |
| Niche | Small to mid-sized businesses | Small to mid-sized businesses |
| Starting price | $74 | $10 |
| Free trial | 14 days | 7 days |
Overview of Intercom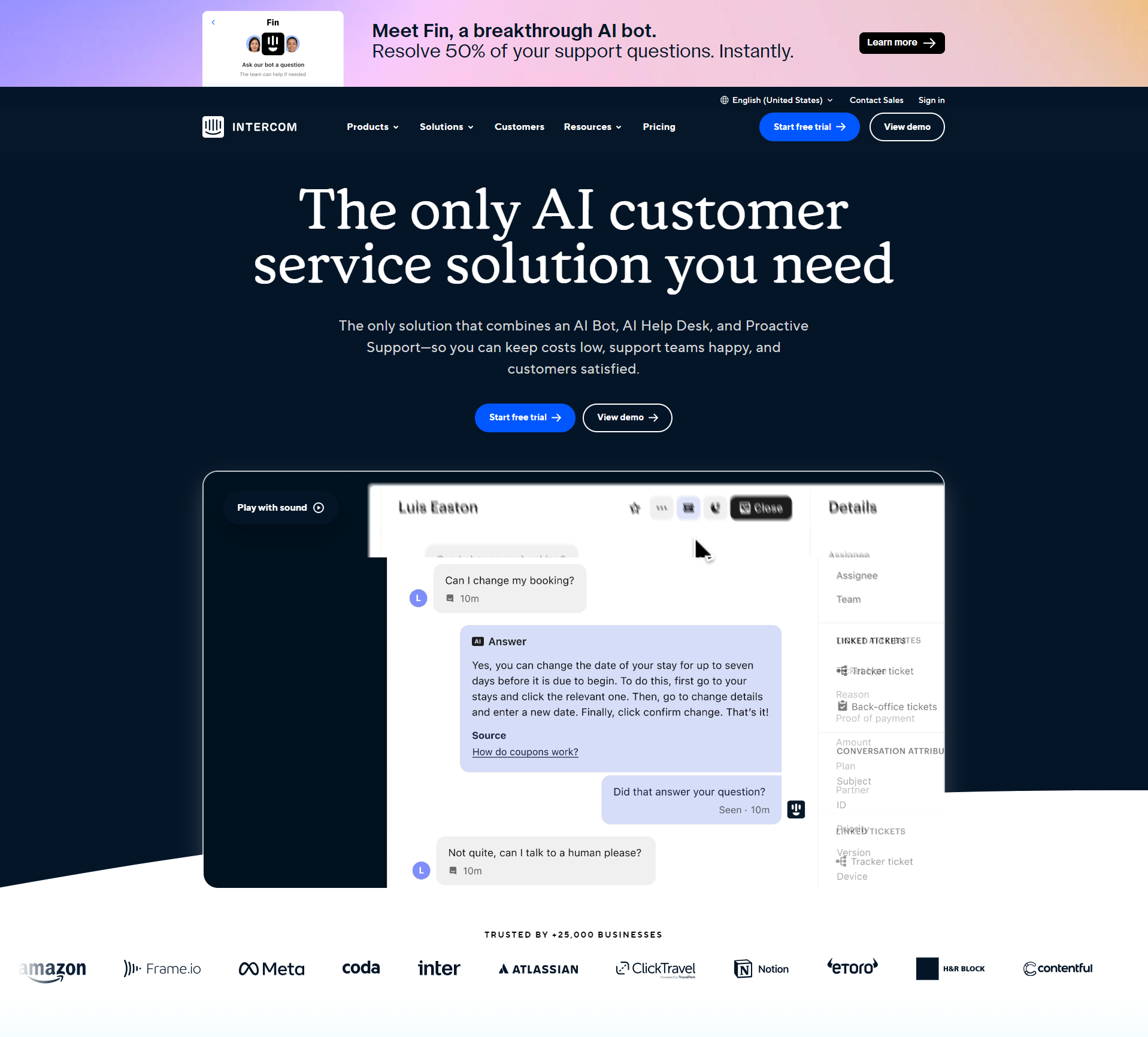 Intercom is the go-to solution for businesses seeking to elevate customer support and sales processes. With its user-friendly interface and advanced functionalities, Intercom offers a comprehensive suite of tools designed to effectively communicate and engage with customers.
Intercom's messaging system enables real-time interactions through various channels, including chat, email, and in-app messages. Connect with customers wherever they are for timely assistance and personalized experiences.
Experience targeted communication with Intercom's automation and segmentation features. Create personalized messages for specific customer segments, driving engagement and satisfaction.
Streamline support processes with Intercom's ticketing system and knowledge base. Efficiently manage customer inquiries and empower customers to find answers independently.
Seamlessly integrate Intercom with popular third-party tools and platforms, centralizing customer data and improving workflow efficiency.
Gain valuable insights with Intercom's analytics and reporting capabilities. Track key metrics, measure campaign success, and optimize customer engagement strategies.
Experience the comprehensive power of Intercom for effective customer communication, automation, support tools, integrations, and analytics.
Overview of Gorgias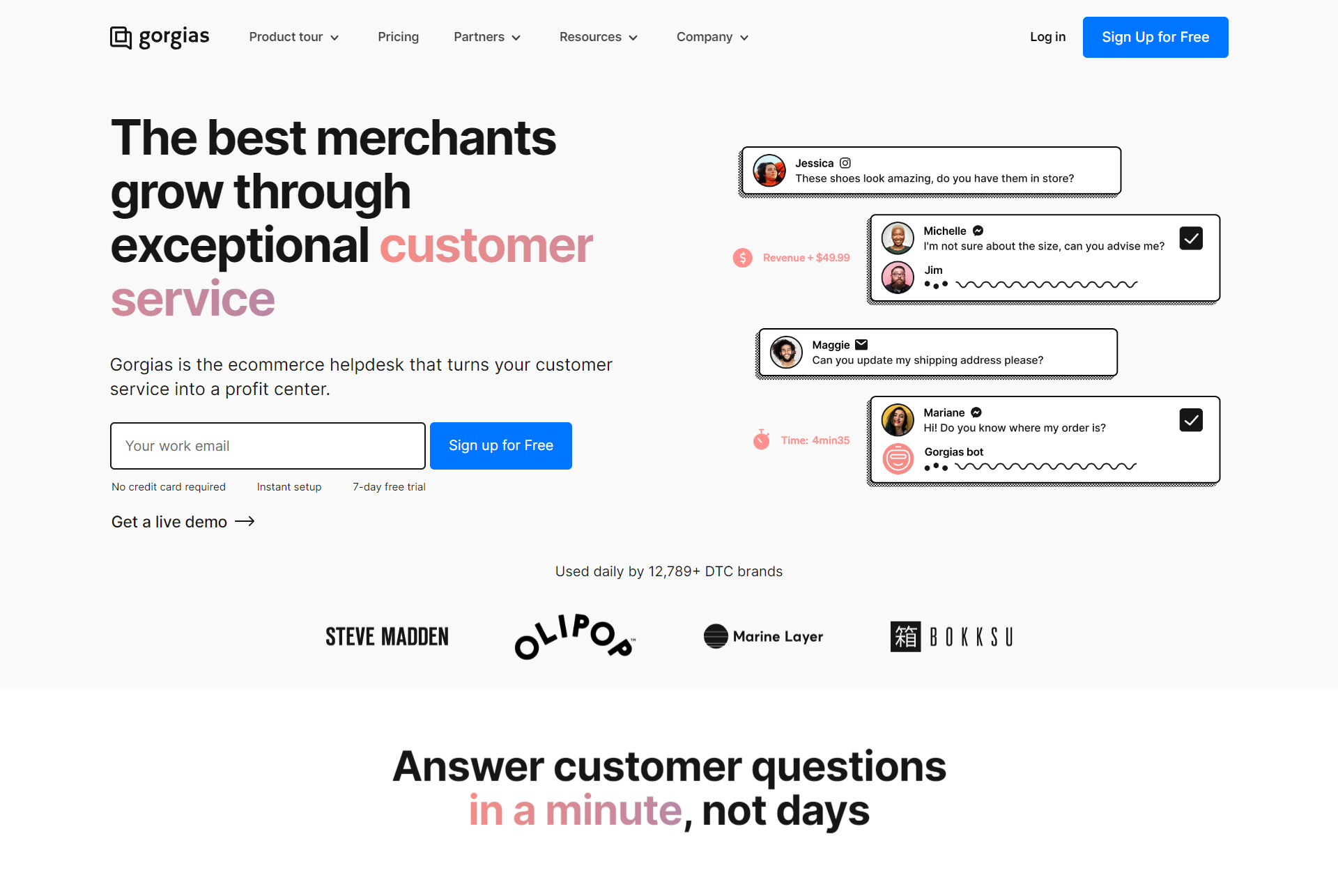 Introducing Gorgias, your ultimate customer support software for eCommerce and DTC brands. This game-changing platform harnesses the power of artificial intelligence (AI) to revolutionize customer interactions. It's all about simplifying support processes and elevating the customer journey.
With Gorgias, managing inquiries becomes a breeze. Routine tasks are automated, and personalized assistance becomes the norm. 
AI takes center stage, swiftly responding to common queries, drastically reducing response times, and liberating support agents to tackle more intricate issues. This increases efficiency and ensures your customers receive rapid support, boosting their satisfaction and fostering loyalty.
But here's the kicker – Gorgias seamlessly integrates with eCommerce platforms like Shopify, making it the top choice for online retailers.
It consolidates customer data from various touch-points, enabling tailor-made interactions and recommendations that take the customer experience to a whole new level.
In a nutshell, Gorgias is customer support software intended for eCommerce businesses that marries AI automation with user-friendly interfaces and robust integrations.
It empowers businesses of all sizes to deliver exceptional support, supercharge productivity, and cultivate enduring customer relationships. 
Whether you're a small eCommerce boutique or a major player in the DTC realm, Gorgias is poised to redefine your customer service game in the digital era, setting new benchmarks for excellence.
Comparative Analysis: Key Features and Functionality
When comparing Zendesk and Gorgias, evaluating their core features and functionalities is essential to determine which platform best suits your organization's customer support needs. Let's explore how Zendesk and Gorgias stack up in terms of basic functionalities required by helpdesk software. 
| Features | Intercom | Gorgias |
| --- | --- | --- |
| Integrations | Limited integrations are available. Their app market currently holds around 100 apps.  | Gorgias integrates with over 1,000 apps, including Shopify, Magento, and BigCommerce |
| Self-service portal | Intercom offers a self-service portal where customers can find answers to their questions, with a knowledge base, community forum, and articles | Gorgias offers a self-service knowledge base feature to assist customers with common queries |
| Live chat | Intercom offers live chat for customer support agents to communicate with customers in real-time | Gorgias provides a live chat feature for instant customer interactions |
| Reporting | Intercom offers limited reporting and analytics | Gorgias offers a variety of reports to track customer support metrics, including eCommerce-specific metrics such as order volume and revenue |
| Mobile app | Intercom offers a mobile app for both iOS and Android | Gorgias offers a mobile app for both iOS and Android |
| AI | Intercom will soon release its GPT 4-powered customer service bot called Fin. Fin will understand complex queries, ask clarifying questions, and fully converse with customers | Gorgias' is powered by a proprietary AI technology. Gorgias has integrated AI functionality into their autoresponders, spam detectors, macro suggestions, ticket priority and data analytics facilitating faster support, better ticket management and AI backed data driven insights. It uses rule based chatbots. |
| Customer support | Intercom offers 24/7 customer support support via email and chat | Gorgias offers 24/7 customer support via phone, email, and chat |
| Ticket Management | Intercom offers a robust ticketing system that centralizes customer inquiries, allowing support teams to manage and resolve tickets effectively. It provides features such as ticket assignment, escalation, and SLA management to streamline the ticket resolution process. | User-friendly interface for creating, tracking, and organizing customer tickets, with additional features for eCommerce businesses, such as order management and returns management |
| Automation | Intercom provides automated workflows that guide agents through predefined steps, ensuring consistent and standardized support processes. They also have bots which can automate tasks such as answering customer questions, qualifying leads, and booking demos. | Gorgias automates repetitive tasks, routes tickets to the appropriate agents, manages SLAs, and sending personalized messages to customers. Gorgias also offers several eCommerce-specific automations, such as abandoned cart recovery, post-purchase follow-up, and order status updates. By automating these tasks, Gorgias can help businesses save time, improve efficiency, and provide better customer service. |
Our pick: Intercom. 
Some additional Comparison metrics
Unique Features
When considering Intercom and Gorgias, it's essential to highlight their unique features and how they cater to different aspects of business operations.
Intercom
Now, let's shift our focus to Intercom's unique offerings. Intercom has a different approach, one that's all about sales, marketing, and personalized messaging. Intercom has your back if you're looking to supercharge your sales efforts. It's like having a toolkit for lead generation, customer segmentation, and crafting highly personalized messages. This makes it an excellent choice if you want to engage with support and potential and existing customers in real time. Intercom has also dipped its toes into the AI market with their GPT-4 powered chatbot called Fin.
Gorgias
Gorgias specializes in efficient eCommerce support, seamlessly integrating with major platforms like Shopify, Magento, and BigCommerce to streamline online retail businesses. It excels in advanced automation, enabling businesses to automate repetitive tasks and utilize AI-driven responses to address common customer inquiries, ultimately boosting efficiency and reducing response times.
Our pick: Gorgias. Better integrated AI functionality.
Pricing and Plans
When considering helpdesk solutions like Zendesk and Gorgias, understanding the pricing models and plans is crucial to make an informed decision. Let's compare the pricing structures of both platforms, evaluate their value for money and scalability, and analyze any additional costs or hidden charges that may be associated with each platform.
Intercom
| | |
| --- | --- |
| Starter | $74/month, billed annually |
| Pro | $395/month, billed annually |
| Premium | Custom pricing |
Intercom offers a wide range of features to help businesses improve customer relationships.
Intercom offers a free trial so businesses can try the product before buying it.
Intercom offers a variety of add-ons that businesses can purchase to customize their experience.
Gorgias 
| | |
| --- | --- |
| Starter | $10 per month, billed monthly |
| Basic | $60 per month, billed monthly$50 per month, billed annually |
| Pro | $360 per month, billed monthly$300 per month, billed annually |
| Advanced | $360 per month, billed monthly$750 per month, billed annually |
| Enterprise | Custom pricing |
Gorgias offers clear and transparent pricing, simplifying cost calculations and budgeting.
With Gorgias, you can easily scale your support operations up or down as your business needs change.
Gorgias prioritizes automation and efficiency, reducing the reliance on additional costs for integrations or add-ons.
If money is limited for your business, a help desk that can be a Gorgias alternative or a Intercom alternative is ThriveDesk. They offer straightforward pricing plans designed to meet the diverse needs of businesses, with only 2 options to choose from; it makes it easier for business owners to make a decision regarding pricing. Choose the plan that suits your support requirements and budget, whether you're a small team or a growing enterprise. 
| | |
| --- | --- |
| Starter | $25/month (4 seats) |
| Plus | $85/month (10 seats) |
Our pick: Gorgias. Better priced compared to Intercom.
Value for Money and Scalability
When choosing a helpdesk and project management solution for your business, assessing the platform's value for money and scalability is paramount. Let's compare Zendesk and Gorgias in terms of how they handle these crucial aspects, helping you make an informed decision.
Intercom
Intercom also offers scalability within its pricing plans, enabling businesses to upgrade to higher tiers as their support needs grow. With its integrated suite of applications, Intercom provides a comprehensive solution that caters to businesses seeking a unified ecosystem to manage customer interactions. This scalability ensures businesses can align their support infrastructure with their evolving requirements, ensuring a seamless customer experience.
Gorgias
Gorgias, too, offers a scalable pricing structure that caters to businesses with varying support needs. Its pricing plans are designed to provide value at different stages of growth, allowing you to choose the plan that best fits your current requirements while offering the flexibility to adapt as your business evolves.
In terms of value for money, Gorgias focuses on optimizing support operations for eCommerce businesses. Its AI-driven features, including smart macros and automated responses, can lead to substantial time and resource savings for support teams. Gorgias aims to provide a compelling return on investment by streamlining support workflows and improving customer service.
Our pick: Gorgias. Has better pricing.
Additional Costs and Hidden Charges
When selecting a helpdesk or project management platform, it's crucial to consider the base pricing and any potential additional costs and hidden charges that may impact your budget. Let's delve into how Zendesk and Gorgias handle these aspects.
Intercom
Intercom also provides a range of customization options, particularly focused on personalization and tailoring customer messaging. Key customization options offered by Intercom include:
Messaging and Campaigns: Create personalized and targeted messaging campaigns based on specific customer segments, behaviors, or attributes.
App and Interface Customization: Customize the in-app messaging interface and appearance, including color schemes, fonts, and chat widget design.
Knowledge Base Customization: Customize the look and feel of the knowledge base with branding elements and layout customization.
Integrations and APIs: Leverage Intercom's APIs and integrations to build custom workflows and extend the platform's functionality according to specific business needs.
Gorgias
Gorgias offers transparent pricing with straightforward per-user per-month plans. However, businesses considering Gorgias should keep certain aspects in mind regarding potential additional costs:
Add-Ons and Integrations: While Gorgias includes various automation and integrations in its plans, some advanced features or specific integrations may come with an extra cost.
Volume-Based Pricing: Depending on the volume of support tickets and interactions your business handles, you may opt for a higher-tier plan. These plans may come with increased costs to accommodate higher usage.
Customization and Development: Businesses may incur additional charges for customization or development services for highly tailored solutions or specific development work.
Our pick: Intercom. Better all-rounder. Gorgias is more eCommerce business-focused and has pricing based on ticket volume, which makes it a risky option when it comes to smaller and mid-sized businesses.
User Experience and Interface
A helpdesk solution's user experience and interface play a crucial role in ensuring efficient and intuitive customer support. Let's evaluate the user experience and interface of both Zendesk and Gorgias, considering factors such as ease of navigation, customization options, and overall intuitiveness. We will also consider customer feedback and reviews to provide insights into the usability of each platform.
Intercom
Intercom focuses on providing an interface that facilitates easy navigation and accessibility. Users can seamlessly move between sections and locate the required features and functionalities.
Intercom offers extensive customization options, empowering businesses to adapt the interface to their requirements. Users can customize ticket forms, workflows, and layouts, ensuring a tailored support experience.
Intercom's interface is designed to be intuitive, allowing support agents to interact with customers seamlessly. The platform's layout and organization of information contribute to an efficient and user-friendly experience.
Users often praise Intercom for its simplicity and straightforward navigation. The intuitive design of the platform, coupled with its comprehensive features, results in positive user feedback regarding the overall user experience.
Gorgias 
Gorgias prioritizes a seamless user experience, emphasizing navigation ease and accessibility in its interface design. The platform's dashboard presents relevant information well-structured, enhancing user efficiency.
Extensive customization options are a hallmark of Gorgias, allowing businesses to adapt the interface to their needs. Users can customize ticket forms, workflows, and layouts, ensuring the platform aligns with their unique support processes.
Customer reviews consistently highlight Gorgias' user-friendly interface, with users praising its simplicity and navigation intuitiveness. The platform's intuitive design and comprehensive features contribute to a positive and efficient user experience.
Our pick: Intercom. UI/UX can be subjective to some degree, but to us, Intercom has better UI and is overall more intuitive to use.
Customer Feedback and Reviews
In terms of G2 ratings, Intercom and Gorgias are both well-rated platforms. Intercom has a rating of 4.5 out of 5 stars, based on over 2700 reviews. Gorgias has a rating of 4.6 out of 5 stars, based on over 506 reviews.
Intercom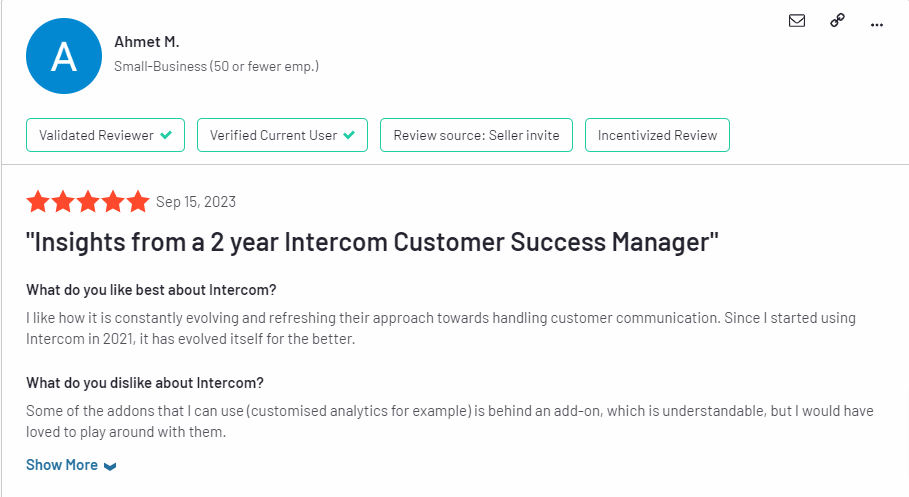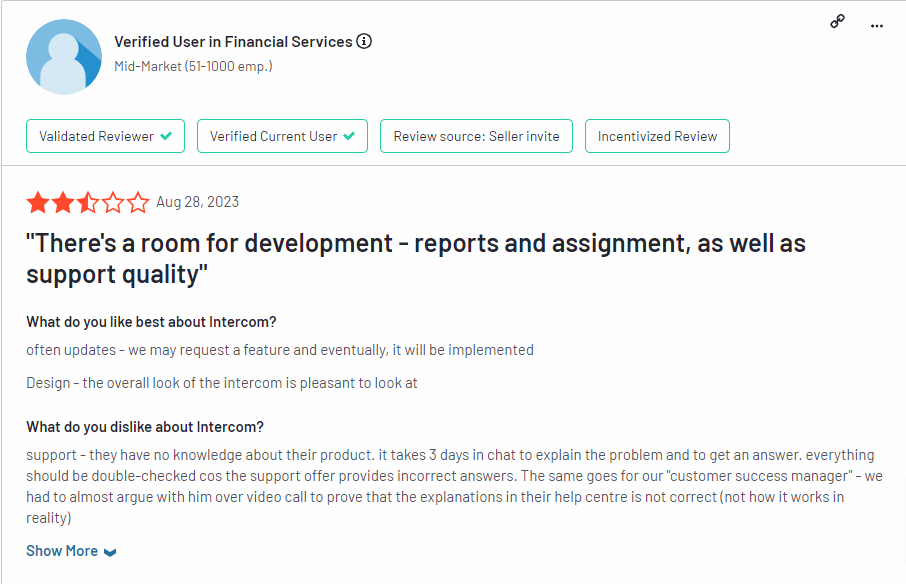 Gorgias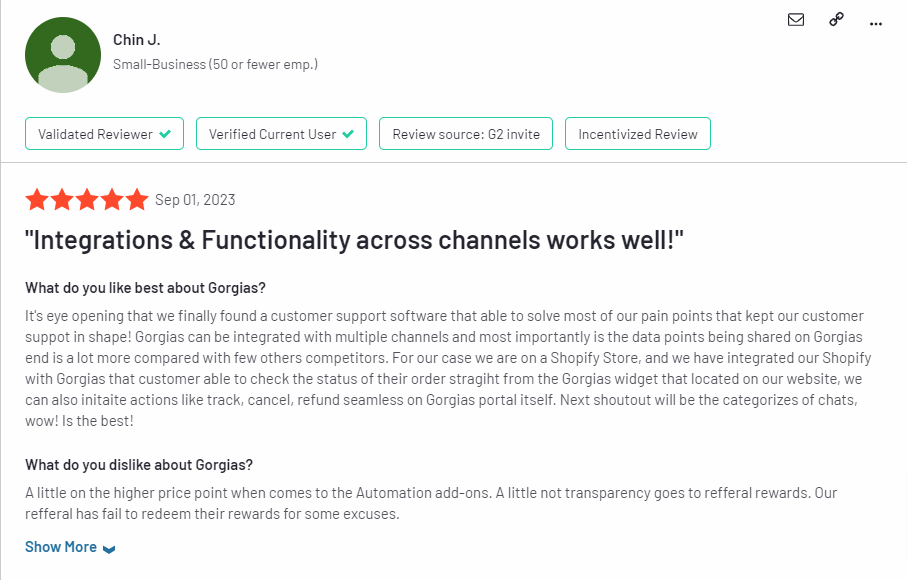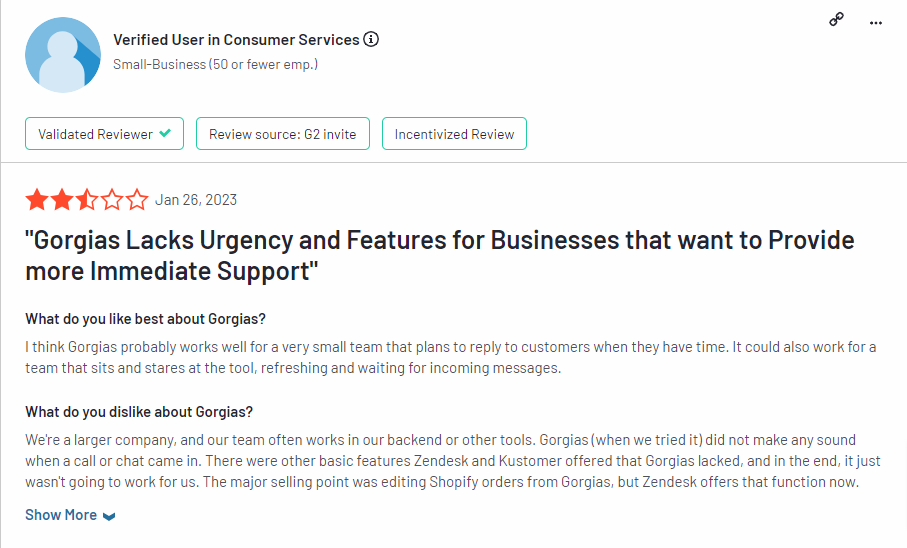 The general consensus between their customers focuses on a few common patterns.
Intercom is praised as an affordable option with high customization capabilities, allowing businesses to create a personalized support experience. Although the interface may require a learning curve, users find the platform effective and functional. 
Gorgias has notable strengths in specialized eCommerce support through integrations with platforms like Shopify, Magento, and BigCommerce. Its robust automation capabilities streamline processes and enhance efficiency, while users commend its user-friendly interface for its simplicity and ease of navigation. Overall, Gorgias receives favorable feedback, particularly for its eCommerce support and automation features, contributing to its positive user reputation.
Our pick: Intercom. Acknowledging that this is a subjective category we looked at 100 reviews for each and considering the limited sample size, Intercom had more reviews over 4 stars compared to Gorgias.
Intercom vs Gorgias: Pros and Cons Face-Off 
Intercom
| Pros | Cons |
| --- | --- |
| Focuses on sales and marketing, with features such as lead generation, customer segmentation, and personalized messaging | Can be more expensive for smaller businesses |
| Easy to use and configure | Not as well-suited for complex customer support requirements |
| Scalable to meet the needs of growing businesses | |
| Large and active community of users and developers | |
| Excellent customer support | |
Gorgias
| Pros | Cons |
| --- | --- |
| Tailored to the specific needs of eCommerce businesses | More expensive than some other customer support platforms |
| Advanced features such as abandoned cart recovery and post-purchase follow-up | Can be complex to set up and configure |
| Integrations with popular eCommerce platforms such as Shopify and Magento | Not as well-suited for businesses outside of the eCommerce industry |
| Excellent customer support | |
Which One is Right for You?
Intercom and Gorgias are both powerful customer support platforms, but they have different strengths and weaknesses. Intercom is a good option if you are looking for a solution that focuses on sales and marketing, while Gorgias is a better fit for eCommerce businesses that need more advanced features.
Here is a table that summarizes the key differences between Intercom and Gorgias:
| Feature | Intercom | Gorgias | ThriveDesk |
| --- | --- | --- | --- |
| Price | Starts at $89, billed monthly | Starts at $10, billed monthly | Starts at $32, billed monthly |
| Features | Unified inbox, live chat, targeted messages, team collaboration tools, automation and reporting | Unified inbox, live chat, knowledge base, automation and reporting | Ticket management, live chat, knowledge base, shared inbox, self-service portal and reporting  |
| Ease of use | Easy to use and configure | Can be complex to set up and configure | Easy to use and configure |
| Scalability | Good growth speed to value to ratio but limited scalability | Designed for eCommerce businesses that are experiencing rapid growth | Better utilized for small to mid-sized businesses |
| Community | Large and active community of users and developers | Smaller but still active and engaged community of users and developers | Active community of developers and contributors  |
| Customer support | 24/7 support via email and chat | 24/7 customer support via phone, email, and chat | 24/7 support via email  |
ThriveDesk: Customer Support solution for Startups and SMBs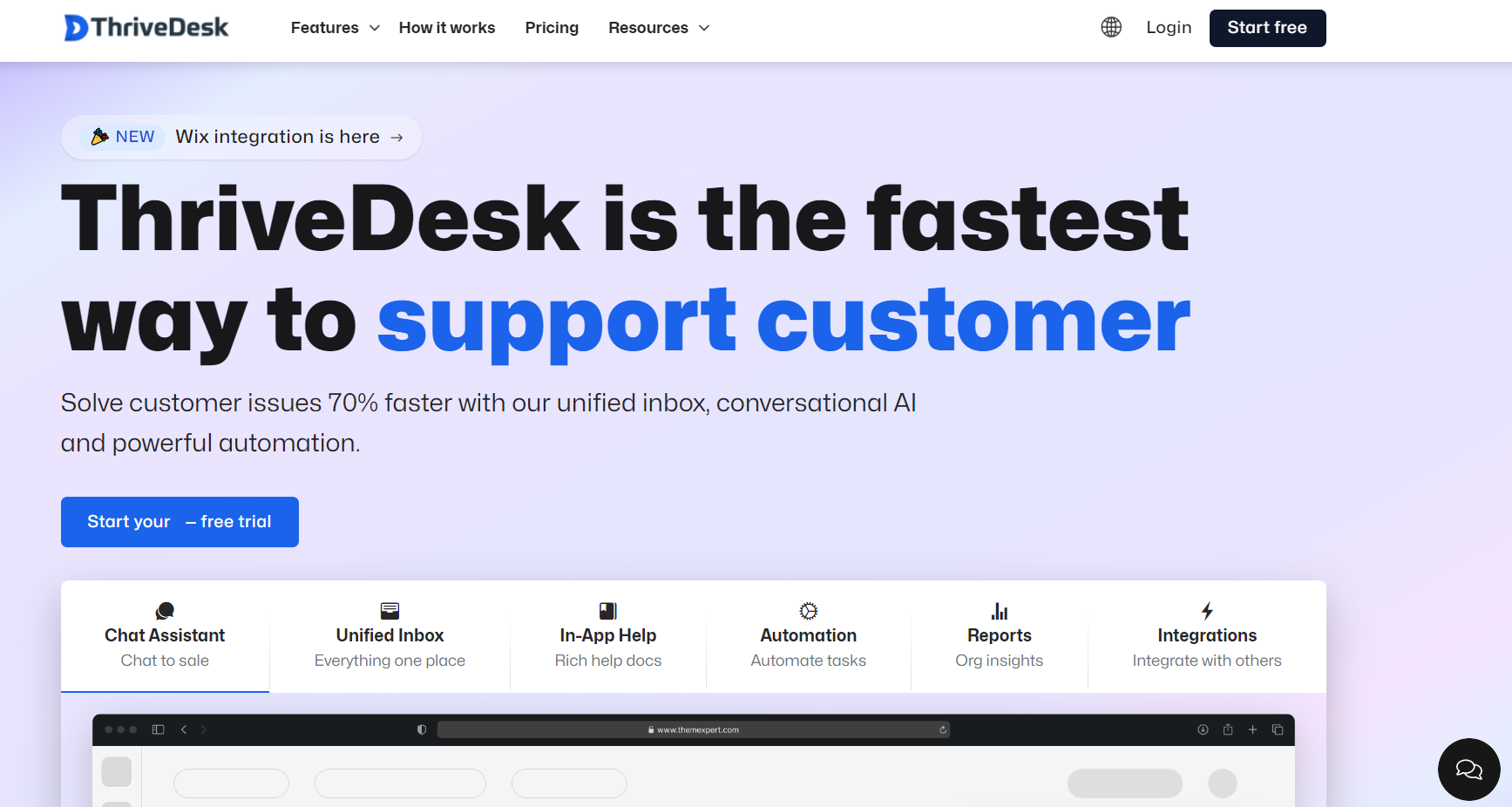 In addition to Gorgias vs Intercom, alternative helpdesk solutions are available in the market. One such alternative worth considering is ThriveDesk. ThriveDesk is a feature-rich helpdesk solution that offers a comprehensive set of tools to manage customer support effectively.
ThriveDesk is a help desk software tailor-made for businesses seeking extensive features and a powerful yet simple live chat assistant. Even better, it's the most cost-effective, lightweight, and speedy live chat solution available for Shopify business owners.
ThriveDesk empowers small businesses to manage real-time customer communications. Packed with convenient built-in features like shared inbox, instant replies, file sharing directly from the chat widget, emojis for effective communication, satisfaction surveys, sales tracking reports for eCommerce, knowledge base search, and monitoring capabilities, you can efficiently handle your Wix store operations.
Rest assured, ThriveDesk's lightweight design and speed won't impact the performance of your Wix-powered eCommerce website. The optimized agent interface ensures rapid responses for maximum efficiency, all while keeping your website running smoothly.
Rated 5 stars out of 5 on G2, ThriveDesk is highly regarded by users.
Key Features of ThriveDesk:
Self Service Portal (WPPortal)
Third-party Integrations
Performance Metrics
Workflow Management
Alerts / Escalation
Ticket Management
Customer Database
Email Management
Extensive Knowledge Base
Surveys & Feedback
Pricing for ThriveDesk starts at just $6.67 per month.
Pros of ThriveDesk:
Cost-effective, reducing agent costs
Minimizes customer effort
Smooth onboarding experience
Seamless navigation between chat interactions
Real-time responses
ThriveDesk's user-friendly interface, comprehensive resources (including a community, shared mailbox, and live chat), have made it a popular and trusted choice for Wix users. It comes highly recommended for its reliability and ease of use.
Cons of ThriveDesk:
Lack of native mobile alerts
With ThriveDesk, you can supercharge your website's growth and streamline customer interactions like never before.
Conclusion: Intercom vs Gorgias for Your Business
When it comes to choosing between Intercom and Gorgias to fulfill your business requirements, careful consideration of various factors is crucial, such as your specific organizational objectives, operational needs, and budget constraints. These two platforms offer distinct capabilities, each catering to different aspects of your business.
Intercom:
Intercom takes a dynamic approach to customer support, focusing on customer engagement and personalized messaging, making it suitable for businesses prioritizing sales and marketing efforts.
While it provides ticketing and knowledge base features, Intercom's strength lies in its real-time chat, email, and in-app messaging interactions.
Intercom offers extensive customization options, allowing you to tailor customer messaging and in-app experiences to your brand.
Gorgias:
A specialized eCommerce support platform with seamless integrations for online retail businesses.
Excels in automation, improving efficiency by automating repetitive tasks and providing AI-driven responses.
Boasts a user-friendly interface with positive feedback on simplicity and navigation.
In summary, your choice between Intercom and Gorgias should align with your specific business needs.  if you prioritize customer engagement, sales, and personalized messaging, Intercom is a compelling option, especially for startups and rapidly scaling businesses.
On the other hand, if you operate an eCommerce focused online retail business and value automation, Gorgias offers a compelling solution. 
There are even platforms such as ThriveDesk which provide similar levels of support for your business at lower costs. Ultimately, Your decision should reflect your objectives and budget, allowing you to make the most of either Intercom or Gorgias or other alternatives to drive success in your organization.