Providing excellent customer service has never been more important than it is now. If your business provides customer service, you need to make sure your team is prepared for what could be an overwhelming amount of customer service requests. There are endless hours spent to ensure a positive customer experience. One of the best ways to manage this is to have the right customer support tool.
However, not all customer support tools are made equal. As a small business, you will have to weigh your options to choose which customer support software will work best for you.
Intercom is a proven tool to drive customer service software, but it comes with its limitations. It offers a wide range of features for businesses, but it's not for everyone. In some cases, it's priced too high for most organizations. There are many other customer service applications out there that are more scalable, easy to use, and provide more features than Intercom. This blog will look at the 15 best Intercom alternatives that can help drive customer service, while still allowing you to leverage the same benefits. If you're looking to improve the customer service in your business, then these are the tools to consider.
Why Are Businesses Looking For Intercom Alternatives?
Intercom established itself in the SaaS sector with many considering Intercom as the pioneer of conversational support. It consists of the familiar popup live chat tool that greets the users and guides them on your website. Not to take anything from Intercom's accomplishments as they have done splendid work in bridging the gap with the customers, there are several reasons you'd want to look for options elsewhere.
The pricing of Intercom is tricky with no proper information provided on the website. Even the starting package will cost you around $800-900 per year. The pricing gets steeper with more traffic which stands in the way of scaling up your business.
Based on the feedback collected from the users of Intercom, the high and complex pricing structure prevents them to enlarge their dream business and that is why they have started looking for Intercom alternatives.
Intercom is a great tool but it's not the only tool at your disposal to grow your eCommerce outlet. That's why many Intercom users are constantly looking for more suitable and cheaper alternatives to Intercom. And that is why you've ended up on this page, isn't it?
15 Best Alternatives To Intercom in 2023
| Product | Rating | Free Trial | Premium Features |
| --- | --- | --- | --- |
| ThriveDesk | 4.9 | Yes | $25/mo |
| Zendesk | 4.3 | Yes | $19/mo |
| LiveAgent | 4.5 | Yes | $15/mo |
| Freshdesk | 4.4 | Yes | $15/mo |
| Kayako | 4 | Yes | $60/mo |
| LiveChat | 4.5 | Yes | $16/mo |
| HelpScout | 4.4 | Yes | $20/mo |
| GrooveHQ | 4.1 | Yes | $50/mo |
| Drift | 4.3 | Yes | Custom Pricing |
| Olark | 4.3 | Yes | $19/mo |
| Crisp | 4.4 | Yes | $25/mo |
| Front | 4.7 | Yes | $19/mo |
| HelpCrunch | 4.7 | Yes | $12/mo |
| Gorgias | 4.6 | Yes | $60/mo |
| HubSpot Service Hub | 4.4 | Yes | $45/mo |
#15 Best Alternatives To Intercom You Can Try
Are you looking for a live chat software similar to Intercom? With the plethora of live chat software solutions available in the market, we thought we'd help you do this by compiling the 15 leading live chat software products with robust features for real-time messaging and sales and marketing capabilities.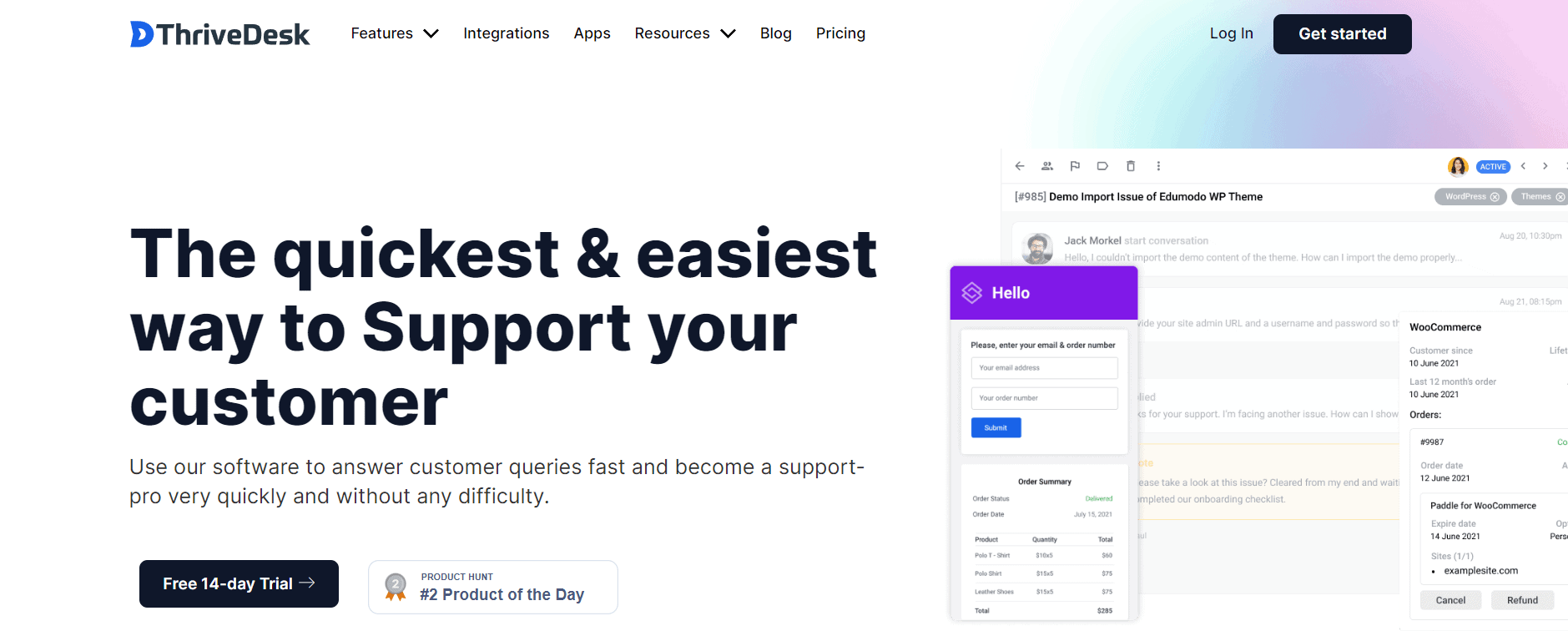 Every small business has a customer service problem. Whether you're a consultant, web designer, or other digital business, customer support is difficult to manage in-house. Let ThriveDesk do the heavy lifting for you! ThriveDesk is a simple, affordable customer support solution for small businesses. With our customizable plans and easy-to-use interface, it's never been easier to offer customer support without breaking the bank. Our customer service software will save your team time and resources so you can focus on what matters most to your business. It's time to start thriving!
Pricing:
ThriveDesk offers simple, fair, and affordable pricing plans. It starts with reasonable pricing of $12 per month per user. Where Intercom starter package starts at $74 per month. However, if you migrate from Intercom to ThriveDesk, we are offering a 3 months free trial package.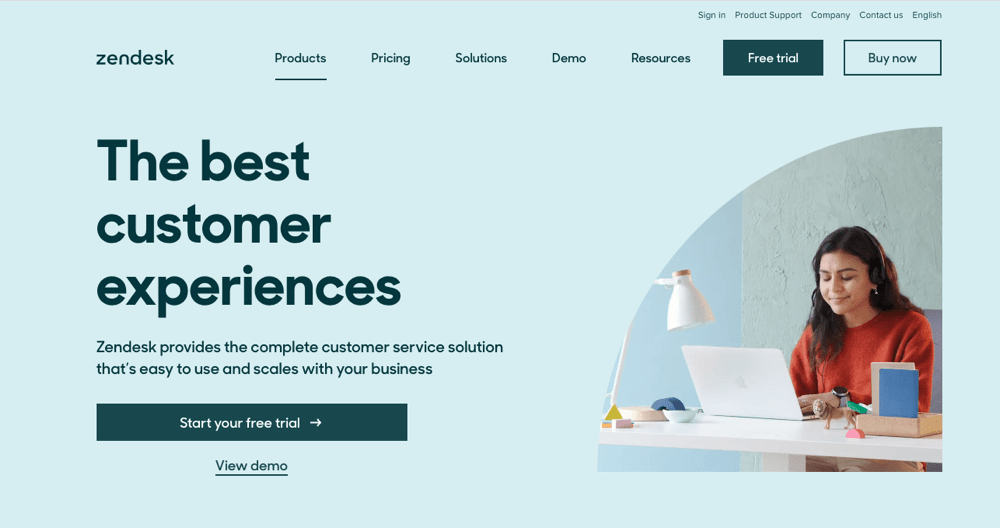 Zendesk Chat helps you to interact with your users via websites, mobile apps, and messaging services. The abundance of integrations and automation enables Zendesk to collect sufficient customer data, giving you analytics to help upgrade your business. It also acts as a CRM assisting any customer support people to easily access customer information as quickly as the query is posted.
Many consider Zendesk as a robust solution to deal with a high volume of support requests. Zendesk proves to be a mature and robust ticketing system with features like incident management, metrics, skill-based routing, automated responses, and macros, which let the agent fill in prepared answers for common problems.
Pricing:
The Premium pricing tier on Zendesk runs $99/user/month with all features unlocked, and if you just want to dip your toes in the water, they have less expensive options. A basic plan for Zendesk costs $19 per month per user. This includes integration with a wide variety of related solutions. Opting for more advanced features, including customer satisfaction surveys, will cost you $49 per user per month.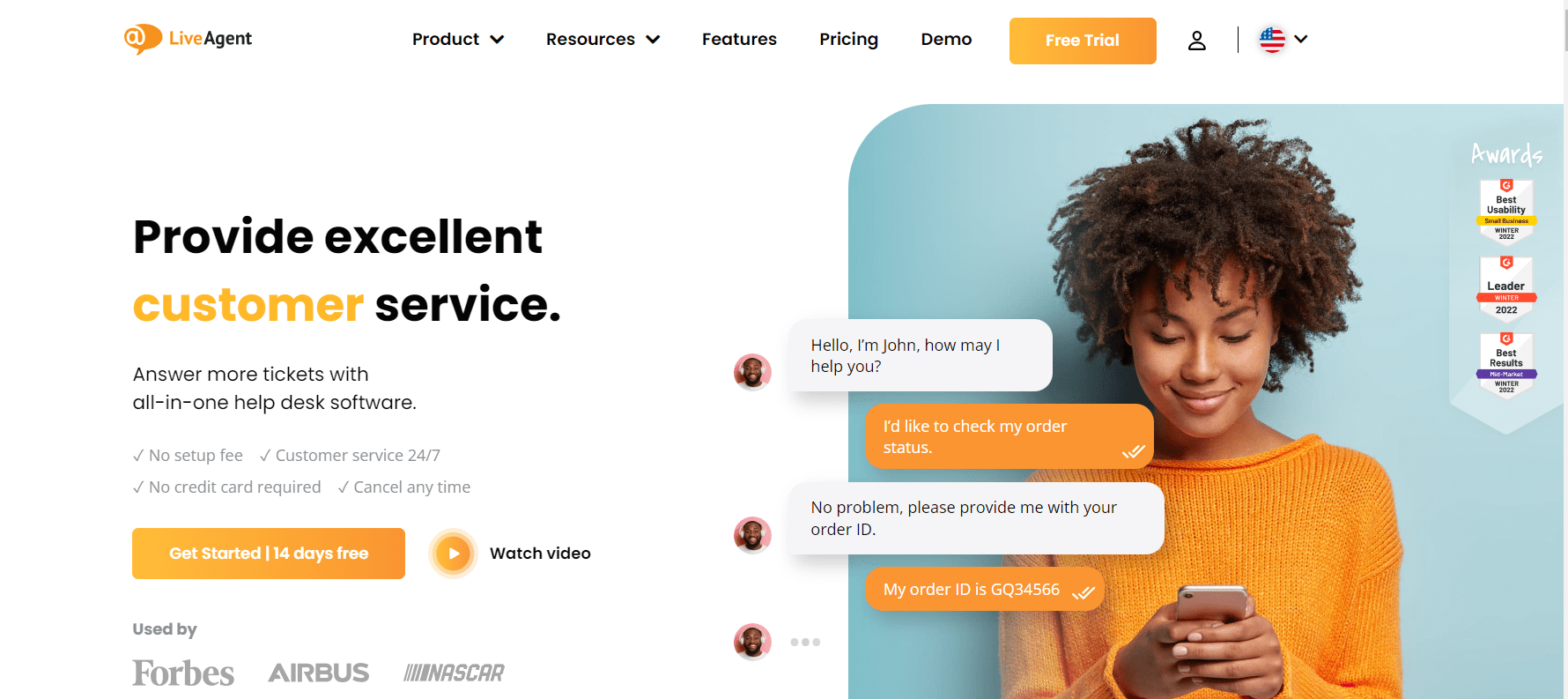 LiveAgent is an easy-to-set-up help desk application claiming to be one of the fastest web-based chat applications available, with better customer support than Intercom. The agent interface makes good use of screen real-estate, conveniently placing useful information about the customer and their issue.
With LiveAgent, you can greet the visitors, guide them on the website, engage with them and answer their questions with ease. This is an option for anyone who wants a store to feel like a retail outlet that has people ready to assist customers no matter where they may be in their respective buying journey. 
Pricing:
They provide an option to try their software on a free plan with a limited duration of history kept and no integrations. The basic plan starts at a $15 plan, and for complete solutions, it will cost you $29 per agent per month. This gives you fully-featured live chat, provides support over email, and integrates with various other applications.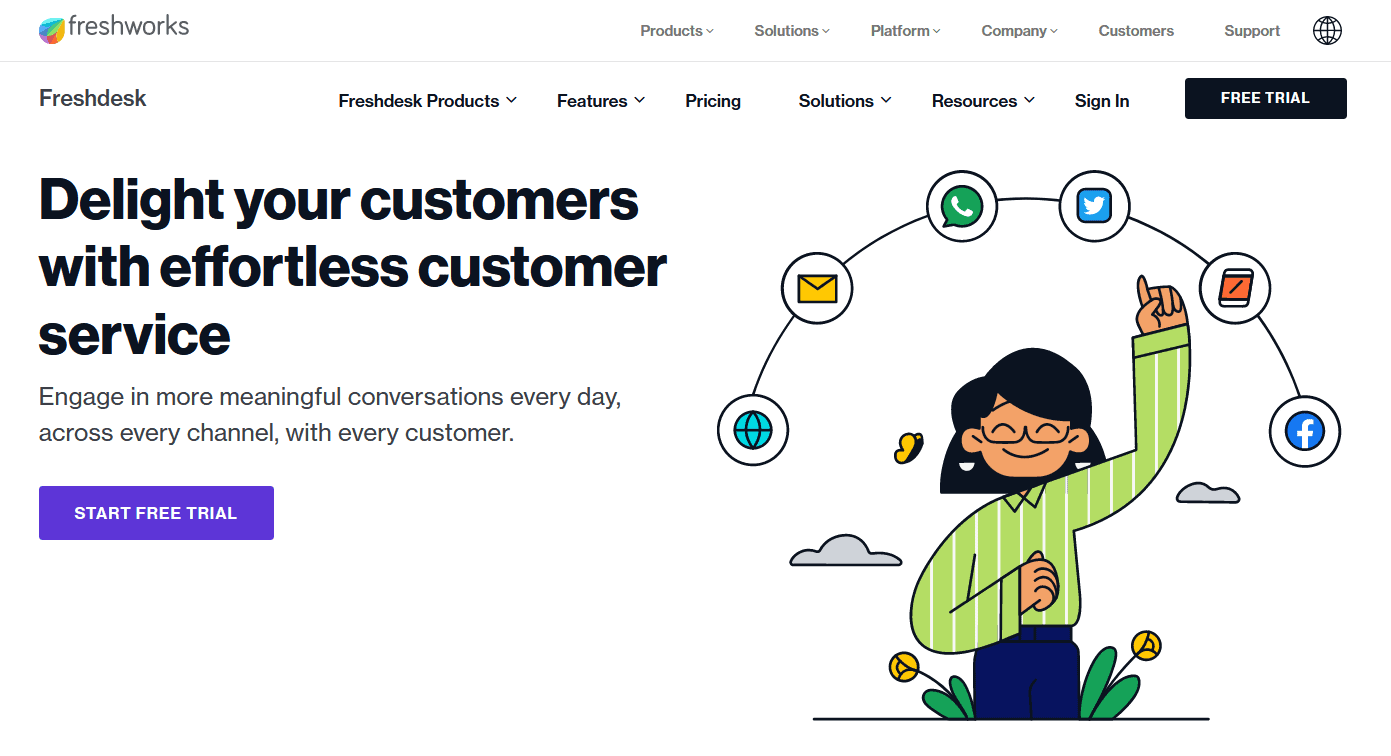 Freshdesk is an online cloud-based customer support software with more modern support channels such as social media and mobile messaging applications such as WhatsApp. It has gained ground in helping businesses increase customer engagement and manage high traffic while scaling up. Freshdesk supports features like omnichannel help desk, team collaboration, Artificial intelligence (AI), chatbot capabilities, and multi-channel communication management. All these are at much cheaper pricing than Intercom. It also offers built-in collaboration tools so agents can share information and a bespoke field agent add-on optimized for technicians in the field.
Pricing:
There are multiple options like a limited feature edition that's free for unlimited agents, a growth titled package for a $15 per agent per month plan, and a pro package for $49. The $49 plan is comparable to Zendesk at the same price with similar features and support tools.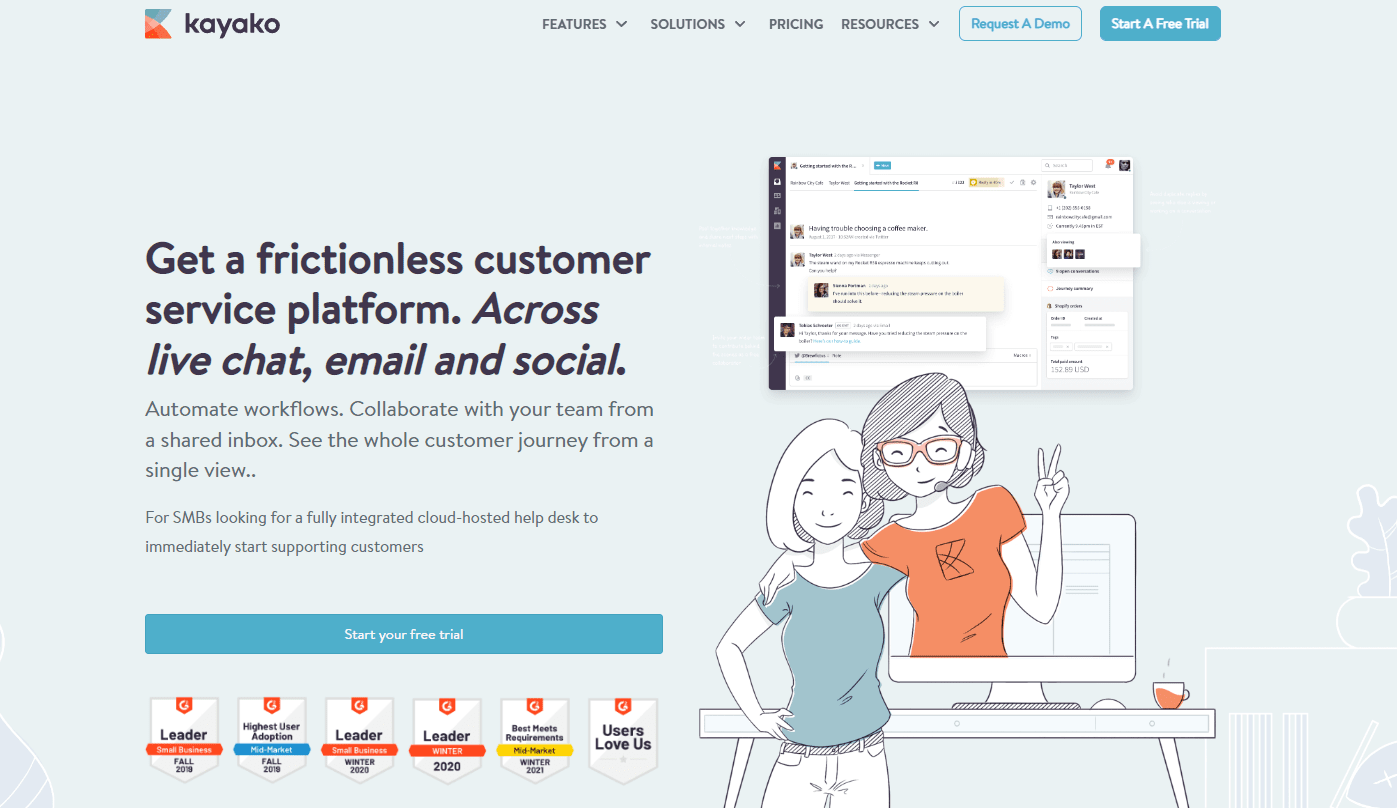 Kayako is a cloud-based unified customer service platform that integrates various support channels such as email, live chat, and phone calls. This integration enables users to manage multichannel customer support and assists their prospects efficiently. This Intercom alternative help customers to answer their questions quickly and the center analytics allow users to track the phrases customers are searching for optimized content. 
The chat tool makes managing simultaneous conversations easier and helps organize tickers using tags based on priority. Kayako can integrate various socials and tech stacks like Facebook, Twitter, Salesforce, Slack, Linkedin, and Stripe.
Pricing:
The pricing ranges from Inbox: $15 per agent per month as the basic plan to Scale:$60 per agent per month with all features unlocked. More details can be requested from their official website.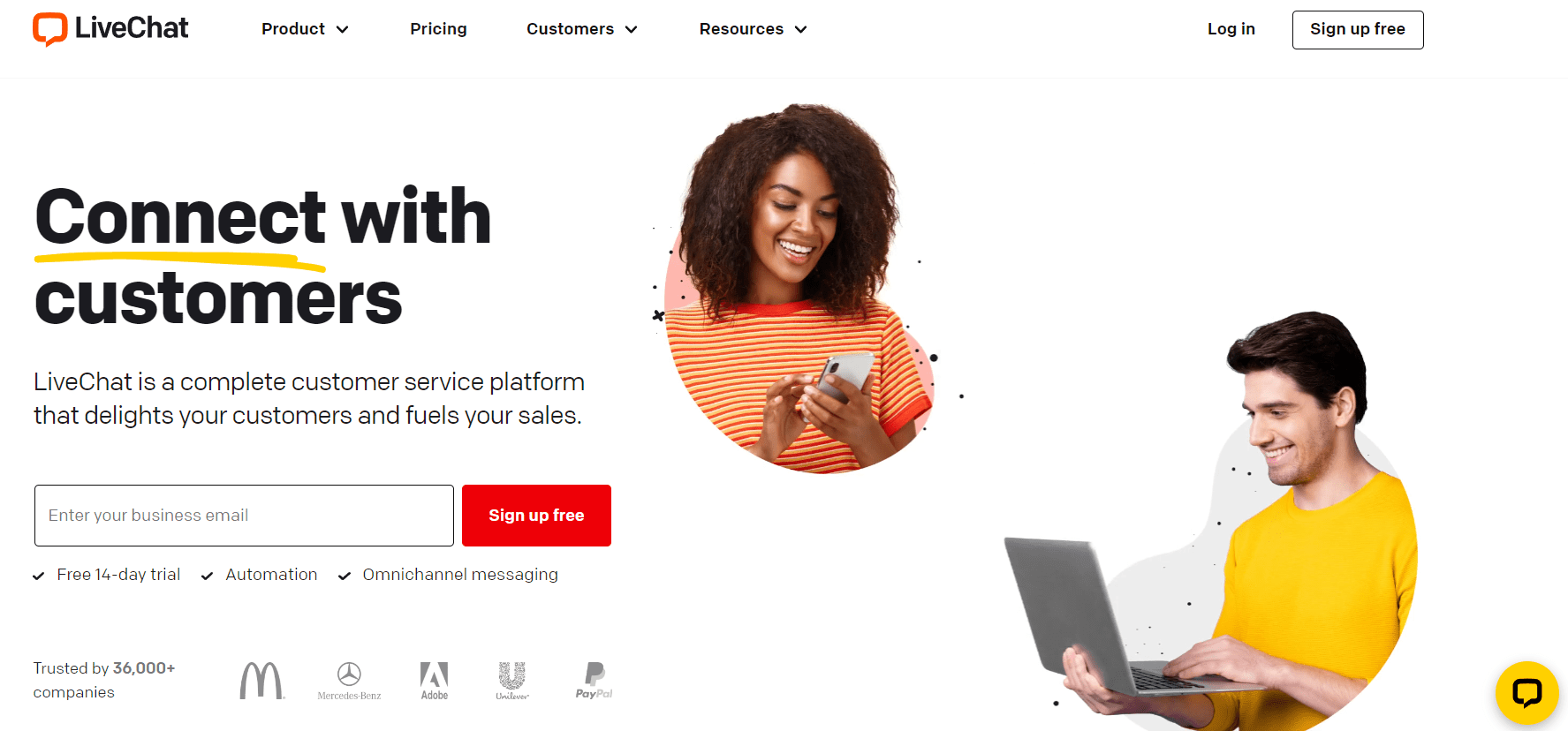 Livechat is a cloud-based customer service software that has proven to be an Intercom alternative for small businesses. Like other supports, this software claims to increase customer satisfaction and manage a good amount of influx of users at a time. It can create tickets directly from a chat so you can easily supervise your sites' customer engagements and conduct quality control.
Pricing:
LiveChat has different pricing plans with the starter plan at $16 a month per agent, billed annually to its Business plan, which starts at $50 a month per agent, offering a long list of features, including unlimited chat history and advanced reporting,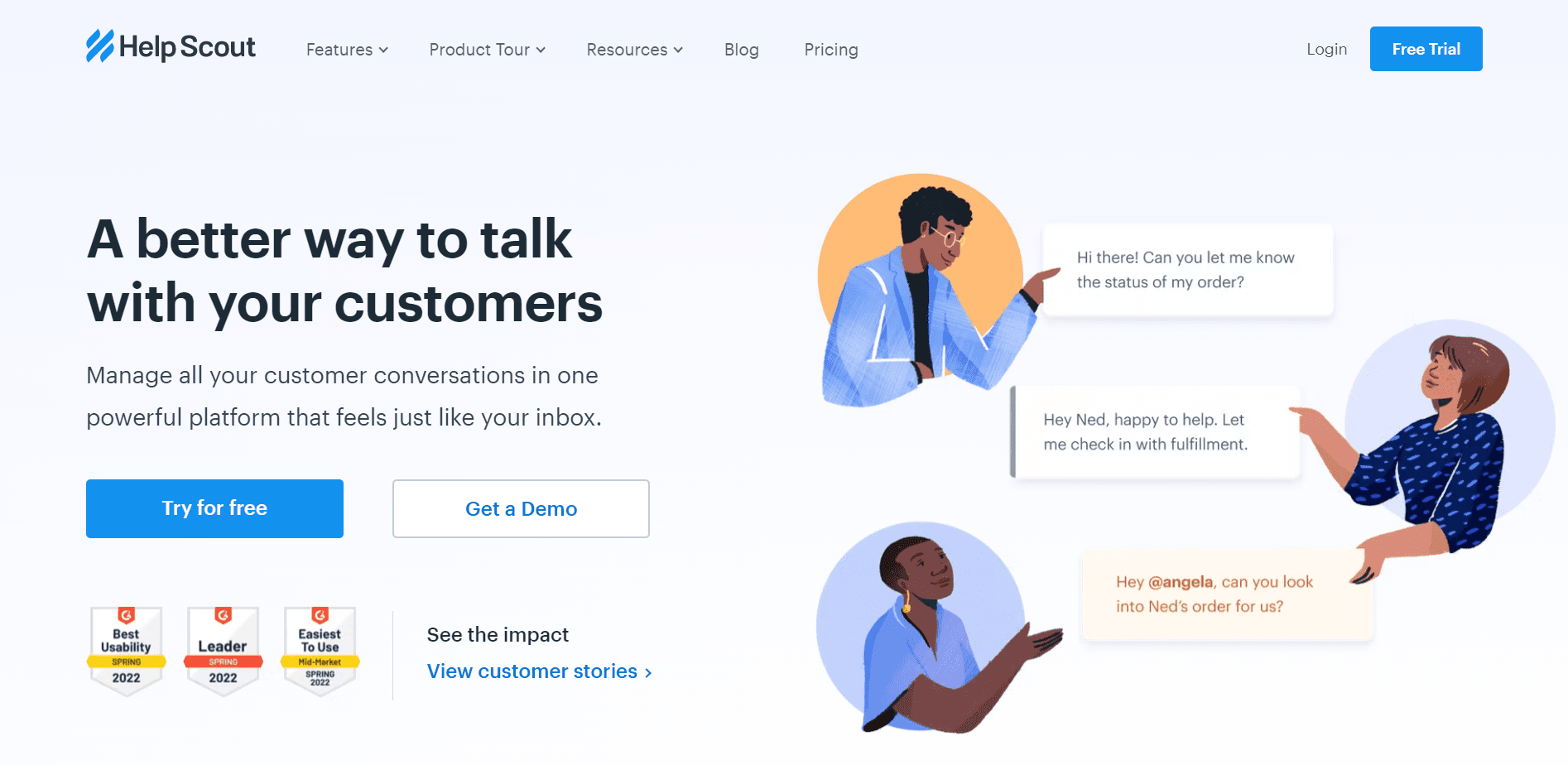 Help Scout is a dedicated customer support platform for expanding your eCommerce teams to deliver the best customer experience. Help Scout shared inbox features like private notes and @mentions improve collaborative work and smoothen the internal communication processes. It facilitates the sorting of workflows and assigning of routine tasks, encouraging efficient input. It also allows you to access Beacon, which offers proactive support options through different widgets. The customers' analytics are also present at a click, and the dashboards track their query resolve status.
Pricing:
Help Scout provides a range of pricing options: Basic: $15 per user month or $10 per user per month billed annually. Standard: $25 per user per month or $20 per user per month billed annually. Plus: $40 per user per month or $35 per user per month billed annually. This makes it a suitable option for small businesses to enterprises.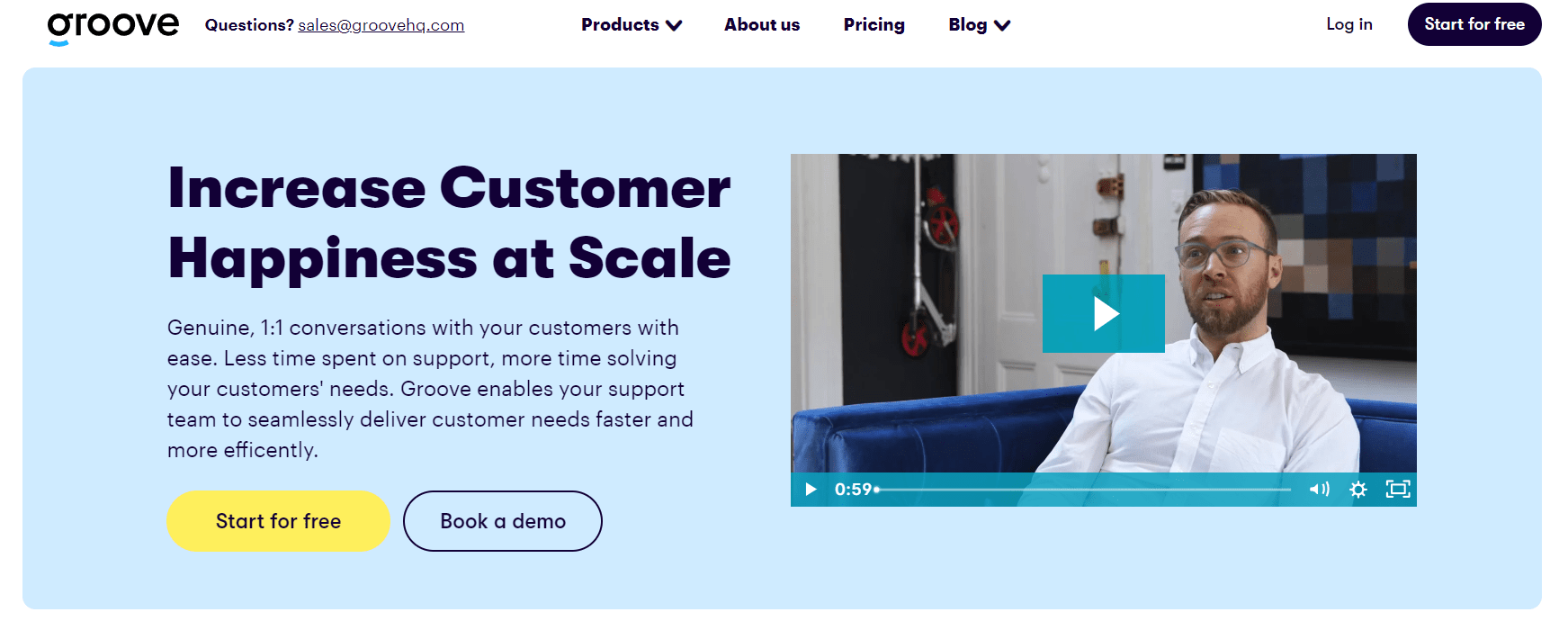 GrooveHQ.com is a helpdesk software optimizing customer experiences through a unified platform for keeping track of customer emails, ticket management, task assignment, and more.
GrooveHQ keeps track of the agents and customers' experiences to resolve their queries as soon as possible. It comes with reporting tools, knowledge management, and a live chat feature.
Pricing:
Groovehq offers Starter, Plus, and Pro pricing at $12, $25, and $34 per agent per month respectively.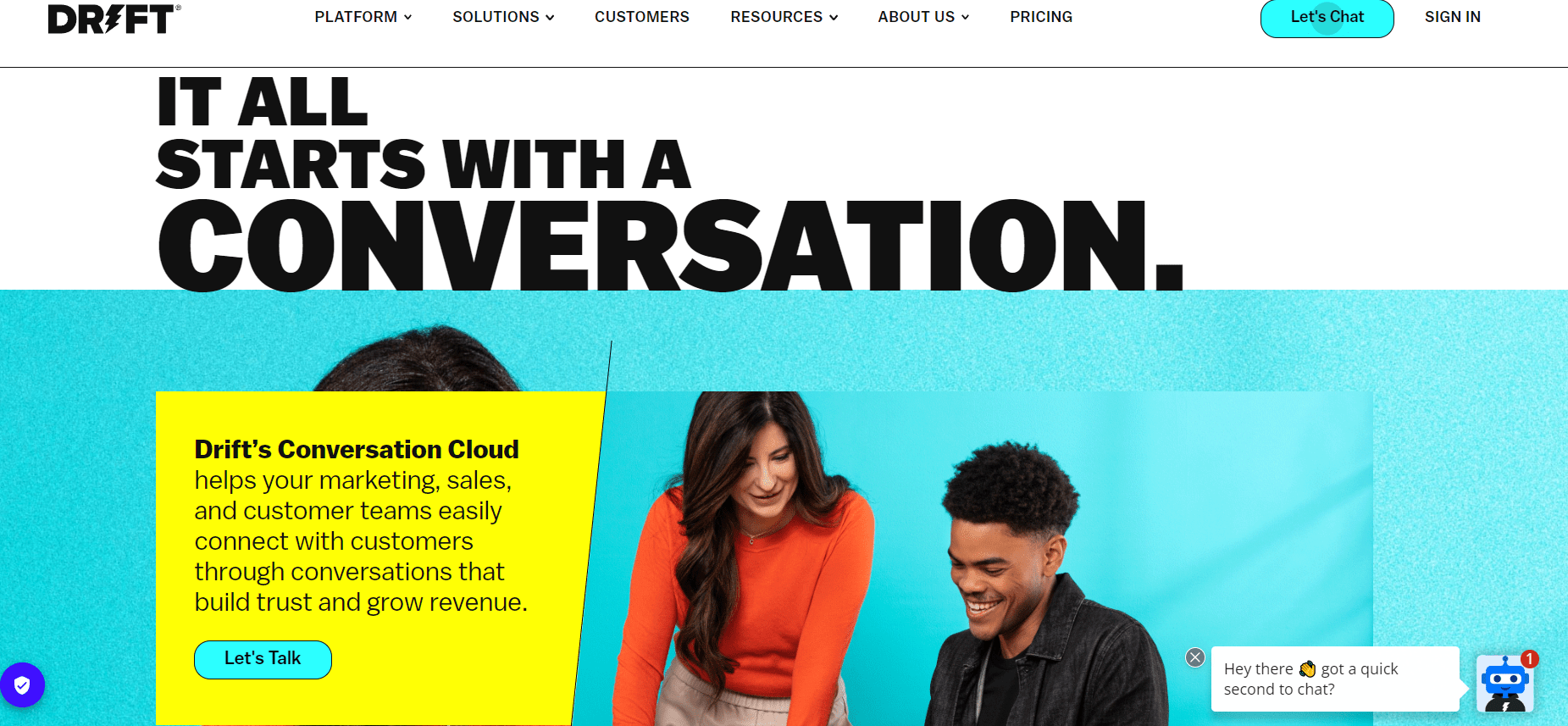 Drift helps accelerates traffic and revenue, assisting businesses to engage in real-time personalized conversations with the right customers at the right opportunity. Instead of including forms to collect data, it encourages live conversations. Drift allows you to use Chat to Call or Chat to Zoom to instantly connect with your prospect and qualify them on the spot. It also notifies the proper sales representative when one of their target accounts visits the website so that they can convert the lead.
Drift live chat features include proactive chat, customized branding, website traffic tracking, and integration capabilities, among other things.
Pricing:
They offer three plans: Premium, advance, and enterprise. You will have to contact Drift to request detailed pricing information.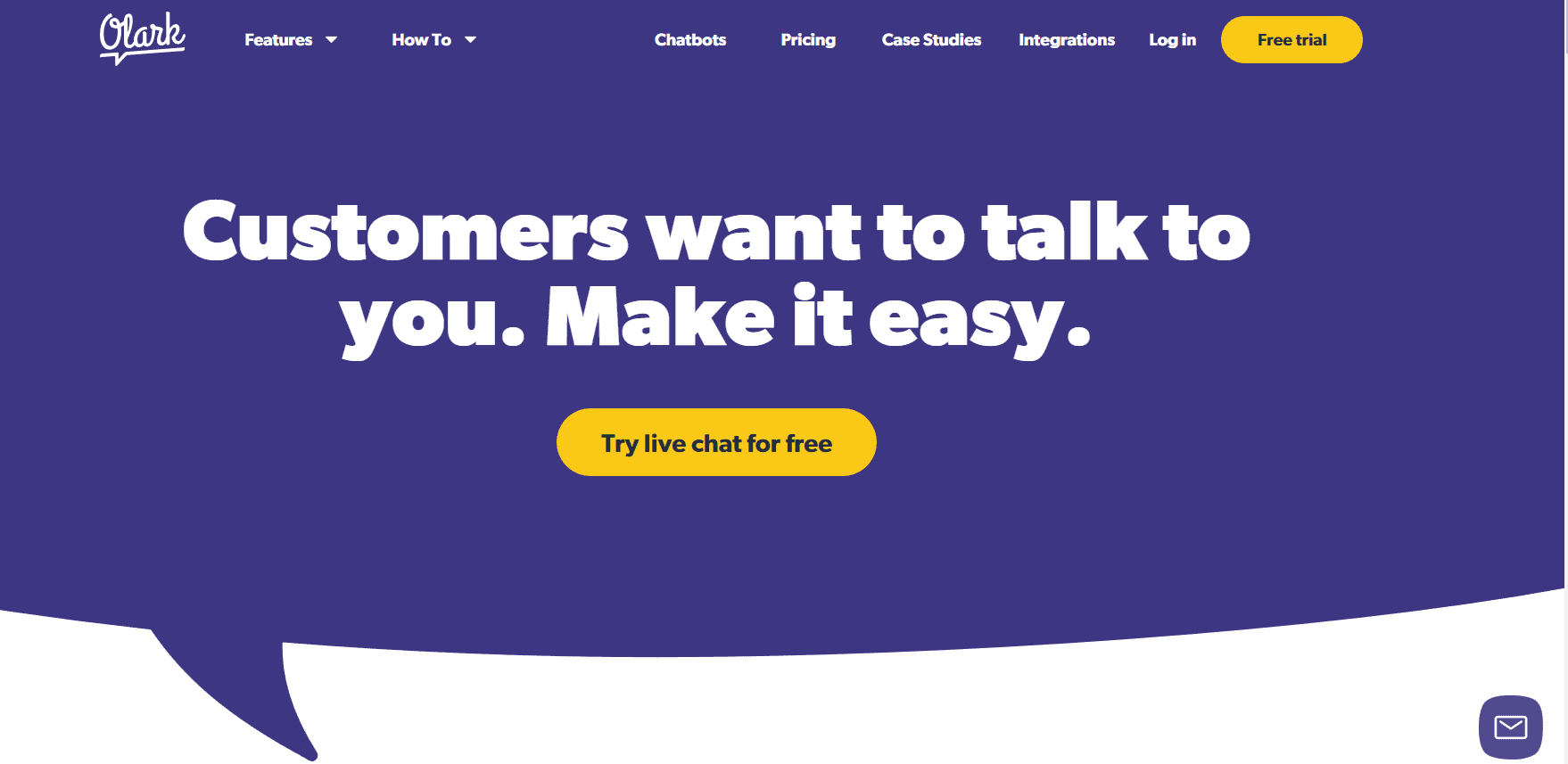 If you sell big ticket utilities and have customers constantly enquiring about it or filling up your inboxes, Olark can be an ideal intercom alternative. Olark is a live chat platform primarily focusing on startups with tight budgets and a lot more flexible tech stack. 
Like others, customer supports Olark built in 2009 provides chat tools, analytics, and customizations.
How does it work? Like many others on this list, it primarily operates through its chat features, which has been particularly beneficial for companies who still need to make sales d, automated messaging, and team management. Olark has integrations for a limited number of CRMs and helpdesks, automation tools, email platforms, analytics providers, eCommerce plugins, and web publishing tools.
Pricing:
The three pricing Olark offers are $19/$15/$12 per agent per month, which includes in-browser chat, chat ratings, and customizable designs, all of which are essential if you want to get those big-ticket items sold while looking like a trustworthy company.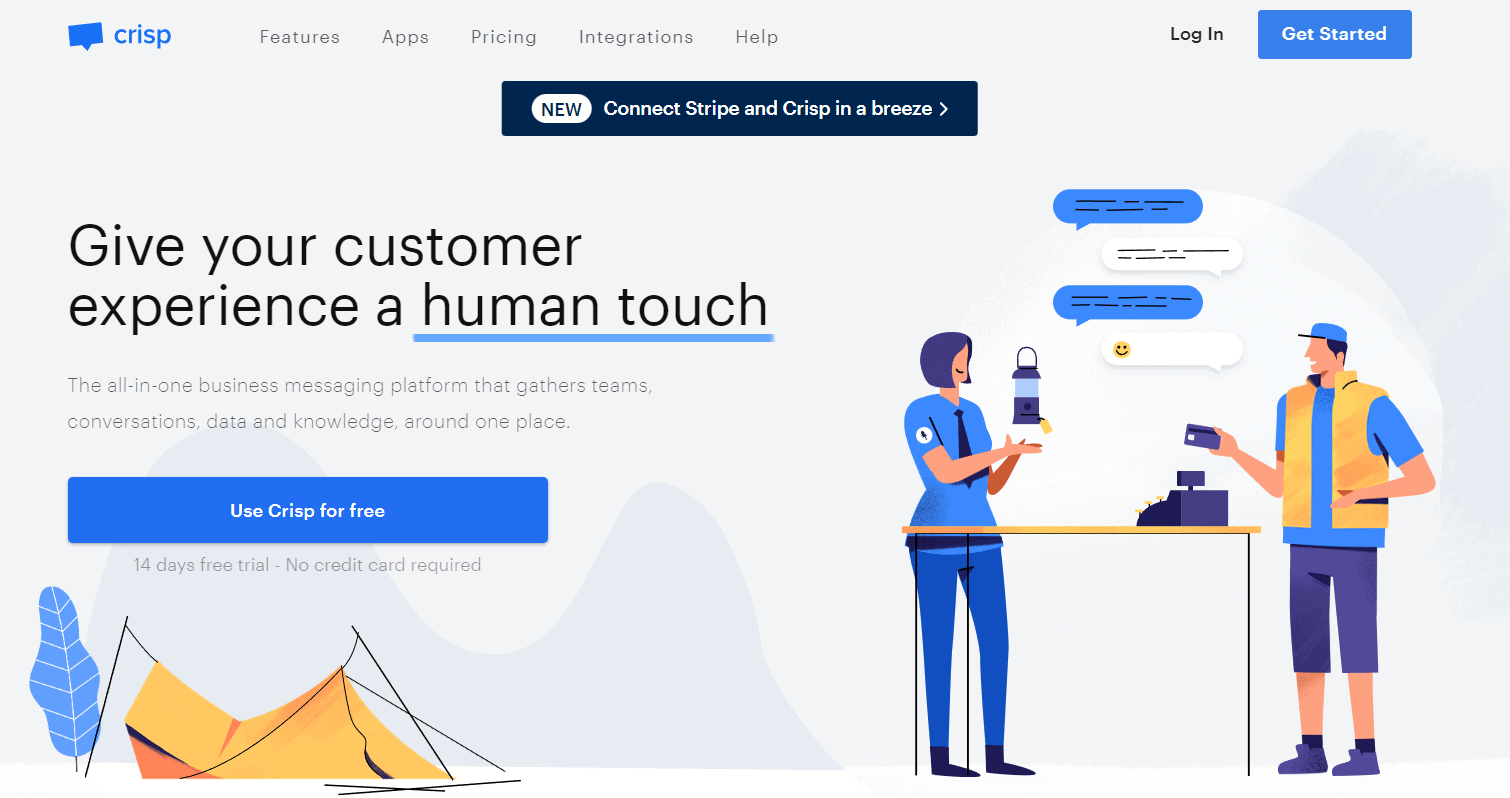 Crisp is a more straightforward customer service software that facilitates engagement with your prospects on much personal basis. It greets visitors with a welcome message and assists them on your website. It supports all the features of live chat tools to optimize the management of higher traffic inflow.
Pricing:
There is Basic, Pro, and Unlimited plans with all features at your disposal in the unlimited plan. The Basic is a free plan with limited tools; Pro starts at $25 per agent per month, and Unlimited runs at $95 per agent per month billed annually.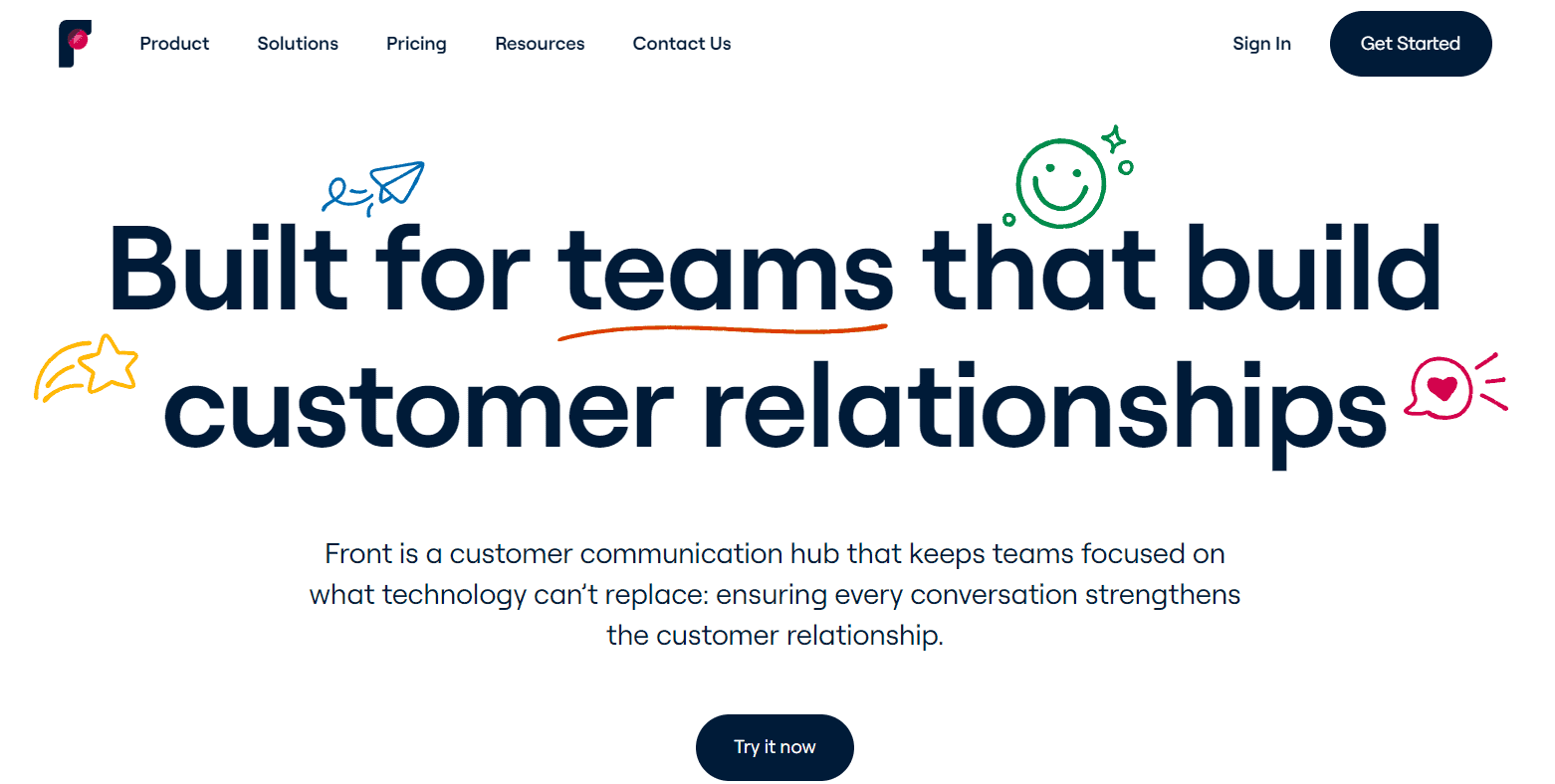 Front helps your business to scale up while keeping that personal connection with your customer base. It unifies all channels and combines the automation of the ticketing system with the personal touch of an email. Workflow automation enables you to craft personalized replies in accordance with your customer's queries and reply faster. The analytics allows leaders to track team and customer metrics to improve efficiency. 
Pricing:
The three pricing schemes of Front are Starter at $19 per user per month followed by Growth running at $49 per user per month, and lastly, with all features accessible, Scale at $99 per user per month billed annually.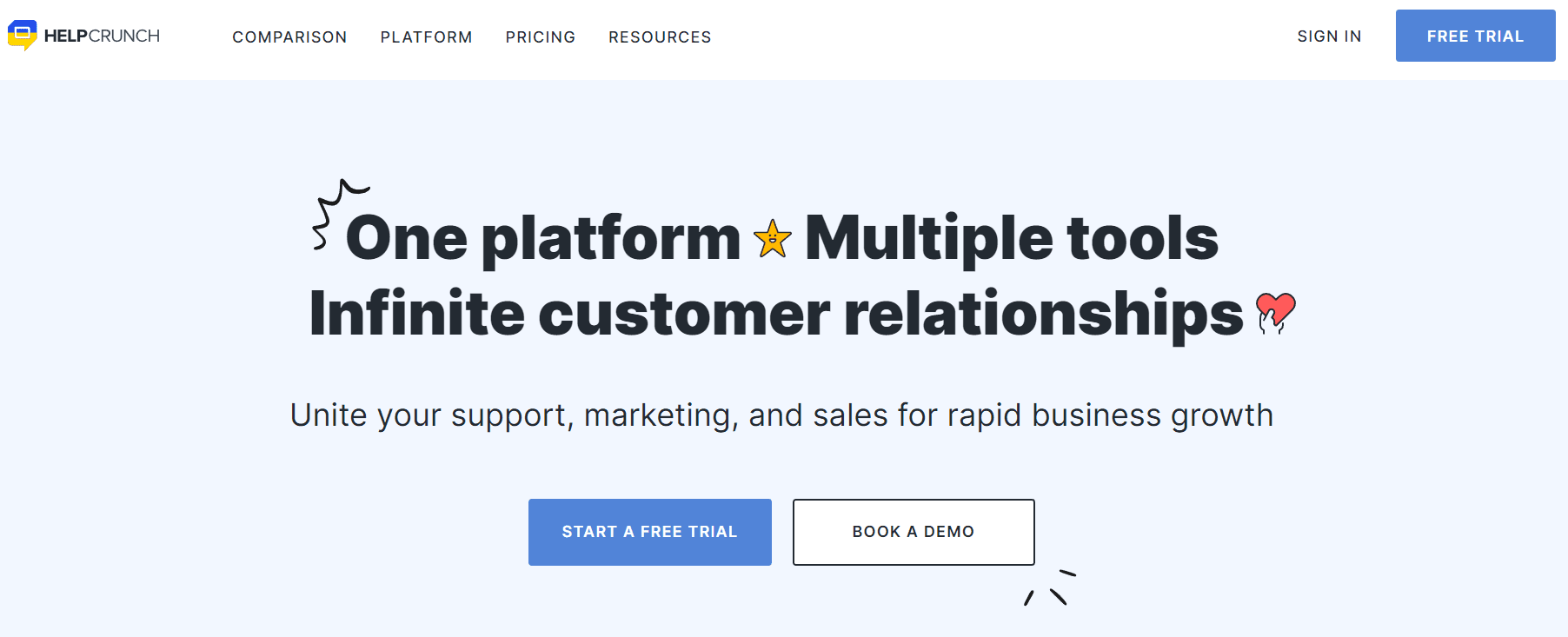 HelpCrunch is a robust and well-designed customer support software including features like live chat, email marketing, website popups, and a knowledge base to enhance customer engagements. Compared with other live chat tools, this Intercom alternative can be used for customer support and marketing. 
Pricing:
There are two plans to choose from the $15 per agent per month plan which includes chat features and website popups, and the Live Chat and Email Plan starting at $29 per agent per month.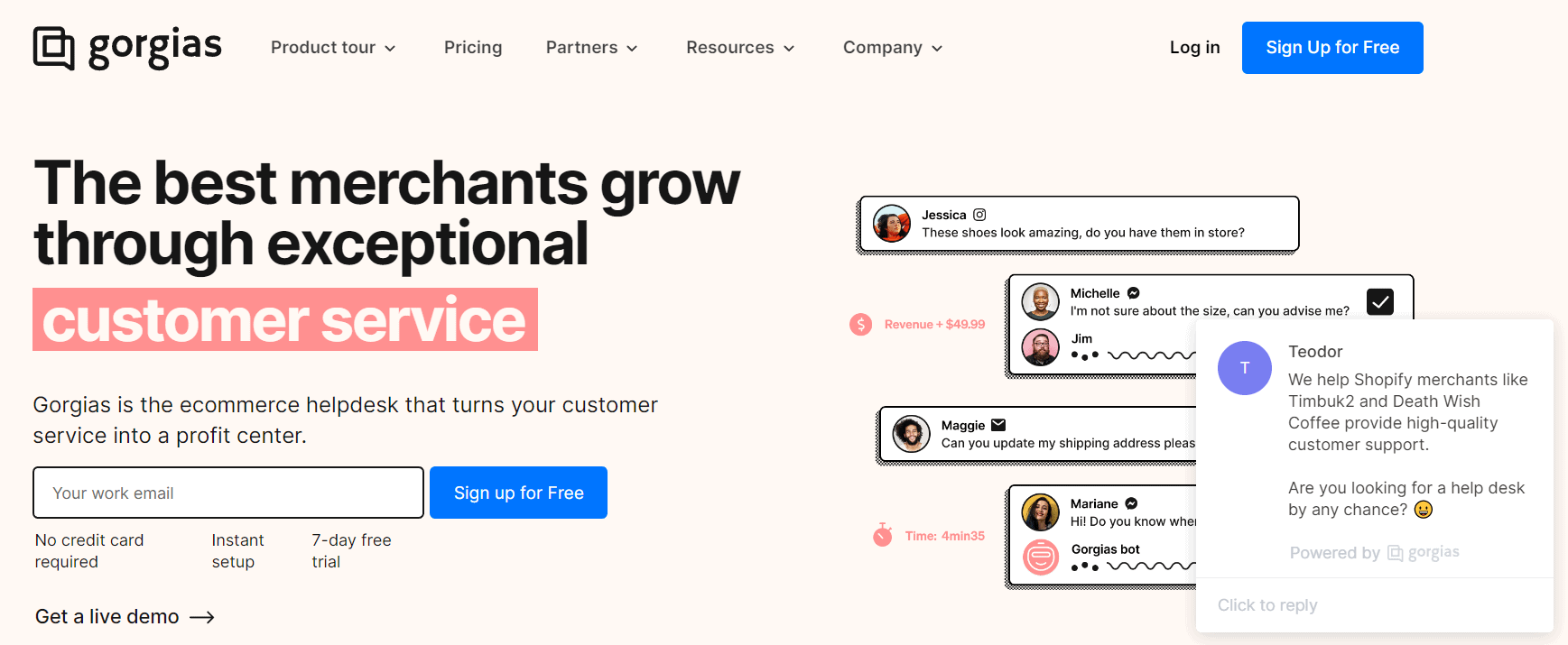 Gorgias is a compact helpdesk software designed explicitly for eCommerce outlets. Deep Shopify integrations empower agents to easily access customers' data and allow them to edit the shipping information, adjust tags, and refund orders.
Pricing:
The plan starts with Basic at $60 per month for unlimited users, followed by Pro at $300 per month, and the highest plan costs $750 per month for unlimited users.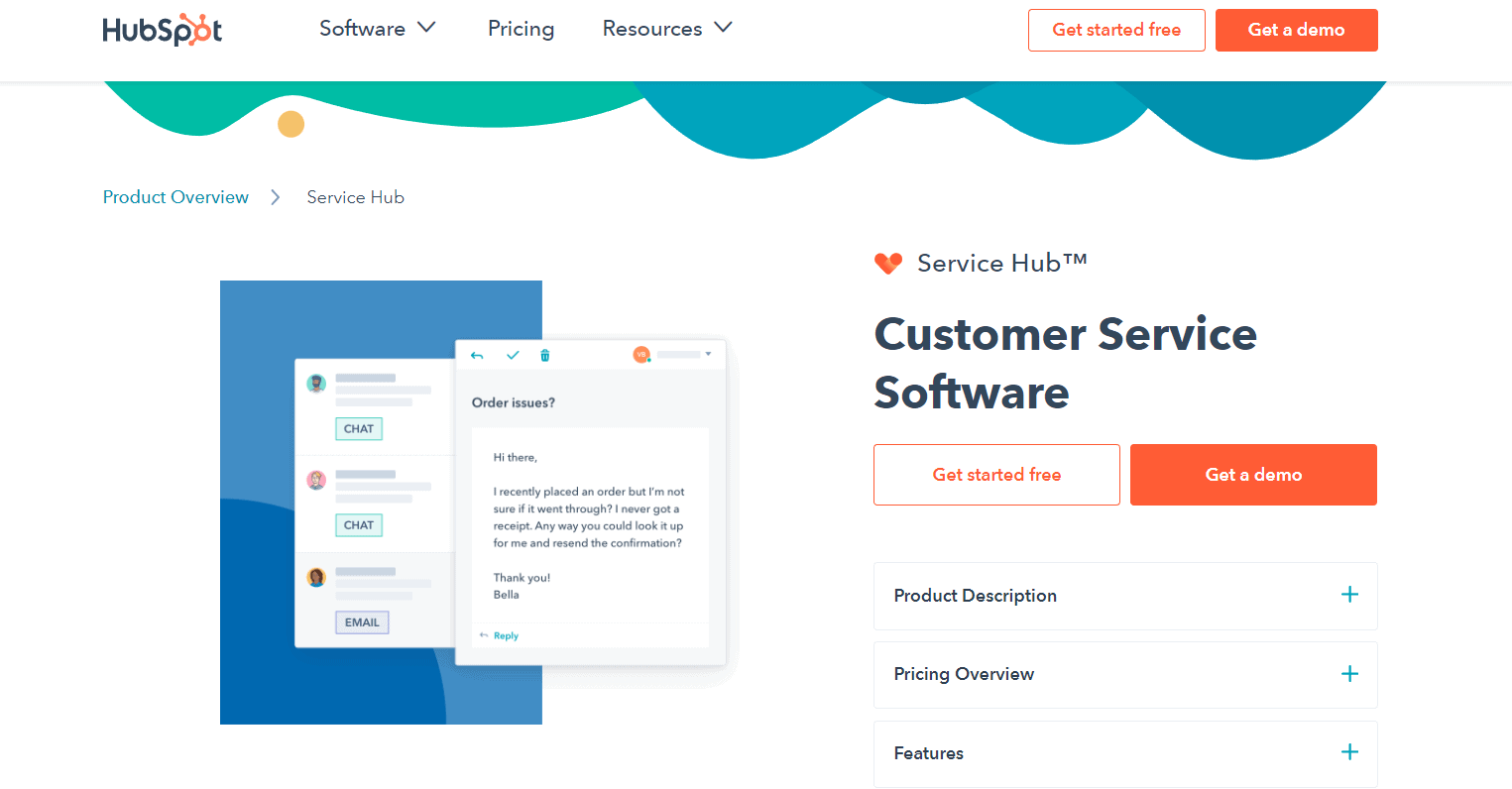 HubSpot is a top player in strategic and dedicated investment in inbound marketing. On the other hand, HubSpot Service Hub is a helpdesk tool equipped with many features to ease the customers' experience. This is one of the intercom alternatives to focus on small businesses as well as enterprises. It works on these principles from gathering insights from customers :
Horizontal Organization of the team
Preparing and managing analytics and reports
Scaling up services with ease
Giving customers reliable and responsive support
Pricing:
This Intercom alternative offers various packages which extend from $50 per month to $1200 per month.
What is the best free alternative to intercom for small businesses?
So we have established that Intercom is one of the many tools at your disposal and the only one. The lists provided gives insights into the pricing structure and schemes of 15 of the helpdesk tools with many providing free plans but with limited features. However, if you migrate from Intercom to ThriveDesk, we are offering a 3 months free trial package. This is a highly recommended and lucrative package for small eCommerce businesses. You should check it out.
What are the intercom cheaper alternatives for small businesses?
As you may have already understood Intercom is not a profitable option for small business owners. From the list of the best Intercom alternatives, based on the feedback received are ThriveDesk, Olark, and HelpScout among others. 
With a simpler and cheaper pricing structure, ThriveDesk facilitates small businesses to scale up without any constraints. ThriveDesk features are on par with that of Intercom thereby achieving customer satisfaction without comprising efficiency.  
Final Words
To come out on top in this race you need to build a customer base. And for that winning their trust is all that matters. There are many Intercom alternatives to find the right piece of the puzzle you need to ask several questions. Does it have the integrations you need? Are there options for transferring and backing up customers' queries and feedback? How is the interface? 
Every business has unique requirements and therefore you should properly research the most suited software for your business. However, as you can see, ThriveDesk has proven to be the most versatile platform. If you searching for an affordable Intercom alternative, it is your safest bet.