Live chat support is the ideal online support option for a customer who needs direct and impromptu assistance because it enables interaction with the capacity to share links, gathers data, and saves a full transcript for later use. It is a crucial part of customer service but can be overwhelming to manage.
One poorly managed Live chat experience can mean the difference between a happy customer and lost revenue. If you don't have the time or expertise to make Live Chat work for your business, your competitors will.
Forget about your competitors, just focus on your customers. Jack Ma, Founder and Executive Chairman of Alibaba Group
This complete guide gives you all the tools and knowledge you need to get started with Live Chat support. We've created the perfect guide for you, including tutorials, checklists, and case studies, this guide is an invaluable resource for anyone looking to increase customer satisfaction while reducing churn rates.
What is Live Chat Support?
Live chat support is a tool fabricated purposely for anonymous and real communication between two or more people virtually, mostly designed in such a way that customers get satisfaction while encountering issues due to activities on your websites or mobile applications. As it implies, "Live" is an internet form of communication that makes customers acquire help through immediate messaging platforms.
According to Derek Sivers, Customer service is the new marketing.

Founder CD Baby
Since it is chat en directo support, this calls for an immediate response from the company's agent or representatives handling the company's contact address.
The format of live chat might vary. A proactive chat pop-up, such as one that appears on your screen and inquires as to whether you require assistance, is one example. When in need, customers can also start a live chat. Customers can interact with an agent by clicking a call-to-action button on the business website, which is typically located in the bottom right corner of the page.
What Does a Chat Support Do?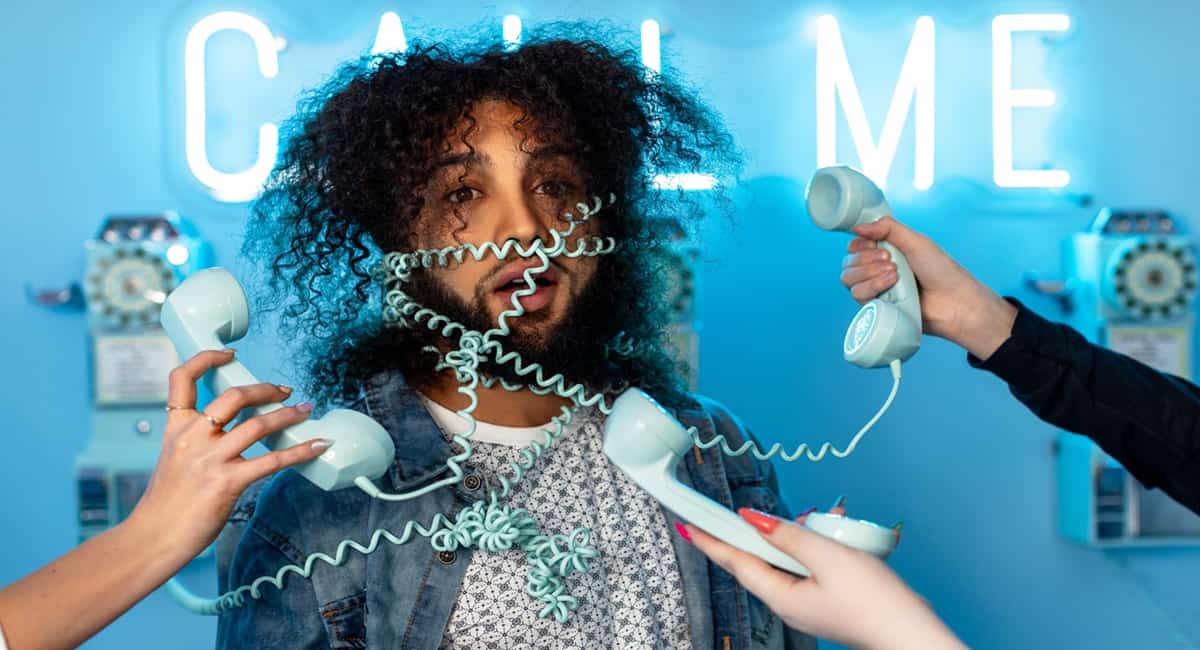 In a few words, a live chat agent handles the chat support primarily for customers and saves them from difficulties, stress, and complications on your websites. Outside customer service, live chat support quickly and comfortably responds to consumer inquiries and increases your website's conversion rates if a proper call to action is synchronized.
La mejor manera de ayudar a su cliente
Empiece en 5 minutos. Utilizado por más de 100 empresas de SaaS y comercio electrónico para hacer felices a sus clientes.

What is a Live Chat Software?
Live chat software is a computer program allowing website owners to have a chat box on their welcome page. It helps with sales fast questions and answers with visitors. Such interactions boost sales and customer satisfaction.
However, customer support-focused software de chat en directo might have other support-focused capabilities, including close integration with shared mailbox and knowledge base tools. A solution that offers quick customer support and information is live chat software. It functions as an instant messenger where you may have real-time conversations with your clients.
How Does Live Chat Software Work?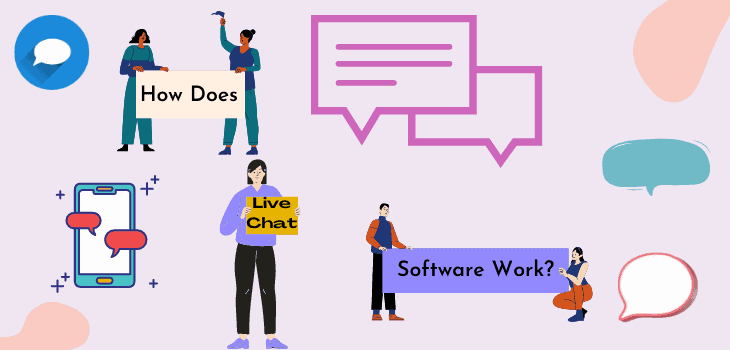 Now, wondering? How does live chat software work? Here you go- live chat software works in two phases for an effective and high conversion rate; however, there are ways to get it done and integrate it on your websites even without writing the code yourself.
The live chat software work via the common notion of webpages, the back-end, and the front-end.
The back-end mode of working
You need to structure some ways to make it available on your channel.
Contrary to certain software solutions, setting up a live chat channel requires more than just installing the appropriate program and starting it. Instead, you should embed the chat feature inside your website coding files. You may require to copy a few lines of code from the chat vendor and paste it into the website's back end.
You can only enable the chat function on your website by adding the custom code. You will need to paste the code onto each website page if you want it to appear on every page (advised).
The front-end mode of working
Here, the chat button appears on your website once the code has been added to your web pages.
According to best practices, the bottom right-hand corner of your website should have this button. People anticipate discovering it here. You can customize your chat button in various ways, but it is normally a box with the word "Chat" written on it. Use an icon or an image as an example.
A conversation window appears after the visitor clicks the chat button. An online chat window is advised, which prevents users from switching between windows while conversing and browsing your website; otherwise, as they would if a pop-out chat window were present.
Notas
You need to place the chat support icon in a noticeable place on your websites if you anticipate a high conversion rate. You should adhere to common CTA practices while designing the button. The icon color must not blend with the web page's color. Also, it is best to animate the icon. Animating the icon will catch their attention and brings a high conversion rate.
#7 Major Benefits of Live Chat Software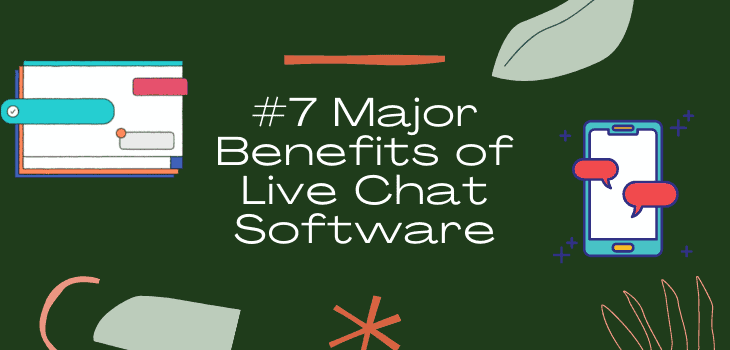 Considering the ways to satisfy your customer and make activities on your website easy to access? Then, consider live chat support. Customers adore it. Thus! According to studies, live chat has the best customer satisfaction of any help channel.
Here are some pros to help with your decision-making-
1. Live chat support is very approachable
 Live chat support is to ease customers' affairs through a regularly reachable button or link on your website or in your app. 
With live chat software, your customers' workflow and interactive sessions with your page become easy. Your consumer already knows where to go for assistance. They don't need to go for a particular contact page or an email address.
That accessibility lessens customer effort, which is crucial for your clients to entrust you.
2. Live chat support increases the customer experience positively
Previously, customers who desired to submit a support ticket without live chat frequently had to open a new window and locate the contact page. This implies that people leave their problem and move on to contact customer service and wait for a response. Pop-ups for a live chat are positioned throughout a website so users can get support on the go.
According to Jon Daniels, a technical support engineer at Zendesk, "its instantaneous communication without phone support tag."
A good experience with the customer will prompt the customer to access your websites or e-commerce platform frequently, and it will easily call for traffic while strengthening the customer's experience.
Next to email support, live chat support is one of the most comprehensive channels in terms of context and data.
Live chat enables businesses to fulfill consumer requests and improve brand experience.
3. Live chat support provides helpful context
The consumer has the best opportunity to describe where they are stopped and what they need if live chat is integrated into their process.
It will directly tell them what they need and what they don't.
A good live chat program informs the agent about the customer's progress through the procedure and their previous activities before requesting assistance. It gives both parties a good start in figuring out the issue and its solution.
4. Live chat strengthens business 
Live chat support increases business productivity and makes it grow drastically. Why? Once a customer has a good experience on your web pages, it encourages them to make reviews which will categorically be a recommendation and word of mouth on your websites, and it will indirectly increase the users on your websites.
Live chat can improve customer satisfaction by resolving problems efficiently regardless of the company's objectives. Numerous business objectives that managers and agents have are aligned with live chat.
5. Live chat support is snappy and fast
Live chat support enables fast and immediate response; unlike other forms of customer services, I remember I was stuck technically on transacting websites.
A customer may be happy with your service if they get a great response to their email inquiry in an hour or two, but they'll likely be a lot pleased if they get the same response during a live chat because they can get back to work right away.
6. Live chat support is engaging
Conversationally, live chat support is good, and it enables a common practice whereby the customer and the live chat agent exchange words on the problem issues. Many people find it easier to express themselves in casual conversation than in formal writing.
For email help to be effective, consumers must precisely describe their problems and include all pertinent information. Customers find the practice of wringing out problems stressful.
Live chat help divides such encounters into manageable chunks and enables the support representative to guide a client through the procedure by posing the appropriate queries at the appropriate times. What could be a back-and-forth email exchange could reduce to a 10-minute chat.
7. Agents can establish a relationship with clients through live chat
Agents can study a customer's tone and sentiment during an ongoing chat and modify their impression of the company.
They can immediately create rapport and a helpful, friendly relationship by reducing repetition of your customer's style or changing formality to match a customer.
What Companies Have Live Chat?
A handful of companies use live chat to enhance customer interactions and satisfaction. To mention a few, here are seven companies that have live chat support on the internet page.
ModCloth
Nikon
Canyon Bikes
Warby Parker
Nordstrom
Toys R Us
Goldsmiths
La mejor manera de ayudar a su cliente
Empiece en 5 minutos. Utilizado por más de 100 empresas de SaaS y comercio electrónico para hacer felices a sus clientes.

How to Add Online Chat Support on a Website?
Adding Online Chat Support to a website is a great way to attract more customers. It helps people who are looking for assistance with your website feel more comfortable and make them more likely to buy from you. Firstly, I am going to highlight some common tools used in live chat integration before proceeding on how to add
 Website Chat Widget
 Responsive OmniChat
 Chatbot to Direct Issues
 Inbox to View & Manage Convos 
 Live Chat Agent Assignments
 Mobile App to Respond Anywhere
 Lead Capture & Opt-in Tools
Considering the WIDGET tools
Once you have set up your chat support, it's time to test it out! Make sure it works and everything is okay before you launch it on your website. If you need further assistance, feel free to let us know.
How Can a live Chat Be Enabled on My Website?
While integrating a live chat, you might think of aiding it with auto-responder tools.
Installing what is typically referred to as a "chat widget" is the ideal approach to integrating live chat into your website.
Technically, a chat widget is only a short line of code that you can quickly add to your website.
With the help of this code, you can place a chat icon in the bottom right corner of your website. Customers can chat with any agent from your company when they click on it.
Creating a bot that can reply to messages from anyone who initially communicates with the page is another thing you could do. The bot can pass the conversation to a real live agent when it has gathered all the necessary data.
When you have a chat widget on your website, you can create a bot that pre-screens chats, answering questions for some consumers and directing others to a live support person as necessary.
It implies that your chatbot will converse with anyone who requests a chat before classifying and determining client requirements. The appropriate agents can then take over the discussion and provide real-time support.
What to Consider When Choosing Live Chat Solution?
As a business owner with an online presence, engaging with website visitors should be your top priority.
Then consider these:
 Provide prompt assistance
 Take more initiative
 Give a prompt resolution
 Offer self-help content
 Real-time tracking and monitoring of website visitors
 maximize client pleasure and joy
 Increase your sales by attracting more leads.
 lower the rate of cart abandonment
Recognize that fast assistance will enable your company to boost conversions. And a live chat is the best approach to be immediately available.
What is The Best Live Chat Software for Websites?
A good live chat software should be able to track conversations and provide a solution to every customer's need. Live chat software also needs to be fast and reliable, so that customers can have a seamless experience. It's a great way to answer questions, give feedback, and get valuable insights into what your visitors want. There are many different types of live chat software available. Some are free, while others require a monthly or yearly subscription.
The best live chat software for websites is something that can improve your website and make it more engaging. It can also be a good way to boost your sales, as well as increase your customer base.
ThriveDesk is a live chat software that's designed to help small businesses manage real-time customers.  It is simply the best out of all, tested and trusted several times. It is stress-free and affordable, and not time-consuming. ThriveDesk is specifically designed to be lightweight and fast, so it won't slow your website down. Stop chasing customers and let ThriveDesk help you manage them instead.
La mejor manera de ayudar a su cliente
Empiece en 5 minutos. Utilizado por más de 100 empresas de SaaS y comercio electrónico para hacer felices a sus clientes.

#7 Live Chat Best Practices for Better Customer Experience
Responsiveness: This is the best practice in any website and mobile app; the live chat support button must be responsive regarding location while viewing on mobile or desktop.
In CTA format: A simple call to an active practice must be made by adhering to CTA's Dos and Don'ts, It must not blend to the page color, and your visitors must notice it.
Don't Be Too Formal: It is not a presentation but just a conversation. Keep it straight and simple.
Sense of compassion: On live chat, empathy is equally as crucial as speaking to a consumer on the phone. It can be simple to overlook this live chat best practice.
Be friendly: By applying this reasoning, guarantee advisers take personal responsibility for a customer's issue and speak in the first-person using pronouns like "I" and "you" to give clients the impression that someone inside the company is personally trying to remedy their problem.
Personalization: some messages are categorized into spamming or junk boxes in the email. While having a conversation, personalize it as if you are communicating with them physically or if the chat support system is meant for them by mentioning their names.
Feedback: customer feedbacks are very important in any business. For every satisfactory interaction with live chat support, do leave nice feedback as a client.
Conclusión
Conclusively, since live chat support is conversational, the experience intrigues the customer. It will be a good practice if the live chat agents undergo intensive and ongoing training to divulge the secret of good communication skills while handling the company's clients. It's also the perfect online support option for a customer who needs immediate assistance.
As you have already known, live chat is one of the best ways to provide quick and in-person support to your customers. It is also a good option if you're looking to use it to gather data. If you are interested in learning more about this or want to try it out, head over to our site. We are offering a free trial for you. Please reach out to us if you're looking for a migration. We would be happy to give you the solution.