Knock Knock!
We have got some great news rushing towards you because its a big Knowledge Base release and all baked for you as a New Years glad tidings.
Happy Awesome New years folks!
Now its time to utilise Knowledge base to its full potential in order to lower your support volume and make your customers self sufficient and empowered.
You can call it a Help Center, Help Desk and/or Support Centre, but we named it "Docs" and it is as sweet as it sounds.
Public and private Help Center
Whats inside the secret chamber? Well, every business needs to have documentations or articles that have its own use cases, sometime it is only for the internal team or a group of customers other-times it could be unfinished and needs final touch.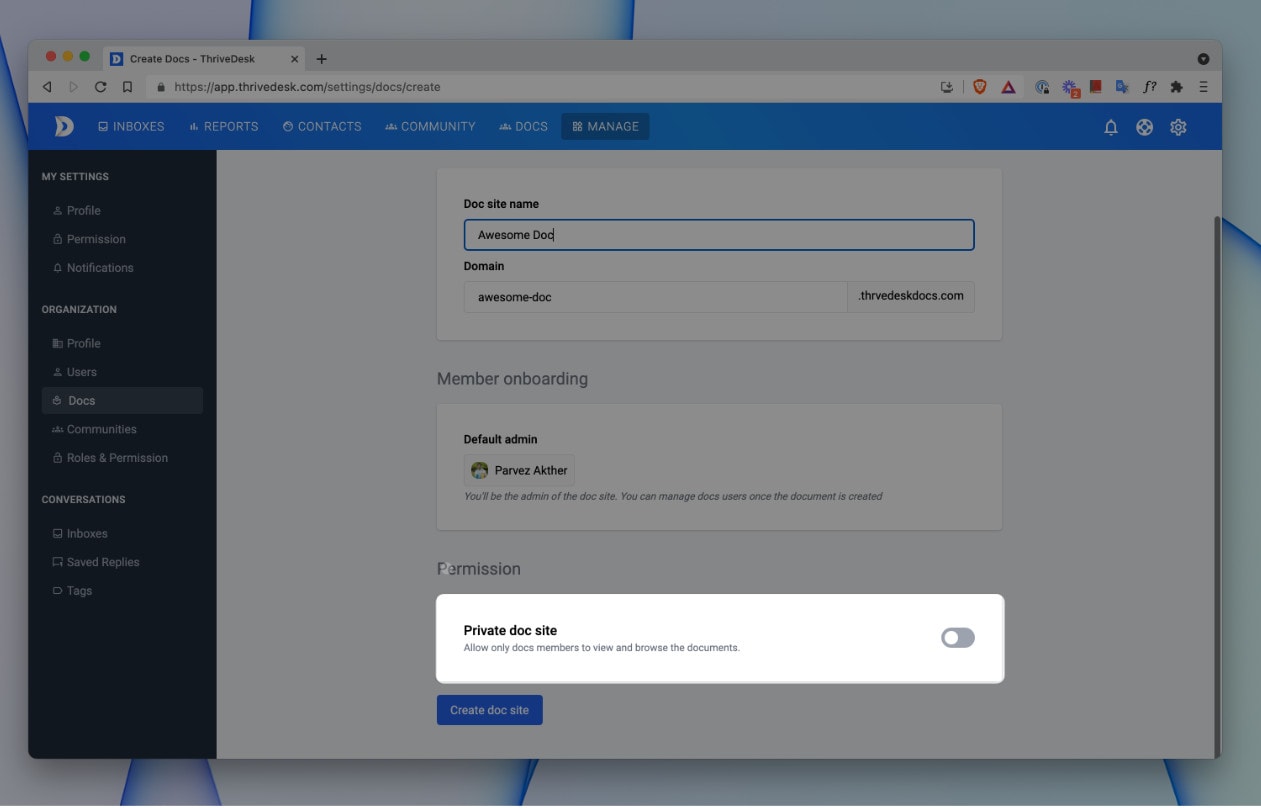 Whats private remains private, away from the search engine and whats public is open for search engine to crawl on it.
So, you can control and make the doc site public or private, isn't that amazing?
Block based article editor
I hope I don't sound like a desperate copycat who used to write contents for Apple.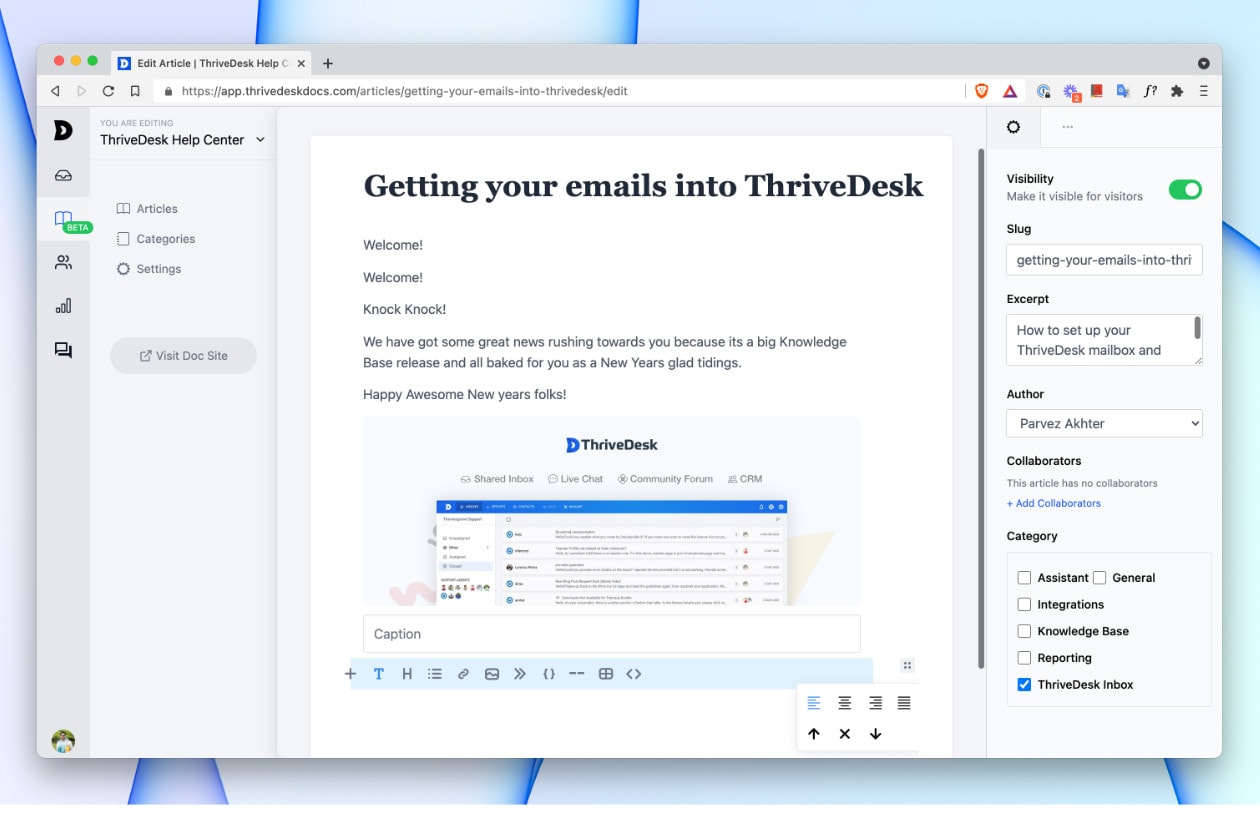 But honestly, it doesn't change the fact and that is the new "Docs" comes with sexy looking blocks that can do the job, from embedding a link or display tabular content, you name it and its there tailored with your need.
Introducing our simple, minimalistic and frictionless next generation block styled editor for Knowledge base.
Multiple collaborators
It's simple, we all do better when we work together. You can display the collaborators in your articles if its edited by multiple people from your team. Credit should goes where it due, right?

Nested categories with drag & drop ordering
Categories are the homes for articles on your Help Center. They organize your articles so people can browse your help content and find what they want.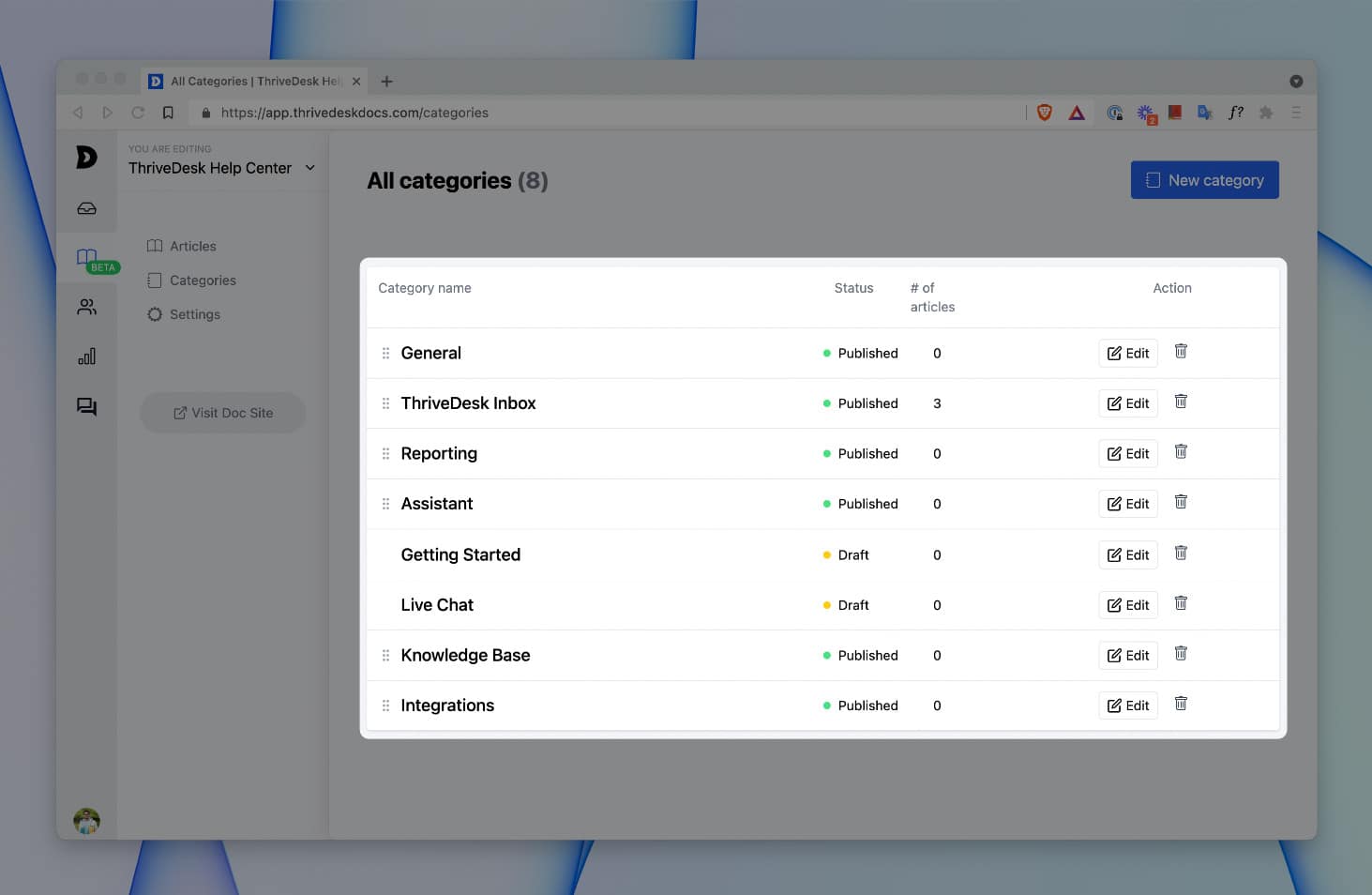 Thats why you got categories and child categories to organise your articles for your customers to get spoon-fed, yes thats exactly what is is made for, therefore, lay down your excuses and start organising your with simple drag and drop interface.
Branded and beautiful
From header image to branded color, you can customize every details of your Help Center.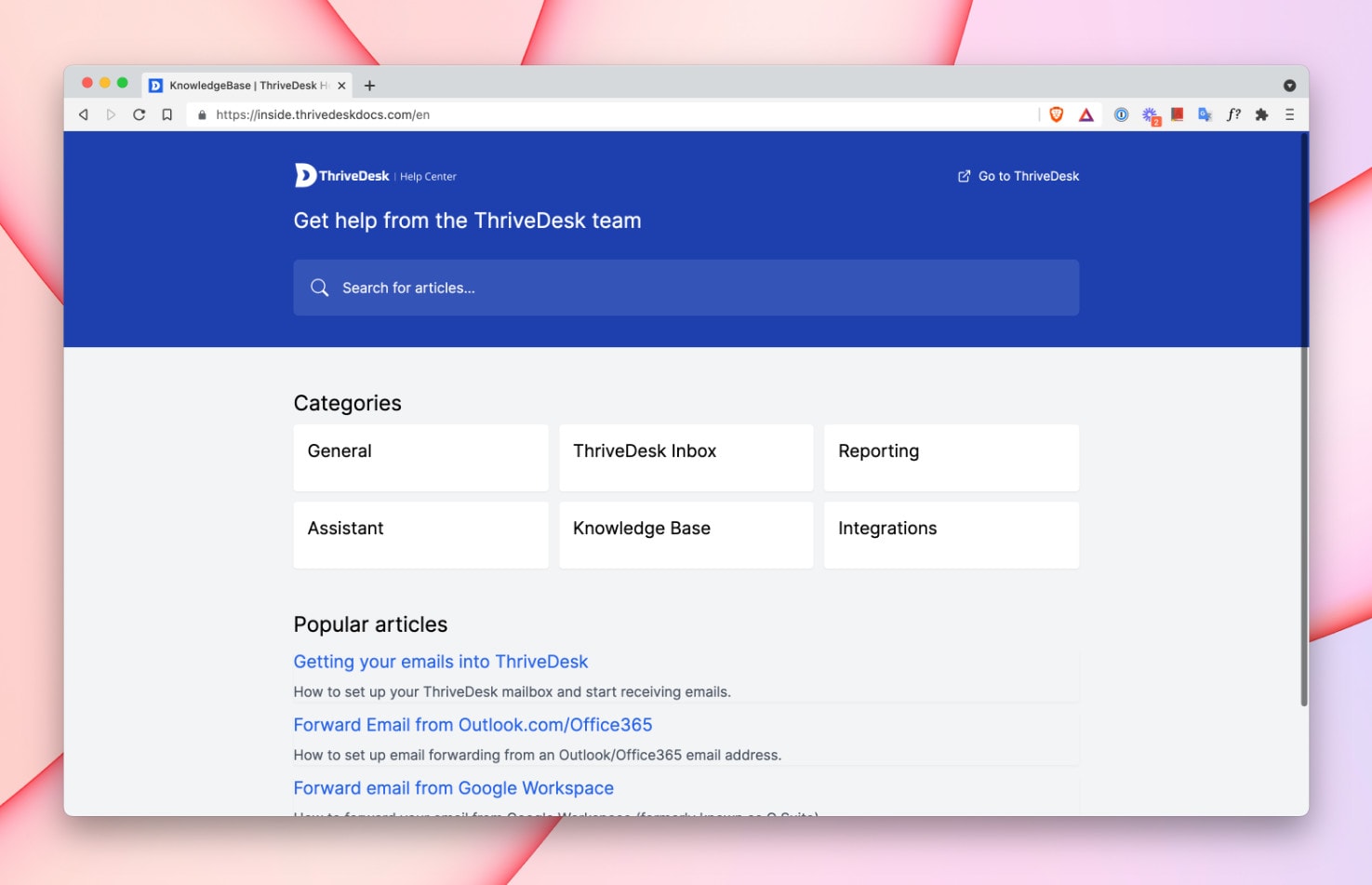 Select from 1300+ Google fonts and their variants to give your Help Center a consistent look with your main website.
Deliver instant answer with Assistant
Let customers search or browse your entire knowledge base in the Assistant, without losing context.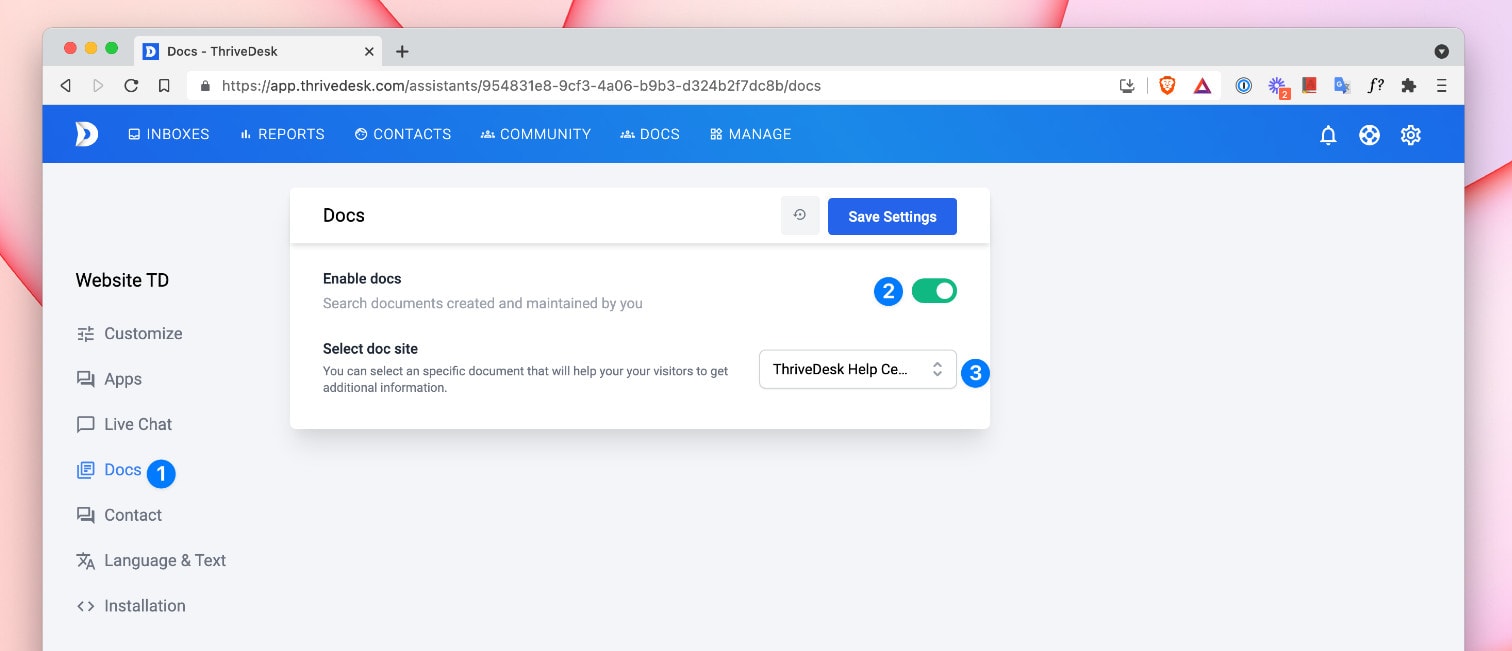 Adding your Knowledge base to your Assistant helps to empowers your customers to help themselves. People often prefer to find their own answers with self-serve support and the Assistant is the perfect place for this, to keep it in the context of your website or app.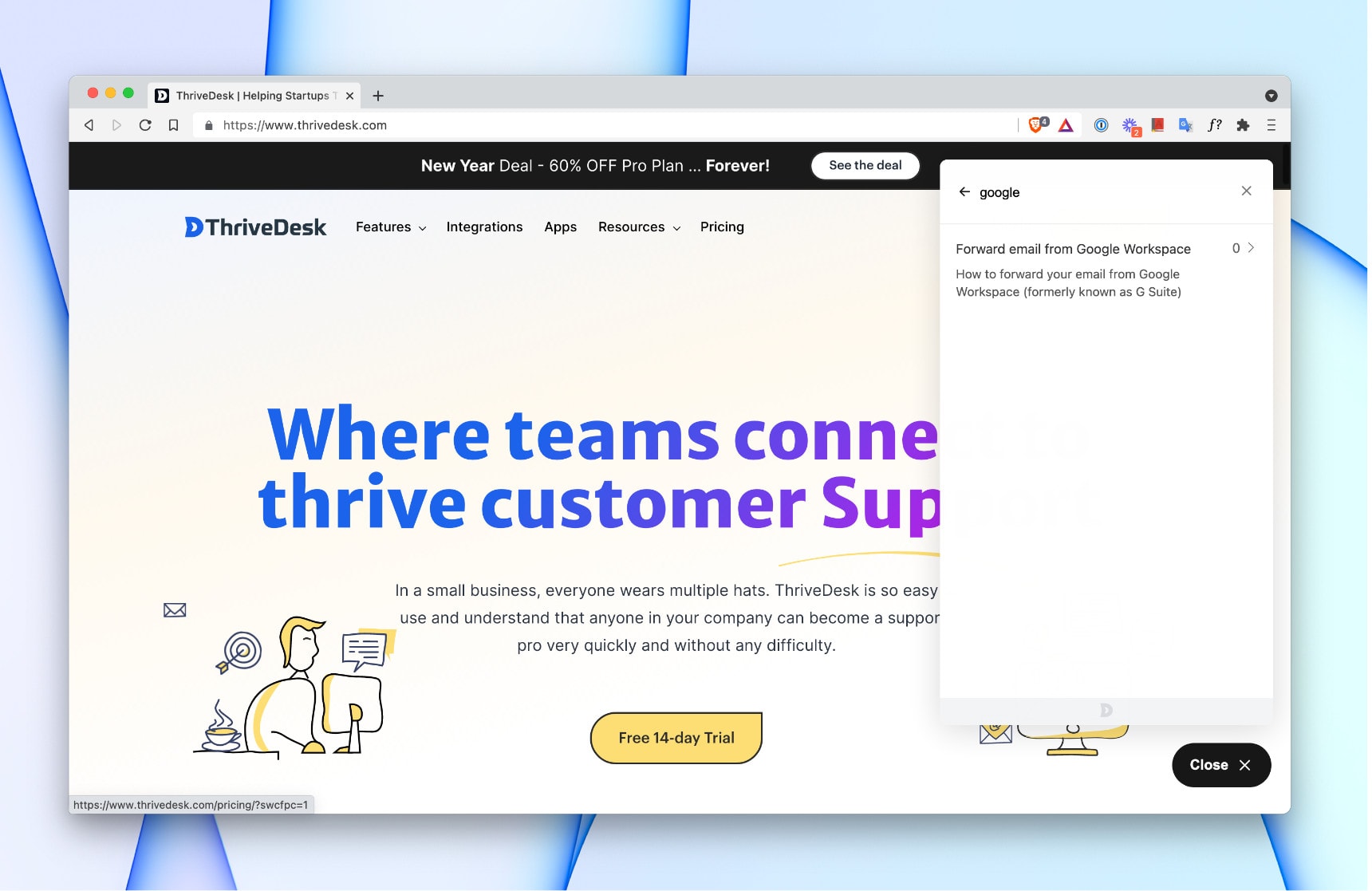 Embed your entire Help Center inside Assistant with powerful search, isn't that amazing?
Reply faster with instant answer
Now entire knowledge base is your support agent's finger tip. Without leaving the conversation page, support agent can instantly search across all knowledge bases and pick the appropriate articles for customer.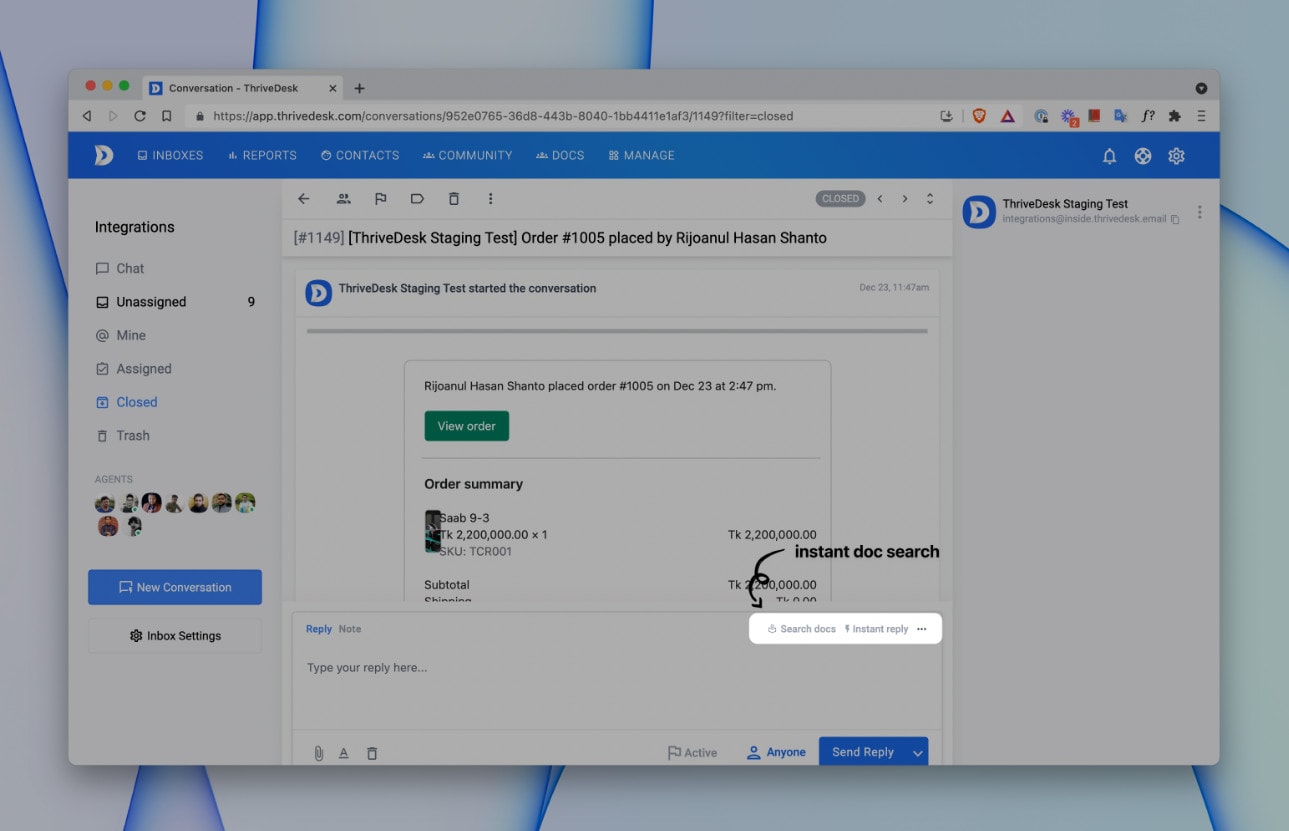 Instant doc search is available inside shared inbox and live chat.
Note: You will not be able to see unpublished articles in search result (since customers won't be able to view them!).
Accessible from keyboard
You can initiate the doc search, select the result and enter into your reply box without leaving the keyboard.
Keyboard shortcuts
Launch knowledge base search by pressing cmd + k on Mac or ctrl + k on Windows.
Navigate search results with the up and down arrows
Add the article link to your reply by pressing Enter
Pin favourite article on search
You can pin your favourite or most frequently searched article so next time when someone ask for it, you don't have to search it again. Launch the search window and you'll see all your favourite article pinned.
How do I turn it on?
This new feature was automatically added to all active accounts. No effort needed on your end!
The only requirement is to have a Knowledge Base setup in your ThriveDesk account.
Give it a try and let us know what you think!